We're excited to present a Solo Exhibition featuring the oil paintings of Cornelia Schulz in the first edition of INTERSECT PALM SPRINGS. A printed catalog is now available to purchase in person and online HERE, covering select paintings from 2021 – 2018.
"Gazing into the black of Schulz's paintings we see not into the cosmic past, but into the almost ungraspably small of voids: the measureless immediate past of our own self-awareness."

– Kenneth Baker (1946 – 2021)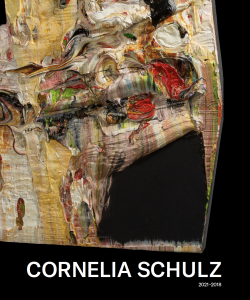 Now available to order, shipping February 2022
CORNELIA SCHULZ   2021 – 2018.
Essay ON FIRE by Kenneth Baker (1946–2021).
Size: 10.5 x 8.75 inches; 100 pages; ISBN: 978-0-578-34179-8
$50.00 + tax, pickup at the gallery. Shipping within the US is $14.00.