Linda Sormin | Lien Truong | Luis A. Sahagun
Press Release
Inaugural Exhibition: Los Angeles
Linda Sormin
Lien Truong
Luis A. Sahagun
Exhibition Dates: September 3rd – October 15th, 2022
Please join us to celebrate our Inaugural Exhibition in LOS ANGELES!
✓ Saturday, September 3rd, 2022
✓ Saturday, September 10th, 2022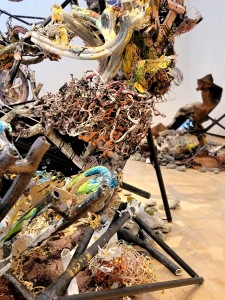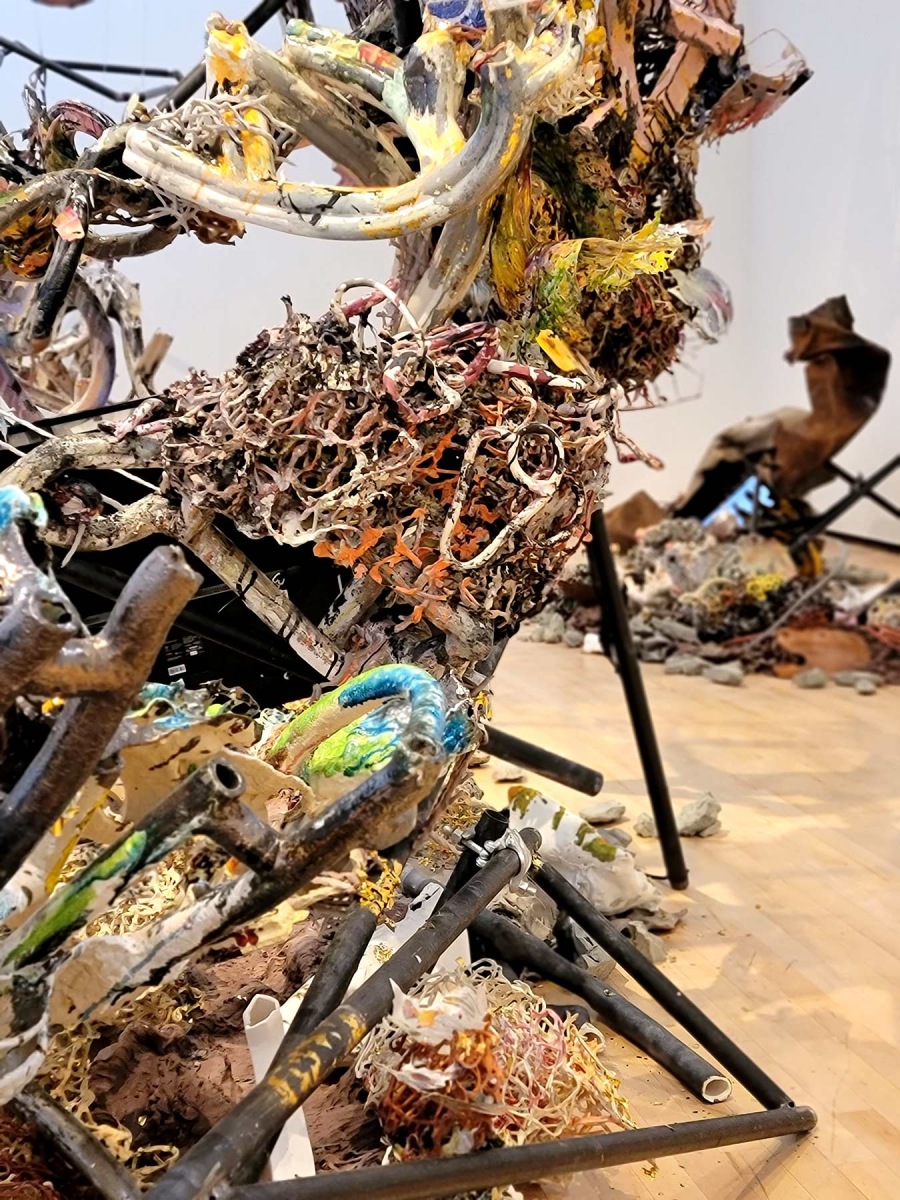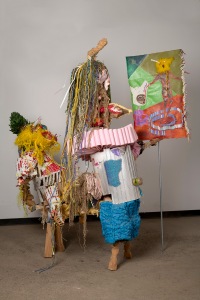 .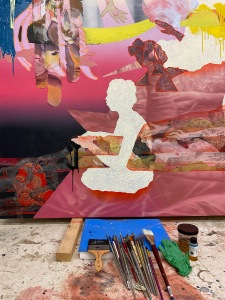 Linda Sormin | Installation View: Stream | MASS MoCA through April 2, 2022
Luis A. Sahagun | Pain is our North Star  | fabric, raffia, beads, trash, plastic, paper, paint, wood
Lien Truong | Studio View | oil paint, silk, canvas
PATRICIA SWEETOW GALLERY is excited to announce our Inaugural in Los Angeles at 1700 South Santa Fe Avenue, 3rd Floor, with artists Lien Truong, Linda Sormin and Luis A. Sahagun. The three artists in this exhibition offer practices immersed in complex visual and political American histories. They share personal, spiritual and cultural stories of migration during war, economic collapse and sovereign colonization. Their journeys come alive through a mélange of performative sculpture and painting, amplified by their respective interrogations of ancestral, racial, gender and ritual erasure. The rich, profound impact of their ideas finds life in unexpected iterations of nontraditional and historical materials. The three artists offer compelling and imaginative cultural forms that examine deeply personal histories that have endured within and alongside dominant culture under extraordinary circumstances.
Linda Sormin's sculpture takes the viewer on a cinematic stride through storytelling, a "non-linear assemblage of fact and fiction."  Trained in traditional methods of clay forming, she strives to decolonize ceramics by subverting correctness. She describes her process as "unbuilding," as she "rolls and pinches clay into forms that melt, lean, lurch and dare you to approach." Shards, souvenirs, test tiles, metal, video and trash are all integral elements in forming her narratives, disgorging place, affiliation, gender and culture.
While migration and identity form the backbone of her work, it's the disruptive dissonance within her balletic balance that breathes life. Breaking technical boundaries, Sormin combines watercolor paintings on paper, coated in resin, which she seamlessly cuts, tracing the abstract pathways of poured pigments and bends throughout the ceramic sculpture.
The work in this exhibition was made while in residence at California State University Long Beach Center for Contemporary Ceramics. Linda Sormin is Associate Professor of Studio Art at New York University, Steinhardt. Prior to NYU, Sormin was Professor of Ceramic Art at the New York State College of Ceramics at Alfred University (2016 – 2019), and Associate Professor (2006- 2011) at the Rhode Island School of Design. Her work has been extensively exhibited throughout Europe, the United States and Asia. Public Collections include the Victoria and Albert Museum, London; Renwick Gallery of the Smithsonian American Art Museum, Washington, DC; Alfred Ceramic Art Museum at Alfred University, Alfred, NY; Arizona State University Art Museum, Tempe, AZ; CLAY Museum of Ceramic Art, Middelfart, Denmark; and Gardiner Museum, Toronto.
Creating a powerful fictive of female authority, Lien Truong presents Asian female protagonists who are forceful, autonomous counterpoints to Western misogyny. Four new paintings – a segue from Truong's "From the Earth Rise Radiant Beings," exhibited at Van Every/Smith Galleries, Davidson College in 2021 – will be on view in our Inaugural Exhibition. Continuing her focus on the generational trauma and resilience of Asian women lived and portrayed throughout history, the new paintings address the mythical stature of archetypes – more specifically, The Maiden, The Mother, and The Crone. Truong employs herself and her family matriarchs from Vietnam as symbols, through figure, landscape and objects, in the new works – "details that consider the magical, resilient nature of the Asian female body, that has had to endure war and trauma." In her manifestations, resilience is inherited, adapted, and resistant to prevailing cultural alienation.
In addition to the large canvas works are six double-sided paintings that present as cultural opposition to American dogma: "The smaller works take two images that critically look at the culturally complex inventions within American soil, alongside ingrained white supremacist ideologies, memory, with a focus on ritual, magic, masquerade, and fire."
Truong's oeuvre can be viewed as Asian Futurism, born from the violent histories descended from Orientalist ideologies. Her work tests the hybridity and historic hierarchies of global painting techniques, materials and philosophies as she fragments historic paintings, art, film, and family. She subverts color and values, staging a background layered with singed panels of painted floating silk and blended gestures of oil paint, amidst interpretations of historic textile patterns, and emblematic and hegemonic iconography.
Lien Truong is an Associate Professor of Art in the Department of Art & Art History at the University of North Carolina at Chapel Hill. She is the recipient of a Joan Mitchell Foundation Painters & Sculptors Grant, and fellowships from the Institute for the Arts & Humanities, the North Carolina Arts Council, and the Jack and Gertrude Murphy Fine Arts Fellowships. Her work is included in national and international collections.
Luis A. Sahagun's visual and performative art practice reclaims his undocumented childhood, embodies the aesthetics of cultural resistance, and celebrates Latinx labor to immortalize the stories of his community. He draws from indigenous Curanderismo (healing) philosophies and his personal experience of Mestizo (mixed race) to provoke conversations around Latinx identity, craft, spirituality, and labor. His mixed media sculptures and drawings visually reflect this unique hybridization, by deliberately diminishing opposing dualities of indigenous versus conqueror, violence versus unity, ancient versus contemporary, artist versus artisan.
Working in a wide range of materials influenced by his ancestral background as well as years spent working in construction, Sahagun applies the same mixing of oppositional substances like silicone, lumber, concrete, and hardware with beads, pearls, sequins, thread, and maize, then adding delicate graphite portraits of loved ones. Indigenous healing philosophies imbue these works with transformative power as Sahagun mines old traditions only to find new paths forward.
Emerging artist Luis A. Sahagun's public exhibitions include the Museum of Contemporary Art, Chicago, IL; Chicago Cultural Center, Chicago, IL; Anderson Museum of Contemporary Art, Roswell, NM; the National Museum of Mexican Art, Chicago, IL; and DePaul Art Museum, Chicago, IL. Sahagun's residencies include Roswell, NM; Oaxaca, Mexico; and the Chicago Artist Coalition. He was also Artist in Residence for Critical Race Studies at Michigan State University, East Lansing, MI. Sahagun received his BFA in 2006 from Southern Illinois University, Carbondale, IL, and MFA in 2015 from Northern Illinois University, School of Art and Design, DeKalb, IL.
Artist Page
Cornelia Schulz | Elisa D'Arrigo | Monica Rezman | Joachim Bandau
Press Release
Cornelia Schulz
Elisa D'Arrigo
Monica Rezman
Joachim Bandau
Exhibition Dates: November – December, 2022
.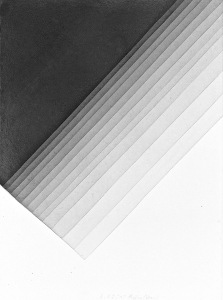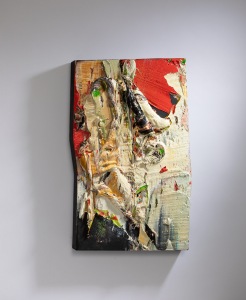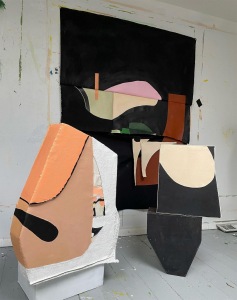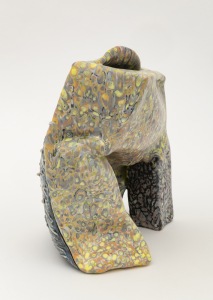 Joachim Bandau | Black Watercolor | 2013 | 30 x 22 inches
Cornelia Schulz | Lip Synch | 2022 | oil on shaped wood/canvas support | 19.5 x 12 inches
Monica Rezman | Studio View | textiles, paint
Elisa D'Arrigo | Both Sides Now | glazed ceramic | 8.5 x 7.5 x 7 inches
PATRICIA SWEETOW GALLERY is pleased to present a group exhibition featuring Joachim Bandau, Cornelia Schulz, Monica Rezman, and Elisa D'Arrigo.
Cornelia Schulz (b. 1936) lives and works in the San Francisco Bay Area. For close to 50 years she has honed her skills in abstract paintings of complex shape and color. Her early education in the arts began at the Los Angeles County Art Institute in 1954 through 1957, the heyday of the California Ceramics Revolution. She studied sculpture in clay and wood with Renzo Fenci (1914 – 1999), and drawing from Herbert Jepson (1908 –1993). She received her Bachelor of Fine Arts in painting (1959) and her Master of Fine Arts in welded steel sculpture (1961) from the San Francisco Art Institute (SFAI).
Schulz began her teaching career at the University of California Davis Art Department in 1973, retiring as Professor Emeritus in 2002. During her tenure at the University of California in Davis, Cornelia Schulz became the first female Chair of the Department of Art from 1988 to 1992, serving again in 1995.
Monica Rezman (b. 1958) is a multi-media artist who explores intimacy within abstraction through the use of traditional media and everyday found materials. She studied painting and textile design at the School of the Art Institute of Chicago in 1979.  In 1999 and 2002 consecutively, Rezman was awarded an Art-in-Residence in Gujurat, India, one of the world's most revered craft communities in textiles. She has exhibited nationally and internationally including exhibitions at The Riverside Art Center, 2019; Governors State University Gallery, 2019; Merida English Library, Mexico, 2019; the Chicago Cultural Center, 2017; The Contemporary Art Gallery, India, 1999.  In 2017-18 she was the Artist-In-Residence at the Chicago Artist Coalition's Field/Work program.
Elisa D'Arrigo's work begins with an array of hollow, mostly cylindrical and rectilinear forms hand-built from clay slabs — basic forms that she manipulates wet in a period of intense improvisation. The "postures" that result allude to the body in a gestural and even visceral manner, exuding a figural presence. Their necessary hollowness conjure an animation from within, conflating color, surface and sculptural form within the context of the glazed ceramic vessel. D'Arrigo's process is one of excavation and discovery — improvisation reveals forms that are oddly familiar, attached to distant memories or tied to an intrinsic humor.
In her 2019 catalogue essay for Elizabeth Harris Gallery, esteemed writer Nancy Princenthal described D'Arrigo's work as "a series of alarmingly potent little ceramic figures that engage our propensities for reverie, humor and perhaps most satisfying, deep human recognition."
D'Arrigo was born and raised in the Bronx (b. 1953) and lives and works in New York, NY. Her work is held in the collections of The Metropolitan Museum of Art, The Everson Museum of Art, The Mead Art Museum, The High Museum of Art, The Samuel Dorsky Museum of Art, and The Weatherspoon Art Museum. Her work has been reviewed in Hyperallergic, Two Coats of Paint, The New York Times, Art in America, ArtNews, Sculpture Magazine, Partisan Review, ArtPapers, ArtSpiel, Too Much Art and The New York Observer, among others.
Joachim Bandau (b.1936) belongs to a protean group of German artists, along with Gerhard Richter, Joseph Beuys, and Imi Knoebel, who came out of the Kunstakademie Düsseldorf in 1961. He began painting black watercolors in 1983. The paintings embody the political, aesthetic and spiritual discourse of his 50-year career. Nuanced in technique and posture, Bandau's watercolors require a lithe balance.
Using only black pigments, Bandau starts a series of paintings with a herculean session lasting many hours, brushing layer by layer, light to dark and edge to edge. Because the paintings dry between each application of pigment, the rhythmic accretion of layers takes months, if not years to resolve. Kenneth Baker, writing for the San Francisco Chronicle, said of Bandau, "No one unfamiliar with watercolor should underestimate the feats of control that pieces such as this record. Just the right decisions regarding tools, materials and timing have to be sustained to achieve the look of effortless perfection Bandau gets."
Joachim Bandau lives and works in Germany. He's represented in over 45 museum collections including the Kunstmuseum Basel; Museum Ludwig, Cologne; Kunstmuseum Nürnberg; Jewish Museum, Berlin; Suermondt-Ludwig-Museum Aachen; Zeppelin Museum, Friedrichshafen; and the Achenbach Collection of the Fine Arts Museums of San Francisco, with over 20 public installations throughout Europe. Bandau's work can be viewed at Art Basel, Art Cologne, Art HK12 Hongkong, along with other international art fairs.
Artist Page
Demetri Broxton | Amalia Galdona Broche | Gregory Rick
Press Release
Demetri Broxton
Amalia Galdona Broche
Gregory Rick
Exhibition Dates: January – February 2023
Reception: TBA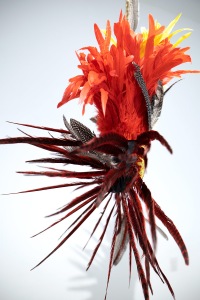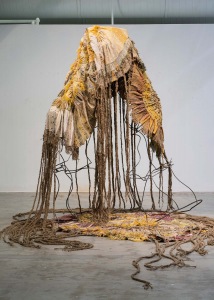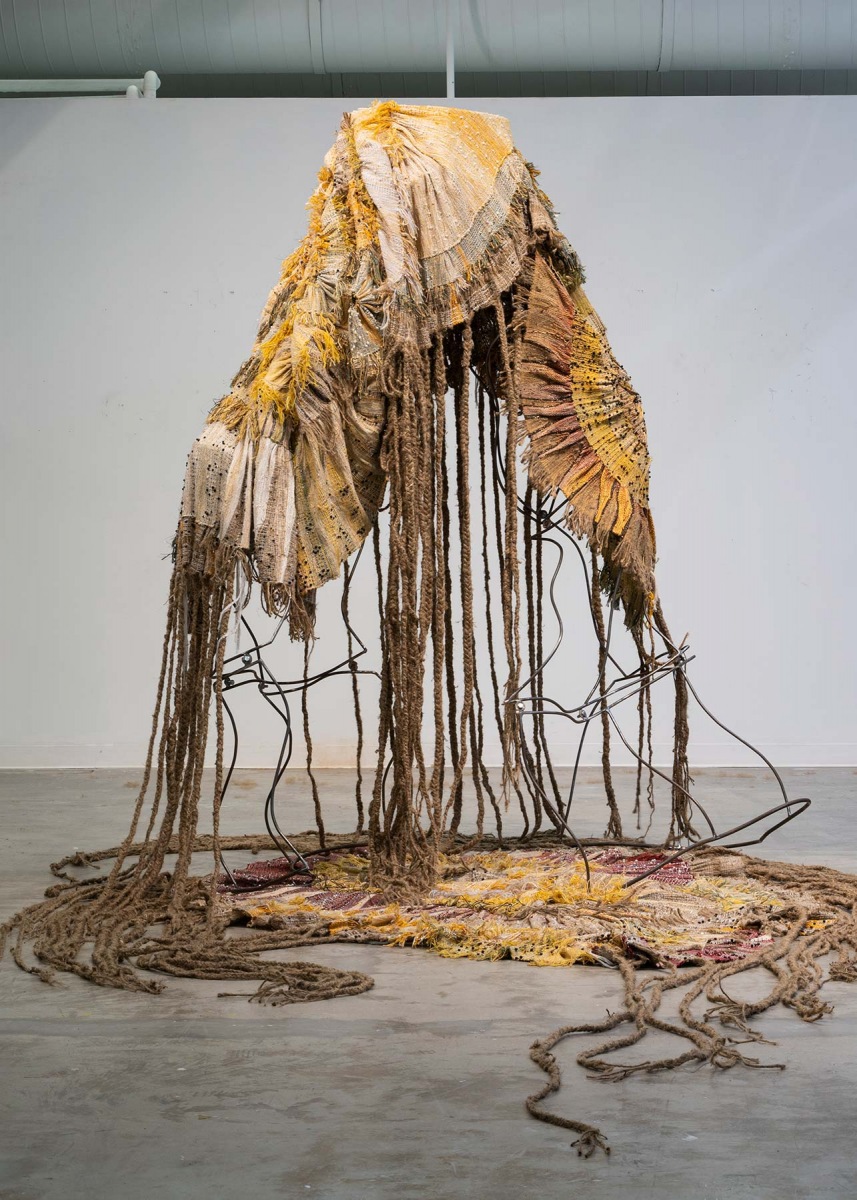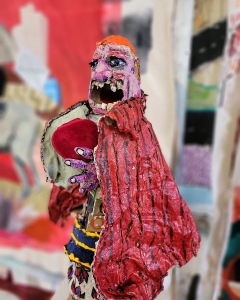 Demetri Broxton | Catch a Fire | embellished boxing glove
Amalia Galdona Broche | Glorieta | 2021 | jute, wire, beads, tinsel, yarn
Gregory Rick | studio view
Amalia Galdona Broche's woven textile sculpture/installations speak to the complexity of growing up in a culture, country and political system vastly different from her family's adopted country, America. Leaving Cuba when she was an adolescent, meant separating from what she knew, understood, and was part of. The culture, divisions, history and politics of America posed a distinctly different way of existing, interacting and thinking. Her work emphasizes this complexity.
"Made myself a modular/portable glorieta.The Santa Clara symphony used to play in the glorieta due to its excellent acoustics and illumination. In my primary school years, the glorieta crowned every memory of my time in Monguito's Visual Arts workshop at La Casa de la Cultura. In secondary school, I attended what is now a university prep school on the plaza, and every day started by circling the glorieta until classes started. The glorieta witnessed our off tune singing of the national anthem, very sincere, if misguided speeches/comunicados, countless marches, processions, Sunday night outings and very many of my goodbyes."
Demeti Broxton's textile sculptures reflect his connection to the sacred art of the Yoruba people of Nigeria, the beading traditions of the New Orleans Mardi Gras Indians, and his love of hip hop and graffiti. He understands his work as an ongoing investigation of cultural continuities from Africa to America and is particularly interested in how these ancient cultural forms find their way into mainstream culture.
Demetri Broxton is of Louisiana Creole and Filipino heritage. He was born and raised in Oakland, CA and earned a BFA at UC Berkeley in 2002. His work is included in museum collections nationally and was recently written about in Culture Magazine and L'Officiel. He's influenced by craft and folk traditions and infusing these traditions into fine art.
The history of war, humiliation, loss and destruction are the stories that unite and divide us — leaving everyone scarred forever. As a veteran, father, artist, the personal, political and global are boundaries Gregory Rick navigates every day. His narrative paintings are unstretched, direct and personal, telling of experiences words can't communicate.
A 2022 MFA candidate from Stanford University Gregory Rick was nominated and received the SECA Award from SFMOMA, with an upcoming exhibition in November 2022.
Artist Page