Press Release
Demetri Broxton
Amalia Galdona Broche
Exhibition Dates: 6 May – 17 June 2023
Reception: Saturday, May 6th, 4:00 – 7:00 pm
In Conversation: Saturday, May 6th at 3:00 pm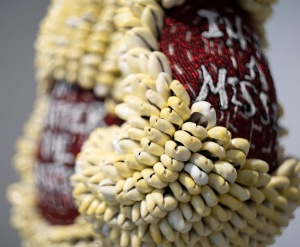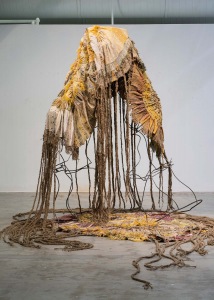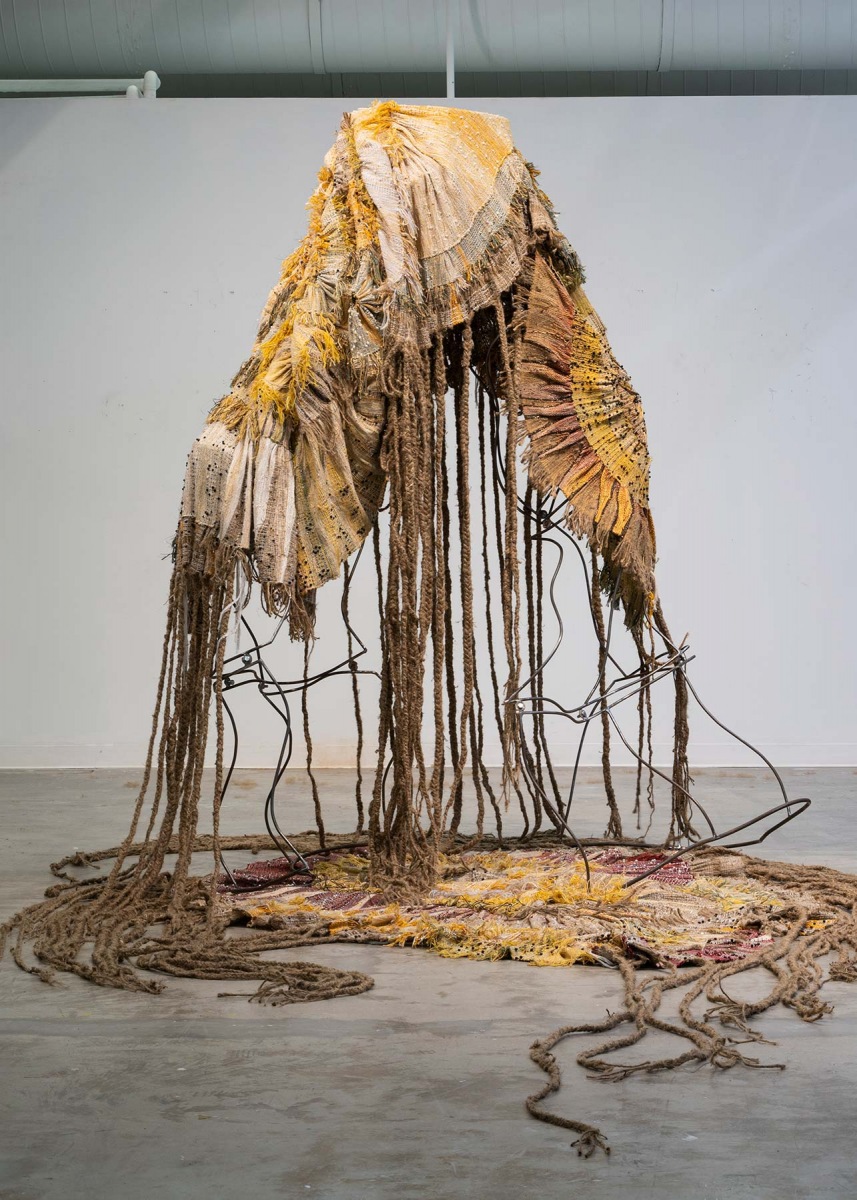 Demetri Broxton | On a Mission | embellished boxing gloves
Amalia Galdona Broche | Glorieta | 2021 | jute, wire, beads, tinsel, yarn
We're so excited to announce our upcoming two-person exhibition with artists Amalia Galdona Broche and Demetri Broxton.
Amalia Galdona Broche's woven textile sculpture/installations speak to the complexity of growing up in a culture, country and political system vastly different from her family's adopted country, America. Leaving Cuba when she was an adolescent, meant separating from what she knew, understood, and was part of. The culture, divisions, history and politics of America posed a distinctly different way of existing, interacting and thinking. Her work emphasizes this complexity.
"I was a child of the Cuban Revolution during the Special Period, a time of extreme economic adversity. I have conflicted feelings about my idealized childhood in Cuba as opposed to the country's current reality and uncertain future. Through sculpture and time-based media, I explore the fluid nature of identity, faith, memory of identity, transculturation and immigration, highlighting labor-intensive processes such as collecting, tearing, breaking, joining, weaving, knotting and assembling textiles and found materials. Referencing Spanish, as well as West African belief systems, rituals and imagery, I navigate the complex and fluid nature of history and identity. By investigating the history and roots of a divided nation through a visual language, my work seeks to understand the impact of identity politics, migration and time, as well as collective and personal memory in order to mitigate my own perceived powerless part as a cultural 'other.'"
In her first exhibition with the gallery, Amalia wove, stitched, and braided "Companions of Concealment," a hybrid of female and animal forms – a supernatural cosmology of ancestral beings who are intermediaries between humans and the spirit world, in death, birth, healing and conflicts.
Amalia Galdona Broche was recently named Assistant Professor of Art in the Textiles Department, Rhode Island School of Design. She received her MFA from the School of Art & Visual Studies, University of Kentucky in 2021. Galdona Broche was awarded the prestigious International Sculpture Center's Outstanding Student Achievement in Contemporary Sculpture Award for 2021. Residencies include MASS MoCA Studios/Assets in 2019 as well as the New York Academy of Art in 2015.
Demetri Broxton's first exhibition at PSG was in 2018, where he debuted embellished boxing gloves unfolding a complex narrative centered on the mythic stature of Black boxers dating back to Jack Johnson. Born in 1878, Johnson's fame and legendary lifestyle was antithetical to the circumstances of Black Americans living under the extreme yoke of Jim Crow.  Broxton's narrative is also personal, his grandfather was a boxer during WWII, where matches were often mixed race, the only circumstance where a Black man could lay hands on a white man and not forfeit his life. By their inherent form, Broxton's gloves become the muse to summon multiple stories of struggles lost and won.
As his influence in defining his own ritual objects, Demetri often cites the sacred art of the Yoruba people in Nigeria, where ceremonial objects and costume are ornately beaded and feathered. Beading techniques used to attach and embellish were learned from the costume traditions of the New Orleans Mardi Gras Indians, where he shares a Louisiana Creole heritage. The erasure and colonization of diasporic Black people are laced throughout the sculptures, as in the sewn and attached Cowrie shells used as currency during the Transatlantic Slave Trade; while providing equal weight to the triumphant voice of hip hop and graffiti, as revealed in the beaded lyrics on the face of the gloves. The formality and tradition of his structure and techniques give breath to the layers of complexity, his use of materials speak directly to ancestral history. He also understands his work as an ongoing investigation of cultural continuities from Africa to America, with particular attention to how ancient cultural forms find their way into mainstream culture.
Demetri Broxton is of Louisiana Creole and Filipino heritage. He was born and raised in Oakland, CA and earned a BFA at UC Berkeley in 2002. His work is included in museum collections nationally with a recent placement at the San Francisco Fine Arts Museums with a planned group exhibition at the deYoung Museum in 2023.  Broxton's recent press include Artforum, Culture Magazine and L'Officiel.
Artist Page