Jamele Wright Sr. and Lisa Jarrett
Press Release
Jamele Wright Sr.

Lisa Jarrett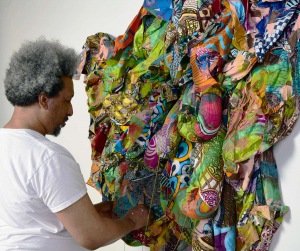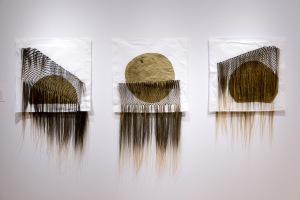 Above: Jamele Wright Sr. | work in-progress | Dutch wax fabric prints, paint, thread, batting
Below: Lisa Jarrett | Installation view | mulberry paper, paint, synthetic hair
Exhibition Dates: 8 July – 19 August 2023
Reception: Saturday, July 8th, 3:00 – 6:00 pm
➤ In Conversation: Saturday, July 8th at 4:00 pm  TBA
PATRICIA SWEETOW GALLERY has been anticipating the upcoming exhibition with Jamele Wright Sr. for close to two years. The process of learning about the monumental tapestries, small assemblage boxes, and rough hewn, reclaimed wood and fiber windows has been a gratifying undertaking. Painting with Georgia clay and acrylic on Dutch Wax cotton prints, Wright Sr. hand and machine sews abstract tapestries of Black Migration, as told through the lens of his family history.
Jamele Wright, Sr. graduated with an MFA from the School of Visual Arts in Manhattan. He completed a fellowship at Project for Empty Spaces in Newark, New Jersey and The Hambidge Center for Creative Arts and Sciences, Rabun Gap, Ga. Residencies include MASSMoCA  in 2022, with an upcoming residency at Golden Foundation in New Berlin, NY.
Lisa Jarrett (she/her}works in social and visual forms. Her intersectional practice considers the politics of difference within a variety of settings including: schools, landscapes, fictions, racial imaginaries, studios, communities, museums, galleries, walls, mountains, mirrors, floors, rivers, and prisms. She recently discovered that her primary medium is questions; the most urgent of which is: What will set you free?
Jarrett is co-founder/director of KSMoCA (Dr MLK Jr School Museum of Contemporary Art); the Harriet Tubman Middle School Center for Expanded Curatorial Practice in NE Portland, OR; and Art 25: Art in the 25th Century. She lives in Portland, Oregon where she co-authors social practice projects and continues her 14+ year investigation into Black hair and its care in various forms. She is Associate Professor of Community and Context Arts at Portland State University's School of Art + Design where she teaches classes in Art + Social Practice.
THE SPACE BETWEEN: Thomas Müller and Felicita Norris
Press Release
The Space Between:

Thomas Müller

Felicita Norris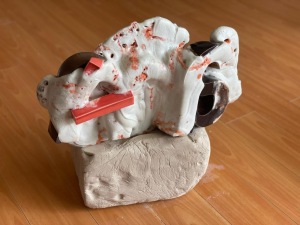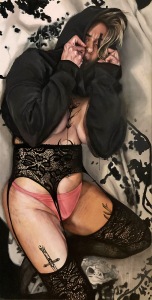 Above: Thomas Müller| I Am I Can | glazed ceramic
Below: Felicita Norris | The Agony And The Ecstacy | 2023 | oil on linen | 60 x 30 inches
Exhibition Dates: 9 September – 21 October 2023
Reception: Saturday, September 9th, 3:00 – 6:00 pm
➤ In Conversation: Saturday, September 9th at 4:00 pm  TBA
Thomas Müller lives and works in Los Angeles, California. He was born in Cape Town, South Africa and spent his childhood growing up in Africa, the United States and Europe. Growing up in such disparate locales and cultures has inevitably influenced his work, in particular as it relates to language, time, memory and space. It's that conceptual territory he'll explore in his upcoming exhibition at the gallery.
Thomas Müller received his BFA from the University of Washington and MFA at the Cranbrook Academy of Art. He is currently an Associate Professor and Chair of Art, 3D at the University of Southern California.
By constructing a personal narrative fraught with psychological force, Felicita Norris provokes our deep, private recesses. As a woman, and more specifically a BIPOC woman, she's aware of the overt sexualization of women of color. Her paintings depict a conflicted, stripped-down sexuality, assigning tropes of fantasy to the pain of objectification, assumption, and trauma. While exploring self-portraiture, the paintings also include family and close friends who've agreed to act in her high-octane melodramas. While addressing psychological states, Norris's paintings are also meticulously detailed, from the blue veins under the skin, to a wallpaper motif reflected in a mirror, and finally the rumpled patterned textiles surrounding the protagonist's body. Her attention to minutiae delivers an unapologetic honesty to her work.
Felicita Norris received her BFA in Painting from the San Francisco Art Institute, San Francisco, California, in 2013, and her MFA in Art Practice from Stanford University, in 2015. The work is included in private and public collections.
Artist Page
Tony Marsh & Cornelia Schulz
Press Release
Tony Marsh
Cornelia Schulz
Exhibition Dates: 11 November – 30 December 2023
Reception: Saturday, November 11th, 4:00 – 7:00 pm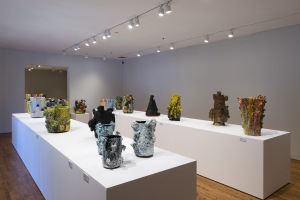 Installation view: Long Beach Museum of Art – "Brilliant Earth: The Ceramic Sculpture of Tony Marsh"
"My early work was built on an ethos of rational reductive minimalism, a system that I felt slowly closed down possibilities. I use my work as a way to learn and have been as much actively shaped by my work as I have formed it. T work without highly structured plans, to foreground intuition and engage eruptive color irrationally has been to open up to numerous artistic possibilities for me."     – Tony Marsh*
Tony Marsh has contributed to contemporary ceramics as an artist, educator and innovator for over 30 years. His vessels are non-utilitarian, the forms elementary and symmetrical cylinders.
Through alchemy, intuitive wisdom, science and thermal adversity, Tony Marsh opens the window for random, unexpected surface topographies. These works encapsulate all the knowledge he's amassed over the years with "various material and mineral concoctions", layered, fired, then repeating the process. "In this work there are real and imagined allusions to physical sciences, earth formation, geographic phenomenon, force, pyroclastic work, time and landscape." Marsh leaves all technical notes and trails blank, a deliberate amnesia, as he allows the accident of formula, material, firing and stress to unfold each vibrant, eruptive sculpture.
Tony Marsh was named a United States Artists Fellow in 2018, an honor awarded to outstanding contributors in American Arts and Letters. Marsh is Professor Emeritus at California State University, Long Beach, chairing the Ceramics Department for 25 years (1995 – 2015). Marsh co-founded the Center for Contemporary Ceramics (2017), a national and international residency program on the campus of CSULB. He has been a Visiting Artist and Lecturer at over 60 institutions and foundations including the Chicago Art Institute, Kansas City Art Institute, UCLA, Parsons School of Design, Alfred University and Seoul National University.  His ceramic sculpture is included in over thirty permanent collections, including the Metropolitan Museum of Art, NY; Museum of Art and Design, NY; Los Angeles County Museum of Art; Oakland Museum of Art; Gardiner Museum of Art, Toronto; Museum of Fine Arts, Houston; San Jose Museum of Art; ASU Art Museum Tempe and the Foshan Museum of Contemporary Art, Foshan, China.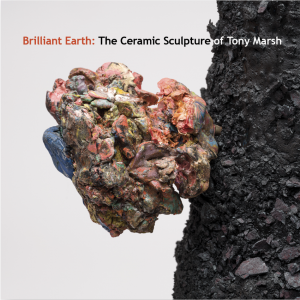 Marsh's recent survey solo exhibition, "Brilliant Earth: The Ceramic Sculpture of Tony Marsh" at the Long Beach Museum of Art  with over 50 works on view closed in 2022.
The catalog, produced upon occasion of the exhibition will be available for purchase during this exhibition.
---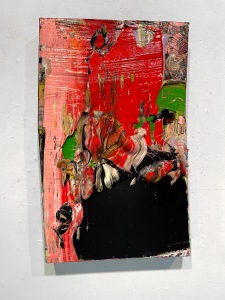 Cornelia Schulz | Deep Dive | 2023 | oil on canvas on wood | 20 x 12 inches
Cornelia Schulz's high rise oil paintings defy the structural limits of oil paint. Even the best photo reproduction fails to impart the physical and spiritual authority of her small, shaped, chromatic paintings. Schulz has evolved a contemporary synthesis of Abstract Expressionist painting, such as the likes of  her San Francisco Bay Area contemporaries, Jay DeFeo and early Joan Brown. Her masterful manipulation of paint, yielding to the subtly shaped support, is an incessant call and response forming high and flat passages, a testament to her vision, skills and willingness to risk failure and loss.
"Not all abstract painting spurs me to its defense as something spiritually sustaining and necessary, as Schulz's work does. Her art fits within an American lineage descended from a pivotal decade, roughly mid 1950s to mid 1960s, during which the ambiguous formal limits of paintings and sculpture, and of their reach, were freighted with larger questions of art's self-definition and of the values that a wider culture wished to ascribe to it." (Kenneth Baker, "On Fire,"  Cornelia Schulz  2021 – 2018)
PSG had our first exhibition with Cornelia Schulz in 1998. Schulz (b. 1936) lives and works in the San Francisco Bay Area. Her early education in the arts began at the Los Angeles County Art Institute in 1954 through 1957, the heyday of the California Ceramics Revolution. She studied sculpture in clay and wood with Renzo Fenci (1914 – 1999), and drawing from Herbert Jepson (1908 –1993). She received her Bachelor of Fine Arts in painting (1959) and her Master of Fine Arts in welded steel sculpture (1961) from the San Francisco Art Institute (SFAI). Schulz became the first woman Chair of the University of California Davis Department of Art from 1998 to 1992, she retired as Professor Emeritus in 2002 after 34 years.
*
Artist Page