Christopher Miles | Amy Usdin | Jamie Vasta
Press Release
Christopher Miles
Amy Usdin
Jamie Vasta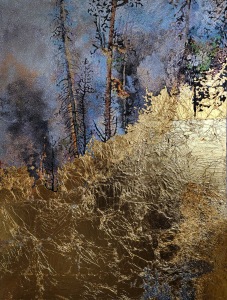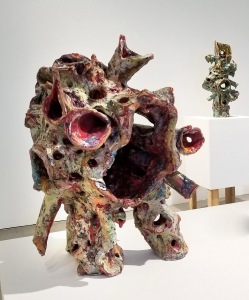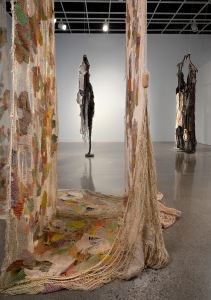 Jamie Vasta | On a Mission | glitter, leaf on wood panel
Christopher Miles | Installation view | 2019 | glazed ceramic
Amy Usdin | Installation view | woven mixed media
Exhibition Dates: 07 January – 18 February 2023
Reception: Saturday, January 7th, 4:00 – 7:00 pm
In Conversation: Saturday, January 7th at 3:00 pm
Artist Page
Sarah Amos | John Paul Morabito | Ramekon O'Arwisters | Michael Sylvan Robinson
Press Release
Sarah Amos
John Paul Morabito
Ramekon O'Arwisters
Michael Sylvan Robinson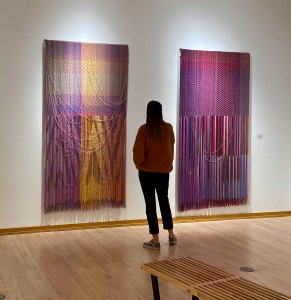 .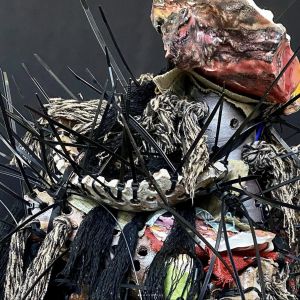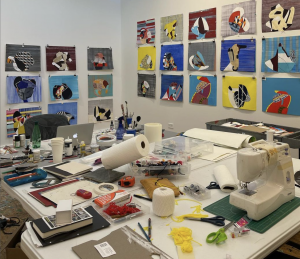 .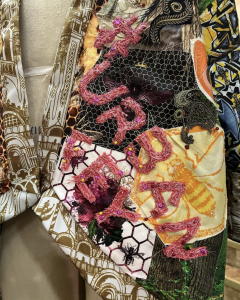 .
John Paul Morabito | For Félix (Installation view of The Immaculate Collection: A Queer Tangent in Tapestry)  | woven cotton and glass beads
Ramekon O'Arwisters | Detail view | 2022 | ceramics from the shard yard of CSULB and elsewhere, fabric, plastic zip ties
Sarah Amos | Installation view at the Joan Mitchell residency, New Orleans | mixed media on paper
Michael Sylvan Robinson | Detail view | mixed fiber
Exhibition Dates: 04 March – 15 April 2023
Reception with the artists: Saturday, March 4th, 4:00 – 7:00 pm
Join us for In Conversation before the reception – beginning at 3:00 pm 
In Conversation: Saturday, March 4th at 3:00 pm
Artist and curator Andres Payan Estrada will lead the artists in two conversations, the second talk TBA.
Artist Page
Demetri Broxton | Amalia Galdona Broche
Press Release
Demetri Broxton
Amalia Galdona Broche
Exhibition Dates: 29 April – 10 June 2023
Reception: Saturday, May 6th, 4:00 – 7:00 pm
In Conversation: Saturday, May 6th at 3:00 pm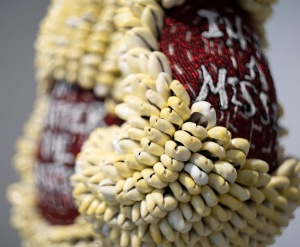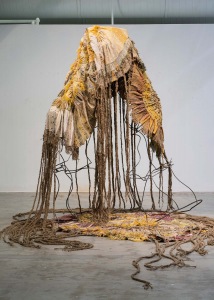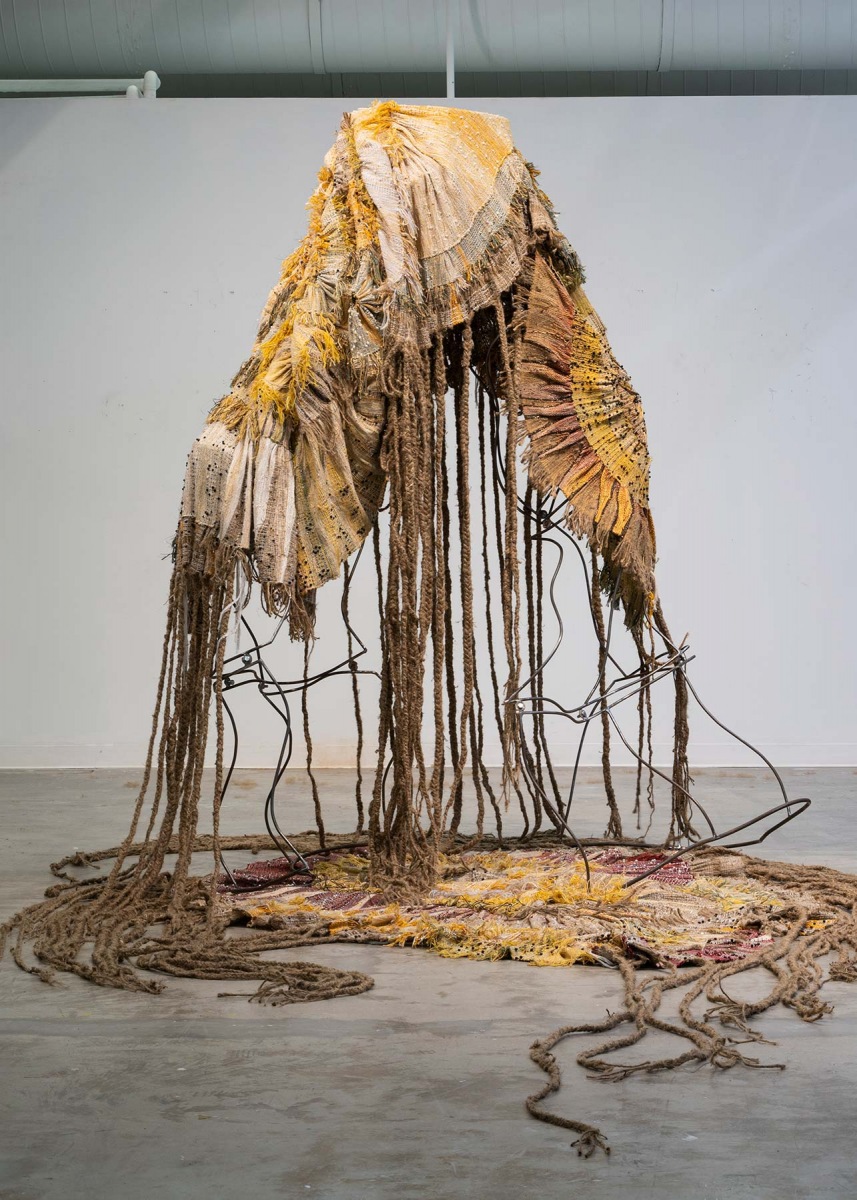 Demetri Broxton | On a Mission | embellished boxing gloves
Amalia Galdona Broche | Glorieta | 2021 | jute, wire, beads, tinsel, yarn
We're so excited to announce our Los Angeles debut exhibition with artists Amalia Galdona Broche and Demetri Broxton.
Amalia Galdona Broche's woven textile sculpture/installations speak to the complexity of growing up in a culture, country and political system vastly different from her family's adopted country, America. Leaving Cuba when she was an adolescent, meant separating from what she knew, understood, and was part of. The culture, divisions, history and politics of America posed a distinctly different way of existing, interacting and thinking. Her work emphasizes this complexity.
"Made myself a modular/portable glorieta.The Santa Clara symphony used to play in the glorieta due to its excellent acoustics and illumination. In my primary school years, the glorieta crowned every memory of my time in Monguito's Visual Arts workshop at La Casa de la Cultura. In secondary school, I attended what is now a university prep school on the plaza, and every day started by circling the glorieta until classes started. The glorieta witnessed our off tune singing of the national anthem, very sincere, if misguided speeches/comunicados, countless marches, processions, Sunday night outings and very many of my goodbyes."
Amalia Galdona Broche was recently named Assistant Professor of Art in the Textiles Department, Rhode Island School of Design. She received her MFA from the School of Art & Visual Studies, University of Kentucky in 2021. Galdona Broche was awarded the prestigious International Sculpture Center's Outstanding Student Achievement in Contemporary Sculpture Award for 2021. Residencies include MASS MoCA Studios/Assets in 2019 as well as the New York Academy of Art in 2015.
Demetri Broxton's first exhibition at PSG was in 2018, where he debuted embellished boxing gloves unfolding a complex narrative centered on the mythic stature of Black boxers dating back to Jack Johnson. Born in 1878, Johnson's fame and legendary lifestyle was antithetical to the circumstances of Black Americans living under the extreme yoke of Jim Crow.  Broxton's narrative is also personal, his grandfather was a boxer during WWII, where matches were often mixed race, the only circumstance where a Black man could lay hands on a white man and not forfeit his life. By their inherent form, Broxton's gloves become the muse to summon multiple stories of struggles lost and won.
As his influence in defining his own ritual objects, Demetri often cites the sacred art of the Yoruba people in Nigeria, where ceremonial objects and costume are ornately beaded and feathered. Beading techniques used to attach and embellish were learned from the costume traditions of the New Orleans Mardi Gras Indians, where he shares a Louisiana Creole heritage. The erasure and colonization of diasporic Black people are laced throughout the sculptures, as in the sewn and attached Cowrie shells used as currency during the Transatlantic Slave Trade; while providing equal weight to the triumphant voice of hip hop and graffiti, as revealed in the beaded lyrics on the face of the gloves. The formality and tradition of his structure and techniques give breath to the layers of complexity, his use of materials speak directly to ancestral history. He also understands his work as an ongoing investigation of cultural continuities from Africa to America, with particular attention to how ancient cultural forms find their way into mainstream culture.
Demetri Broxton is of Louisiana Creole and Filipino heritage. He was born and raised in Oakland, CA and earned a BFA at UC Berkeley in 2002. His work is included in museum collections nationally with a recent placement at the San Francisco Fine Arts Museums with a planned group exhibition at the deYoung Museum in 2023.  Broxton's recent press include Artforum, Culture Magazine and L'Officiel.
Artist Page