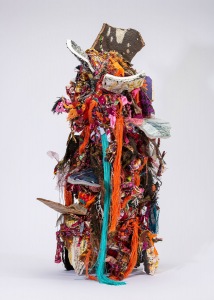 We are pleased to announce Ramekon O'Arwisters featured in Collective Arising: The Insistence of Black Bay Area Artists at the Museum of Sonoma County, curated by Ashara Ekundayo and Lucia Olubunmi R. Momoh.
Exhibition Dates: June 25 – November 27, 2022
Collective Arising: The Insistence of Black Bay Area Artists features art by contemporary Black artists who have participated in interdisciplinary collectives, including nure, 3.9 Collective, House of Malico, CTRL+SHIFT, and Black [Space] Residency. Collectives—groups of like-minded individuals coming together to achieve a common goal—have offered space for Black artists to expand their practice, amplify their voices, and nurture one another. Working in community, they share resources, build cooperatively, and create side-by-side in opposition to hyper-individualistic capitalist systems, such as the art market, in which competition is a requirement for  participation. In this way, collectives have served both the revolutionary and creative practices of Black, queer, and femme people across the diaspora. The artworks in Collective Arising—which includes textile, sculpture, glass, print, painting, photography, video, and installation—speak to this dual purpose at the core of the formation of artist collectives.
Featured artists include:
Lukaza Branfman-Verissimo, CTRL+SHIFT Collective
Sydney Cain, aka sage, stargate, 3.9 Collective
Erica Deeman, Black Space Residency
Cheryl Derricotte, 3.9 Collective
Sasha Kelley, House of Malico & We Are the Ones
shah noor hussein, House of Malico
Ramekon O'Arwisters, 3.9 Collective
Yétúndé Olagbaju, nure
Karen Seneferu, The Black Woman Is God
Muzae Sesay, nure
Adrian Octavius Walker, nure