Press Release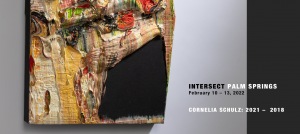 INTERSECT PALM SPRINGS
PSG is excited to present a Solo Exhibition featuring the oil paintings of Cornelia Schulz in the first edition of INTERSECT PALM SPRINGS. A printed catalog is now available to purchase online and in person, covering select paintings from 2021 – 2018. We've also prepared an online PDF of available paintings – please request HERE.
"Gazing into the black of Schulz's paintings we see not into the cosmic past, but into the almost ungraspably small of voids: the measureless immediate past of our own self-awareness."

– Kenneth Baker, September 2021
Cornelia Schulz (b. 1936) lives and works in the San Francisco Bay Area. For close to 50 years she has honed her skills in abstract paintings of complex shape and color,  holding viewers' interest as sculptural objects of unerring integrity. While seemingly wild and untamed, her forms speak of tempo and harmony, a unique distillation of intent and accident only a master can impart.
Her early education in the arts began at the Los Angeles County Art Institute in 1954 through 1957, the heyday of the California Ceramics Revolution. She studied sculpture in clay and wood with Renzo Fenci (1914 – 1999), and drawing from Herbert Jepson (1908 –1993). She received her Bachelor of Fine Arts in painting (1959) and her Master of Fine Arts in welded steel sculpture (1961) from the San Francisco Art Institute (SFAI).
Schulz began her teaching career at the University of California Davis Art Department in 1973, retiring as Professor Emeritus in 2002. During her tenure at the University of California in Davis, Cornelia Schulz became the first female Chair of the Department of Art from 1988 to 1992, serving again in 1995.
Cornelia Schulz is included in the permanent collections of the San Francisco Museum of Modern Art; the Berkeley Art Museum and Pacific Film Archive; SFO Museum at San Francisco International Airport; and the Jan Shrem and Maria Manetti Shrem Museum of Art, Davis, California, as well as many national and international collections.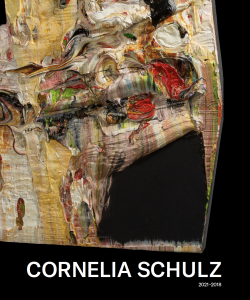 Now available to order, shipping February 2022
CORNELIA SCHULZ   2021 – 2018.
Essay ON FIRE by Kenneth Baker (1946–2021).
Size: 10.5 x 8.75 inches; 100 pages; ISBN: 978-0-578-34179-8
$50.00 + tax, pickup at the gallery. Shipping within the US is $14.00.
---
▷Cornelia Schulz will be featured in a gallery exhibition opening March 5th, along with the ceramic sculpture of New York artist Elisa D'Arrigo, featured in our second gallery space.
---
Intersect Palm Springs Exhibition Dates: February 10 – February 13th, 2022
Location
Palm Springs Convention Center
277 N Avenida Caballeros
Palm Springs CA 92262
Dates and Times
Opening Night Preview
Thursday, February 10 | 5 – 9 pm |
(VIP/All Access Pass only)
General Admission
Friday, February 11 | 11 am – 7 pm |
Saturday, February 12 | 11 am – 5 pm |
Sunday, February 13 | 11 am – 4 pm (10 – 11 am VIP Brunch) |
DOWNLOAD YOUR COMPLIMENTARY VIP TICKET
Artist Page