Press Release
Demetri Broxton
Amalia Galdona Broche
Gregory Rick
Exhibition Dates: January – February 2023
Reception: TBA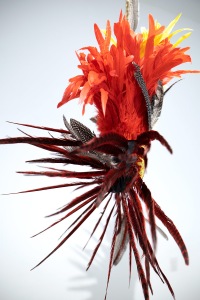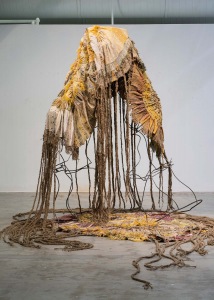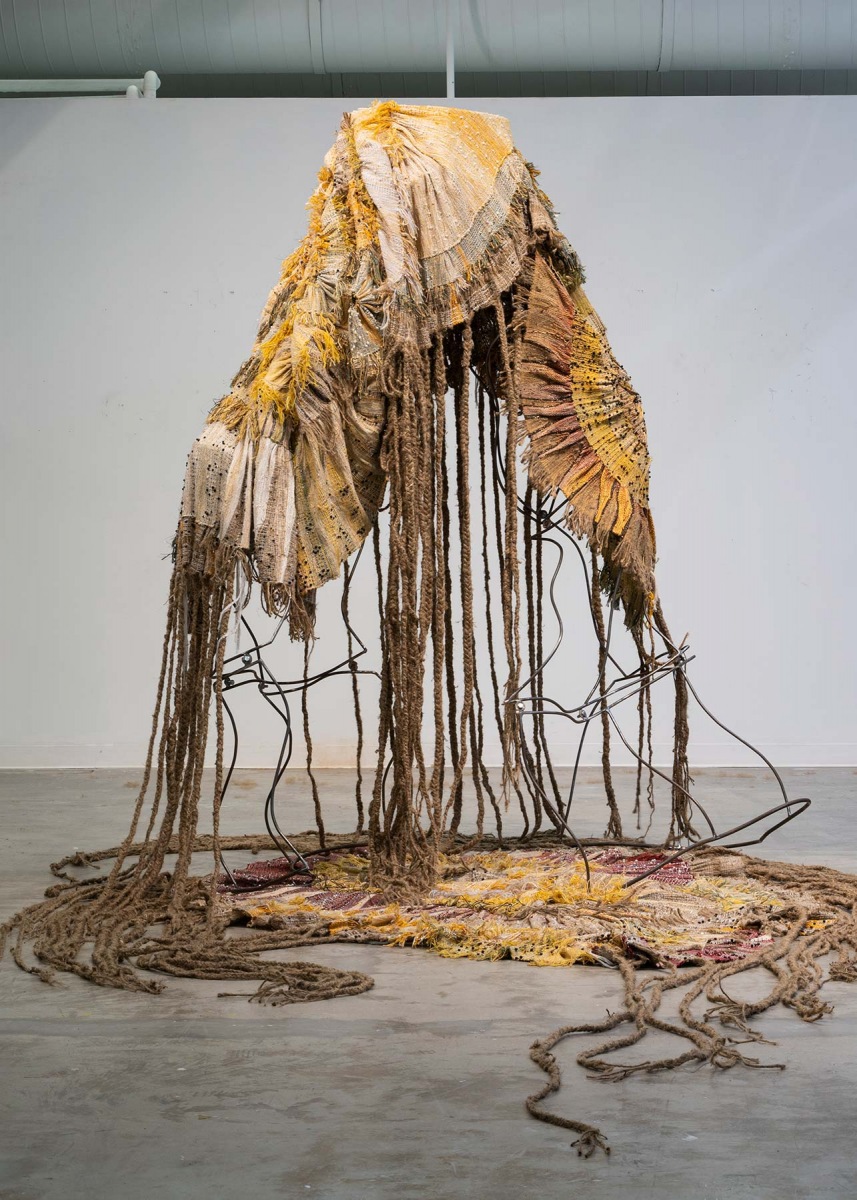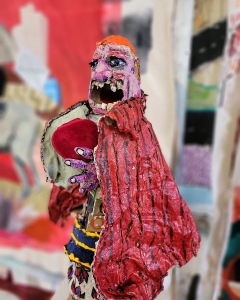 Demetri Broxton | Catch a Fire | embellished boxing glove
Amalia Galdona Broche | Glorieta | 2021 | jute, wire, beads, tinsel, yarn
Gregory Rick | studio view
Amalia Galdona Broche's woven textile sculpture/installations speak to the complexity of growing up in a culture, country and political system vastly different from her family's adopted country, America. Leaving Cuba when she was an adolescent, meant separating from what she knew, understood, and was part of. The culture, divisions, history and politics of America posed a distinctly different way of existing, interacting and thinking. Her work emphasizes this complexity.
"Made myself a modular/portable glorieta.The Santa Clara symphony used to play in the glorieta due to its excellent acoustics and illumination. In my primary school years, the glorieta crowned every memory of my time in Monguito's Visual Arts workshop at La Casa de la Cultura. In secondary school, I attended what is now a university prep school on the plaza, and every day started by circling the glorieta until classes started. The glorieta witnessed our off tune singing of the national anthem, very sincere, if misguided speeches/comunicados, countless marches, processions, Sunday night outings and very many of my goodbyes."
Amalia Galdona Broche was recently named Assistant Professor of Art in the Textiles Department, Rhode Island School of Design. She received her MFA from the School of Art & Visual Studies, University of Kentucky in 2021. Galdona Broche was awarded the prestigious International Sculpture Center's Outstanding Student Achievement in Contemporary Sculpture Award for 2021. Residencies include MASS MoCA Studios/Assets in 2019 as well as the New York Academy of Art in 2015.
Demetri Broxton's textile sculptures reflect his connection to the sacred art of the Yoruba people of Nigeria, the beading traditions of the New Orleans Mardi Gras Indians, and his love of hip hop and graffiti. He understands his work as an ongoing investigation of cultural continuities from Africa to America and is particularly interested in how these ancient cultural forms find their way into mainstream culture.
Demetri Broxton is of Louisiana Creole and Filipino heritage. He was born and raised in Oakland, CA and earned a BFA at UC Berkeley in 2002. His work is included in museum collections nationally and was recently written about in Artforum, Culture Magazine and L'Officiel. He's influenced by craft and folk traditions and infusing these traditions into fine art.
The history of war, humiliation, loss and destruction are the stories that unite and divide us — leaving everyone scarred forever. As a veteran, father, artist, the personal, political and global are boundaries Gregory Rick navigates every day. His narrative paintings are unstretched, direct and personal, telling of experiences words can't communicate.
A 2022 MFA candidate from Stanford University Gregory Rick was nominated and received the SECA Award from SFMOMA, with an upcoming exhibition in November 2022.
Artist Page