Press Release
Cornelia Schulz
Elisa D'Arrigo
Monica Rezman
Joachim Bandau
Exhibition Dates: November – December, 2022
.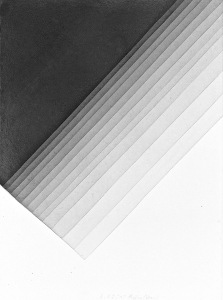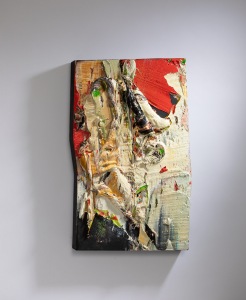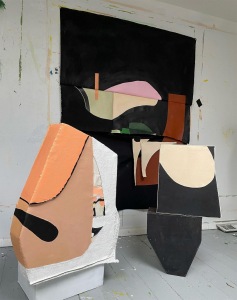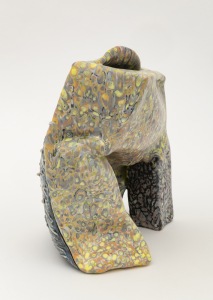 Joachim Bandau | Black Watercolor | 2013 | 30 x 22 inches
Cornelia Schulz | Lip Synch | 2022 | oil on shaped wood/canvas support | 19.5 x 12 inches
Monica Rezman | Studio View | textiles, paint
Elisa D'Arrigo | Both Sides Now | glazed ceramic | 8.5 x 7.5 x 7 inches
PATRICIA SWEETOW GALLERY is pleased to present a group exhibition featuring Joachim Bandau, Cornelia Schulz, Monica Rezman, and Elisa D'Arrigo.
Cornelia Schulz (b. 1936) lives and works in the San Francisco Bay Area. For close to 50 years she has honed her skills in abstract paintings of complex shape and color. Her early education in the arts began at the Los Angeles County Art Institute in 1954 through 1957, the heyday of the California Ceramics Revolution. She studied sculpture in clay and wood with Renzo Fenci (1914 – 1999), and drawing from Herbert Jepson (1908 –1993). She received her Bachelor of Fine Arts in painting (1959) and her Master of Fine Arts in welded steel sculpture (1961) from the San Francisco Art Institute (SFAI).
Schulz began her teaching career at the University of California Davis Art Department in 1973, retiring as Professor Emeritus in 2002. During her tenure at the University of California in Davis, Cornelia Schulz became the first female Chair of the Department of Art from 1988 to 1992, serving again in 1995.
Monica Rezman (b. 1958) is a multi-media artist who explores intimacy within abstraction through the use of traditional media and everyday found materials. She studied painting and textile design at the School of the Art Institute of Chicago in 1979.  In 1999 and 2002 consecutively, Rezman was awarded an Art-in-Residence in Gujurat, India, one of the world's most revered craft communities in textiles. She has exhibited nationally and internationally including exhibitions at The Riverside Art Center, 2019; Governors State University Gallery, 2019; Merida English Library, Mexico, 2019; the Chicago Cultural Center, 2017; The Contemporary Art Gallery, India, 1999.  In 2017-18 she was the Artist-In-Residence at the Chicago Artist Coalition's Field/Work program.
Elisa D'Arrigo's work begins with an array of hollow, mostly cylindrical and rectilinear forms hand-built from clay slabs — basic forms that she manipulates wet in a period of intense improvisation. The "postures" that result allude to the body in a gestural and even visceral manner, exuding a figural presence. Their necessary hollowness conjure an animation from within, conflating color, surface and sculptural form within the context of the glazed ceramic vessel. D'Arrigo's process is one of excavation and discovery — improvisation reveals forms that are oddly familiar, attached to distant memories or tied to an intrinsic humor.
In her 2019 catalogue essay for Elizabeth Harris Gallery, esteemed writer Nancy Princenthal described D'Arrigo's work as "a series of alarmingly potent little ceramic figures that engage our propensities for reverie, humor and perhaps most satisfying, deep human recognition."
D'Arrigo was born and raised in the Bronx (b. 1953) and lives and works in New York, NY. Her work is held in the collections of The Metropolitan Museum of Art, The Everson Museum of Art, The Mead Art Museum, The High Museum of Art, The Samuel Dorsky Museum of Art, and The Weatherspoon Art Museum. Her work has been reviewed in Hyperallergic, Two Coats of Paint, The New York Times, Art in America, ArtNews, Sculpture Magazine, Partisan Review, ArtPapers, ArtSpiel, Too Much Art and The New York Observer, among others.
Joachim Bandau (b.1936) belongs to a protean group of German artists, along with Gerhard Richter, Joseph Beuys, and Imi Knoebel, who came out of the Kunstakademie Düsseldorf in 1961. He began painting black watercolors in 1983. The paintings embody the political, aesthetic and spiritual discourse of his 50-year career. Nuanced in technique and posture, Bandau's watercolors require a lithe balance.
Using only black pigments, Bandau starts a series of paintings with a herculean session lasting many hours, brushing layer by layer, light to dark and edge to edge. Because the paintings dry between each application of pigment, the rhythmic accretion of layers takes months, if not years to resolve. Kenneth Baker, writing for the San Francisco Chronicle, said of Bandau, "No one unfamiliar with watercolor should underestimate the feats of control that pieces such as this record. Just the right decisions regarding tools, materials and timing have to be sustained to achieve the look of effortless perfection Bandau gets."
Joachim Bandau lives and works in Germany. He's represented in over 45 museum collections including the Kunstmuseum Basel; Museum Ludwig, Cologne; Kunstmuseum Nürnberg; Jewish Museum, Berlin; Suermondt-Ludwig-Museum Aachen; Zeppelin Museum, Friedrichshafen; and the Achenbach Collection of the Fine Arts Museums of San Francisco, with over 20 public installations throughout Europe. Bandau's work can be viewed at Art Basel, Art Cologne, Art HK12 Hongkong, along with other international art fairs.
Artist Page