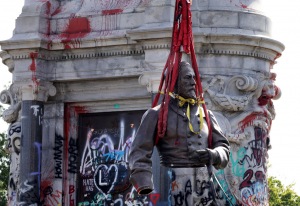 In recent years, there have been in-depth conversations about the removal of monuments of so-called heroes of this nation's history that were rooted in racism. Jefferson Pinder creates a performance that riffs on the memorialized forms of these controversial monuments, highlighting the trauma and turmoil of racial politics, as well as their underlying humor and irony. In doing so, the performance brings focus to the creative and intense labor borne of protest, while suggesting future figuration in monuments.
Monumental is temporal, disrupting the way monuments freeze time. In a style that is reminiscent of statuesque 'street-performers' the artist will strike several poses that reflect historical and contemporary traumas, i.e., taking the knee, a raised fist. Each position requires balance and strength, which will be held until Pinder physically breaks down in the struggle to hold firm.
By treading the line between 'high' and 'low' art, and 'art as spectacle', the performance draws upon disputed American monuments as symbols of patriotic heroism, and protests calling for their removal as dangerous, subversive and unamerican.
Jefferson Pinder will conduct his performance in three locations throughout Untitled Art Miami Beach 2021.  At each site Pinder will employ living statue apparatus to arrange a dynamic position. He will be layered in a highly stylized metallic costume, one that is futurist, as well as reminiscent of a bronze cast, such as those used to make monuments. The costume will obscure the black body and limit movement.
This performance is in conjunction with Patricia Sweetow Gallery, San Francisco, at Untitled Art Miami Beach 2021.
Bio:
Jefferson Pinder (b. 1970, Washington, D.C.) has produced highly praised performance-based and multidisciplinary work for over a decade. His work has been featured in numerous exhibitions including The Studio Museum in Harlem, the Wadsworth Athenaeum Museum of Art in Hartford, Connecticut, The High Museum in Atlanta, the National Gallery of Art, Washington D.C. and Tate Modern in London, UK.
In 2021 Jefferson Pinder was named a Smithsonian Artist Research Fellow; a Guggenheim Fellow in 2017; a USA Joyce Fellowship Award in the field of performance in 2016, and in 2017 the Moving Image Acquisition award.
Jefferson Pinder received a BA in Theatre and MFA in Mixed Media from the University of Maryland, and studied at the Asolo Theatre Conservatory in Sarasota, FL. He was an Assistant Professor of theory, performance and foundations at the University of Maryland from 2003-2011. Pinder is currently Dean of Faculty, Professor in the Contemporary Practices department at the School of the Art Institute of Chicago.