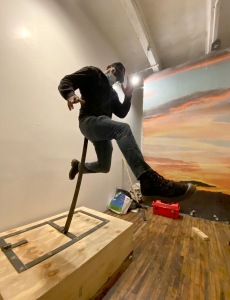 Where: Untitled Art Miami 2021;
Ocean Drive and 12th Street,
Miami Beach, Florida
When: Wednesday, December 1st at 2:00pm EST
Jefferson Pinder Debuts his performance of Monumental at Untitled Art Miami.
Jefferson Pinder's debut performance 'Monumental' resurrects the ghosts of former spectacles. His arresting new work from the Inertia Cycle questions whether the distillation of suffering and loss can be symbolically expressed. Becoming his theatre of provocation, the performance debuts at an art fair, an intermediary of spectacle in the visual arts.
While vertically suspended in an unforgiving metal harness over a wooden plinth, the act requires Pinder to hold poses until physical collapse. Each position challenges and tests his endurance to stay upright and ascendant, while the prodigious record of historical calamity as well as the dramatic restraint of strangling physical force aggravate his decline. He compels the viewer to be witness and chronicler, responding to the layers of rage, sorrow and ruin as his body degrades in struggle.
This performance is in conjunction with Patricia Sweetow Gallery, San Francisco, at Untitled Art Miami Beach 2021, Booth C57.
Bio:
Jefferson Pinder (b. 1970, Washington, D.C.)  produces highly praised performance-based and multidisciplinary work. His work has been featured in numerous exhibitions including The Studio Museum in Harlem, the Wadsworth Athenaeum Museum of Art in Hartford, Connecticut, The High Museum in Atlanta, the National Gallery of Art, Washington D.C. and Tate Modern in London, UK.
In 2021 Jefferson Pinder was named a Smithsonian Artist Research Fellow; a Guggenheim Fellow in 2017; a USA Joyce Fellowship Award in the field of performance in 2016, and in 2017 the Moving Image Acquisition award.
Jefferson Pinder received a BA in Theatre and MFA in Mixed Media from the University of Maryland, and studied at the Asolo Theatre Conservatory in Sarasota, FL. He was an Assistant Professor of theory, performance and foundations at the University of Maryland from 2003-2011. Pinder is currently Dean of Faculty, Professor in the Contemporary Practices department at the School of the Art Institute of Chicago.