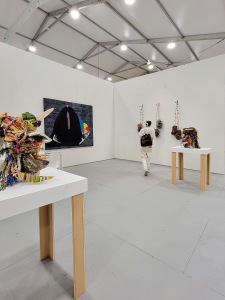 by Julia Couzens
Although Covid-19 has left us wary of touch, life is returning to the streets, hungry for the fruits of community. Our need to reconnect with values that go deeper than those of our dreadful present have never been more urgent.
Alternate realities based on alternate facts have brought us to the brink. When
Nietzsche argues for the "return of the same," he argues for the cyclical and for
coexistence. How we can reconnect with empathy and touch one another, other
cultures, and even other species may be the contemporary question.
Artisanal and craft-based art practices come from a slow time which may
address this question. Such practices come from people sitting in a circle
creating work that's greater than the sum of its parts, not from the bodiless,
automated churn of global industry and capitalist outsourcing. (Progress isn't all
it's cracked up to be.) Craft is no longer diminished as the purview of the
domestic and female. Contemporary artists have ditched those marginalizing
shackles, freely choosing craft practices to confront orthodox vocabularies and
social dysfunction that institutional biases have wrought.
Innovative practitioners Sarah Amos, Demetri Broxton, and Ramekon
O'Arwisters use such materials as industrial felt, paint, yarn, money cowrie
shells, steel nails, shredded textiles, and hunks of broken ceramic to fabricate
their resolutely tactile work. Amos, Broxton, and O'Arwisters retrieve from
and expand upon the multifaceted traditions of craft, painting, and sculpture.
These artists deploy low-tech methodologies, one bead, one stitch, and one knot
at a time, providing a framework for material gestures celebrating personal
idiosyncrasies, self-empowerment, and the sheer inhalation/exhalation of
breath. Deeper than deep and slower than slow.
Working between Australia and rural Vermont, Sarah Amos stretches the
vocabulary of contemporary printmaking, painting, and textile art. Adroitly
mixing media, Amos's mastery of the techniques and materials suited to her
themes and investigations of form is irrefutable. With taut reserve and linear
elegance, she confirms traditions of collagraphy, tapestry and modernist
abstraction with an assiduousness that moves them forward, incorporating a
larger perspective that is resoundingly new. Boundaries blur and expand. In
such works as Coracle Crossing and White Kobold forms toggle between the
galactic and minute, between object, wall, and space, and between allusions to
indigenous iconography and the unfathomable cosmic. Made from visceral
urge, Amos's work is charged with the energy needed to make it and with the
need to look beyond, or between, what we already know. The work's haptic
presence touches both history and the post-colonial future. It goes without
saying that stacking stitching on top of sewing on top of painting on top of
printmaking requires time and labor. But this layering of each meticulous
process subversively points to a value system having political implications.
Long hours in the studio, working without fleets of assistants or outsourcing
fabrication speaks to local production, a minimal carbon footprint, if any, and
the increasingly radical stance of being grounded.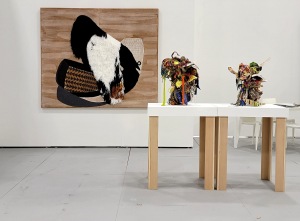 Demetri Broxton's singular objects are a brilliant synthesis of text, assemblage,
adornment, and sculpture. Broxton inventively uses glass beads, cowrie shells,
nails, and boxing gloves to purposefully connect multi-racial cultural histories,
gender politics, and contemporary hip-hop culture with a discourse of self-
empowerment and celebration. Born and raised in Oakland, Broxton's
Louisiana Creole/Filipino heredity and a grandfather who boxed for the US
Army informs his contemplative research into the transatlantic slave trade and
to his use of the boxing glove as armature, substrate, and surrogate body. The
bristling physicality and glistening presence of such a work as Empathy Be the
Reason raises the hair on the back of your neck. This is strange fruit. It's
fetish-y authority of life is enough. But the conceptual nuance in Broxton's
choice of materials gives his work a lingering afterlife which is as layered as the
hauntingly charged hip-hop hymn from which the title comes. The cowrie shells
sprouting from the boxing gloves recall both Yoruba ritual objects made for the
protection of one's character and destiny as well as their use as money in the
slave trade. The street font of graffiti composing the glass-beaded text gives
embodied voice to courageous Black womanhood; Yoruba color theory informs
the green and black beading. Once a pound of cowrie shells was worth thirteen
pounds of flesh. Broxton turns cowrie shells into vision beyond measure.
Noted Bay Area artist Ramekon O'Arwisters's sculpture weaves spontaneous
gesture into textile thickets that both tenderly cradle and fiercely embrace
salvaged ceramic shards. Whorls of shredded fabric are twisted, bound, and
knotted into riotous fabric clumps larded with chunks of broken ceramics
retrieved from the Cal State University Long Beach ceramics program. Re-
purposing what is broken is a form of alliance with our human imperfections,
and an essential part of O'Arwisters artistic production. As the founder of
Crochet Jam, O'Arwisters's collaborative principles partly defines his ethical
stance as an artist and the way he inhabits the world. Flowered Thorns is a go-
for-broke celebration of equal access, of the performative exuberance of drag
culture, of the high and low and in-between. Clots and clusters of fabric and
cradled ceramic appear to strut, prance, and vogue. Fountains of thread spew in
celebratory evocations and tiny braided bits spring rebelliously from inchoate
mounds of compacted fabric. No scrap or dime store ribbon is unworthy –
beauty and grace can be retrieved from our wreckage.
_________
About the author — Julia Couzens is an artist who writes about contemporary art. She is a contributing writer to squarecylinder.com and The Sacramento Bee. Her essays have appeared in Ceramics: Art and Perception, and for various West Coast institutions including the Crocker Art Museum, Riverside Art Museum, University of LaVerne, and UNLV/Marjorie Barrick Museum.