Markus Linnenbrink: Little Journeys and Cosmic Buckshot
by Julia Couzens

In the Studio: The Making of HELLOIMYOURNEWTREE
Markus Linnenbrink's dazzlingly seductive work functions like painting, but it isn't.  Working with epoxy resin, wooden supports, pigment, and a router mobilized by two joysticks, Linnenbrink constructs objects that examine both painting and sculpture.  He is also known for color-saturated installations of vast, wall-spanning bands of dripping paint. His process is methodical and draws upon collaborative layers and deliberate systems. To an extent, it's even dryly mechanical. But beyond taxonomic questions and a persevering fabrication process, Linnenbrink's work is unabashedly beautiful — its sheer physicality a redolent spectacle of expressive form and an irrefutable reality all its own. Glistening caverns and crevices of stratified resin create undulating topographies of embodied paint.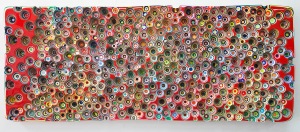 INCOMPLETEKISSES, epoxy resin with pigment, 24 x 60 inches (62 x 155 cm)
For all the work's bulletproof sheen seemingly born of fetish-y high-tech industrial instruments, Linnenbrink brings a jackhammer mentality to ordinary woodshop tools, such as drills, racks, routers, and exhaust fans.
He stations his meticulously observing eye on heightened alert to the sensuous physical properties of pigment-laden resin and the means by which to intensify those properties. Linnenbrink is the consummate watcher. Setting up systems for layering his pours of colored resin over wood panels braced to support their accumulating weight, he closely observes the behavior of gravity, of drips, of leftover puddles – to harvest and colonize these behavioral remnants into new works.  Thirty years of practice has given him a lexicon of connections informed by concentrated attention to his working process. Linnenbrink rules out nothing and keeps his eye on everything.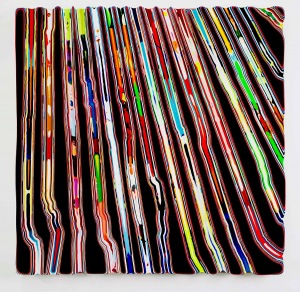 NEWMUDDYWATER, epoxy resin with pigment, 36 x 36 inches (93 x 93 cm)
 The result of his process is a micro/macro duality in works such as NEWWORLDMUDDYWATER, 2019, ALLCLOCKSWITHNOHANDS, 2019, and INVISIBLEACCIDENTS, 2018.  Resolutely abstract, they nevertheless evoke speculations on the cosmos, biological conditions, and time.  Dualities of being and becoming, emerging and disappearing, coalescing and dispersing circulate through the works.  The routed rivulets, drilled pocks and pits appear to throb and swarm in a state of perpetual motion, asserting art's contingent nature.   The routed trenches, or furrows, of NEWMUDDYWATER literally plow a field of multihued, gleaming pigment, asserting both linear abstraction and the erosion of a timeworn landscape.  Clusters of concentric depressions plunder the cobalt surface of INVISIBLEACCIDENTS like astral buckshot.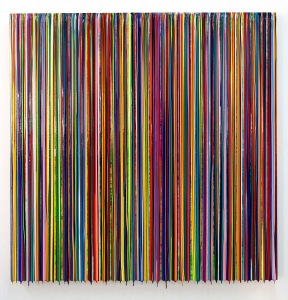 CONTACTMAGICALBOY, epoxy resin with pigment, 48 x 48 inches (124 x 124 cm)
HENRYROUSSEAUSDREAM, 2018, and (WHEN)ROADSBECOMERIVERS, 2019, are genuinely spellbinding works of pure alchemy.  One cannot look away.  Under Linnenbrink's vigilant eye and in his nimble hands, layers of translucent and opaque pigment encased in resin's viscous liquor harden into entities gigantic with consequence.  Routing out countless pocks, each a miniature painting and singular, colorfully layered composition, Linnenbrink orchestrates scenarios implicating speculations on cosmic chemistry. He transforms plastic, wood, and paint into mesmerizing odes and mind-buckling visions of uncertain worlds and existential presence.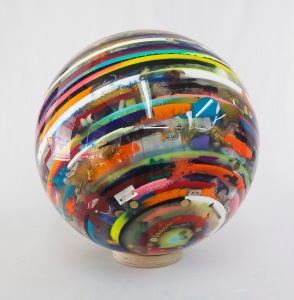 HELLOIAMYOURNEWTREE, 2019, is a two-foot globe of layered resin.
Like some interstellar marble or celestial shot, the colorful strata encapsulates framing hardware, desk supplies, sunglasses, trinkets and tidbits snatched from the flux of contemporary experience.
Gazing into the luminous ball, one gets lost in its depths, absorbed by its materials and the act of looking.  One can make a craft comparison to the extent Linnenbrink uses functional objects to make something that transcends its base materiality. The work's seductive systems take us on little journeys into reveries — reveries on time and memory and our place in the cosmos.
Written by Julia Couzens – Julia Couzens is an artist who writes about contemporary art. She is a contributing writer to squarecylinder.com and The Sacramento Bee. Her essays have appeared in Ceramics: Art and Perception, and for various West Coast institutions including the Crocker Art Museum, Riverside Art Museum, University of LaVerne, and UNLV/Marjorie Barrick Museum.