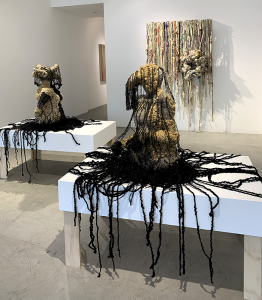 Amalia Galdona Broche transforms fiber into shape-shifting woven figurative sculpture that is, by turns, Gothic, primordial, and shamanistic.  Her arsenal of fabrication methods is protean. She twists, knots, weaves, binds, wraps, and pins textiles, both found and constructed, into narratives of metamorphosis, erotic possibility, and spiritual quests.
Born in Cuba, Galdona Broche's childhood was partly defined by the Special Period, Cuba's extended era of economic crisis after the dissolution of the Soviet Union.  Her family immigrated to the United States when she was an adolescent. She speaks of her creative practice as the means by which she encounters connections between her past and contingent present. The conceptual matrix of her work is memory, history, Spanish and West African belief systems, cultural differences, and identity's mutable nature. Her seemingly insatiable drive to think through her hands is the work's intuitive current.
The initial impact of Galdona Broche's hybrid figurative forms is visceral. A feeling of pulsing, indeterminate life goes to one's core before comprehending the specifics of their figuration — their gender and species. This palpable sensation of is embodied by the coiling, snaking lines of rope, thread, twine, and woven raffia that both cover and compose the forms.  Sinuous ropes of tarry black muslin and netting, intricately knotted, boil and cascade over the torsos, sprawling across the pedestals in writhing linear thickets. Galdona Broche regards the knots she uses to braid and construct the ropes as symbols for internal experience – memories, thoughts, feelings, and speculative deliberations.  As such, a figure ensnared in thickly woven webs appears caught, as if in the pull of an abandoned world or deep rumination.
Galdona Broche's figures are fabricated from wire armatures over which she wraps and weaves natural fibers and raffia.  Drawing from Afro-Cuban spirituality and the practices of Santeria that venerate nature and life forces, she articulates female forms sprouting ram-like horns. She views the hybrid figures as embodiments of a personal cosmology, ancestral agents between the human and spirit world.
Imbued with the erotics of carnival, the work evokes bewitching narratives of ritual and voodoo, practices that subvert the boundaries between nature and culture, rigid systems, time, and identities. Her spectacularly laden entities haul up buried questions, summoning reverie, enchantment, and realities beyond this intensely difficult now.
_________
About the author — Julia Couzens is an artist who writes about contemporary art. She is a contributing writer to squarecylinder.com and The Sacramento Bee. Her essays have appeared in Ceramics: Art and Perception, and for various West Coast institutions including the Crocker Art Museum, Riverside Art Museum, University of LaVerne, and UNLV/Marjorie Barrick Museum.