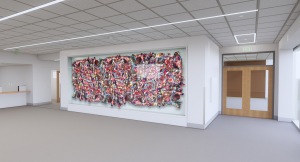 Ramekon O'Arwisters receives a significant commission from the San Francisco Arts Commission for the new Southeast Health Center, located at 2401 Keith Street in San Francisco. The proposed artwork is a 19 x 7 foot tapestry, featured in a casement frame, in the entry lobby of the health center. The projected completion date of the building is 2021/22. This commission reflects the mission of The Southeast Health Center which is a full service health clinic that offers affordable, comprehensive care to people of all ages in the Bayview.
"Woven Calmness is based on the premier African-American tradition of using improvisation and contrasting colors as the primary structure for creativity and design. The tapestry represents the role of folk-art weaving and fabric traditions within the African-American community and their imbued powers to heal, support, and unite in times of adversity. The tapestry will be attached on a wooden panel, mounted on the wall with metal cleats, protected by plexiglass and inset into the wall. "
Congratulations Ramekon!!