PULSE Miami Beach 2017
Ramekon O'Arwisters: Sculpture
Markus Linnenbrink: Paintings
Exhibition Dates: Thursday, December 7 – Sunday, December 10, 2017
Location: Indian Beach Park, 4601 Collins Avenue, Miami Beach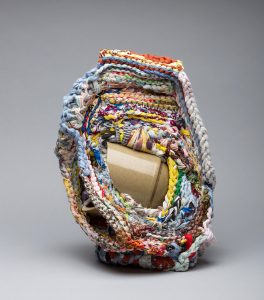 Patricia Sweetow Gallery is honored to debut the crocheted fabric sculptures of Ramekon O'Arwisters and the resin paintings of Markus Linnenbrink at PULSE MIAMI 2017, Thursday, December 7 – Sunday, December 10, 2017. Integral to each artist's practice is their attention to the working process inherent in their materials and how that investigation is driven by an intuitive consideration of color, form and by consequence, intention.
The series of Ramekon O'Arwisters unique crocheted/ceramic sculptures are aptly titled, Mending. The free-form abstractions entangle shards of broken ceramic vessels within coils of crocheted fabric. Employing ordinary household, or decorative pottery that's broken and discarded, O'Arwisters combines traditional crafts into a dimensional woven tapestry, stripping both cloth and ceramic of their intended function.
Ramekon grew up in North Carolina with a grandmother who included him in the folk tradition of making quilts. "When I was growing up in North Carolina, I helped my paternal grandmother, Celia Jones Taylor (1896–1982) make quilts. Quilt-making with her is one of my fondest childhood memories. With her, I was embraced, important, and special. I was a little black boy hiding my queer self from my family during the harsh reality of the Jim Crow South during the 1960s and before the turbulent years of the Civil Rights Movement that spread throughout the country."
A San Francisco-based social practice artist, Ramekon O'Arwisters is the founder of Crochet Jam, a community arts project infused with folk-art traditions that foster a creative culture in cooperative relationships. The crocheted rag event allows a diverse audience to create together, refocusing energy toward shared goals.
Born in Kernersville, North Carolina, O'Arwisters earned a M.Div. from Duke University Divinity School in 1986. He was an artist-in-residence at the de Young Museum, the Djerassi Resident Artists Program, and the Vermont Studio Center. Grants and Awards include Artadia: The Fund for Art and Dialogue, NY, the San Francisco Foundation and the San Francisco Arts Commission Cultural Equity Program. He also received the 2014 Eureka Fellow, awarded by the Fleishhacker Foundation, San Francisco. His work has been featured in the LA Times, San Francisco Chronicle, 7×7 Magazine, Artnet, and the San Francisco Examiner.
Ramekon O'Arwisters one-person exhibition at PSG opens January 6th – February 10th, 2018. Concurrent with his exhibition he'll be featured with RECOLOGY Artist Residency at the January 2018 UNTITLED Art Fair in San Francisco.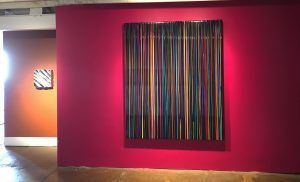 Markus Linnenbrink, pours and pools resin with cumulative layers of opaque and translucent pigments building the dramatic physicality of his objects. With inventive mastery Markus Linnenbrink's paintings are described as both performative and extreme. For three decades Linnenbrink's inventive methodology drives with intuitive intentionality, not with an eye to distract, but with the alchemists quest for transformation. There's no question viewing a Linnenbrink painting is the stuff of ponderous pleasure, but it also transports beyond the constraints of what 'is' to what 'isn't'. Pagel comments, "After a few generations of art made by artists who seem to believe that the pursuit of knowledge and that of pleasure follow paths that go in opposite directions, it's refreshing to come across Linnenbrink's works, which, in their multi-directional ambidexterity, both insist and demonstrate that physical pleasure and intellectual stimulation work in concert, enhancing and amplifying each other's best features while fueling the fires of a viewer's experiences."
Markus Linnenbrink garnered attention in the U.S. and Europe with wall paintings at the UCLA Hammer Museum, the Aldrich Museum of Contemporary Art, the Kunstmuseum in Bonn, and Haus Esters, Krefeld. Recent significant commissions are The Rockefeller Center, NY with a 7 by 90 foot painting installed in their public concourse lobby; and Morrison Foerster, NY installation of 8 wall paintings, 9 by 42 feet, on each of their eight floors. Over 50 works are in public collections which include the San Francisco Museum of Modern Art; UCLA Hammer Museum; The Hague Ministry of Culture, the Netherlands; Museum Neue Galerie, Kassel; Museum Katharinenhof, Kranenburg; Kunsthalle Recklinghausen; Herzliya Museum of Art, Israel, and Clemens- Sels- Museum, Neuss and 75 Rockefeller Center, NY.