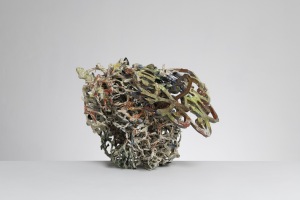 We're very honored and excited to announce Linda Sormin's sculpture Ta Saparot is one of the featured new acquisitions in the upcoming exhibition, This Present Moment: Crafting a Better World at the Smithsonian American Art Museum, Renwick Gallery.
Exhibition Dates: May 13, 2022 — April 2, 2023
This Present Moment: Crafting a Better World showcases the dynamic landscape of American craft today. The exhibition highlights the role that artists play in our world to spark essential conversations, stories of resilience, and methods of activism—showing us a more relational and empathetic world. It centers more expansive definitions and acknowledgments of often-overlooked histories and contributions of women, people of color, and other marginalized communities.
On view at SAAM's Renwick Gallery, This Present Moment activates two floors of gallery space, highlighting 171 artworks from SAAM's extensive holdings of modern and contemporary craft, in a range of craft mediums from fiber and ceramics to glass and mixed media. These objects deepen the history of the studio craft movement while also introducing contemporary artworks that push the boundaries of what we interpret the handmade to be in the twenty-first century.
This Present Moment marks the fiftieth anniversary of SAAM's Renwick Gallery as the nation's premier museum dedicated to American craft. An anniversary acquisition campaign, begun in 2020, focused on artworks made by a broadly representative and diverse group of American artists and increased the number of Black, Latinx, Asian American, LGBTQ+, Indigenous and women artists, among others, represented in the nation's collection. This Present Moment features 135 of these objects, on display at the Renwick Gallery for the first time.
This Present Moment: Crafting a Better World, is organized by Mary Savig, the Lloyd Herman Curator of Craft; with support from Nora Atkinson, the Fleur and Charles Bresler Curator-in-Charge for the Renwick Gallery; Anya Montiel, curator at the Smithsonian's National Museum of the American Indian; and Elana Hain, collections manager. This exhibition is the latest in a series presented at the Renwick Gallery that reassess what craft is in a modern world.
This Present Moment: Crafting a Better World is organized by the Renwick Gallery of the Smithsonian American Art Museum.
Generous support is provided by Carl and Jan Fisher, Shelby and Fred Gans, the James Renwick Alliance for Craft, and Ann Kaplan and Robert Fippinger.
The catalogue is made possible by Cindy Miscikowski.
Additional support is provided by Alturas Foundation, Elizabeth Broun Curatorial Endowment, Sharon and Bob Buchanan, Sheila Burke, Billings and John Cay, Faye and Robert Davidson Jr., DLR Group, Elizabeth and James Eisenstein, Mary Anne Fray, Cary J. Frieze, The Galena-Yorktown Foundation, Michael and Heather Greenbaum, Chris G. Harris, Cecily and Bannus Hudson, Maureen and Gene Kim, Colleen and John Kotelly, Joseph P. Logan, Nion McEvoy and Leslie Berriman, Eleanor T. Rosenfeld, Dorothy Saxe in memory of George Saxe, Maggie and Dick Scarlett, Barbara Tober, Judith S. Weisman, Myra and Harold Weiss, Kelly Williams and Andrew Forsyth, and Todd Wingate and Steven Cason.
Contact us to request a PDF of available work by Linda Sormin.