March 7, 2020 – July 26, 2020
East Building, Level B, Joyce W. Pope Gallery
 Throughout modern art history, painting has been declared dead and later resuscitated so many times that the issue now tends to has largely been ignored. Despite any debate over painting's viability, artists continue to persevere in keeping the medium fresh and new. Currently painting is enjoying a revival in the art world, and innovative North Carolina artists are helping to maintain its vibrant place on the front burner.
There has perhaps never been a time like the present for the tactile, human, and emotional nature of painting to shine. Amid the constant inundation of modern media, the act of painting itself can feel like an antidote to chaos, a way of slowing down and setting order to the precarious, disorienting environment around us. Similarly, audiences are asked to slow down and approach paintings with patience, critical thinking, and an open mind and heart.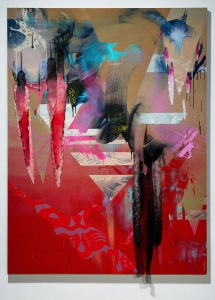 Front Burner: Highlights in Contemporary North Carolina Painting features a sampling of some of the most relevant and engaging painting being made in the state. The exhibition presents 25 emerging, mid-career, and established artists working within a variety of mediums and ideas. In styles ranging from abstract to figurative and representational, these artists explore the endless possibilities of paint in unique, personal ways.
Brett Baker, Raleigh
Cynthia Bickley-Green, Greenville
Maria Britton, Carrboro
Mark Brown, Chapel Hill
Ashlynn Browning, Raleigh
Luke Miller Buchanan, Raleigh
Martha Clippinger, Durham
Hannah Cole, Asheville
Celia Johnson, Chapel Hill
Benjamin Knight, Deep Run
Ashley Lathe, Charlotte
Georges Le Chevallier, Garner
Juan Logan, Belmont
Gerry Lynch, Apex
Donald Martiny, Chapel Hill
Mario Marzan, Chapel Hill
George McKim, Raleigh
Bonnie Melton, Durham
Katy Mixon, Chapel Hill
Carmen Neely, Charlotte
Shaun Richards, Raleigh
Barbara Campbell Thomas, Climax
William Paul Thomas, Durham
Lien Truong, Chapel Hill
Antoine Williams, Greensboro
---
Organized by guest curator Ashlynn Browning in collaboration with the North Carolina Museum of Art. This exhibition was made possible, in part, by the North Carolina Department of Natural and Cultural Resources; the North Carolina Museum of Art Foundation, Inc.; and the William R. Kenan Jr. Endowment for Educational Exhibitions.