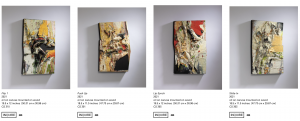 In the tradition of San Francisco's celebration of the visual arts in January, 8-bridges is pleased to present 4×8-bridges, an expanded presentation by Bay Area art galleries. 4×8-bridges is now LIVE, featuring twenty-one galleries for this month. Patricia Sweetow Gallery is excited to present a solo exhibition of oil paintings by Cornelia Schulz in the first in-person edition of Intersect Palm Springs. A printed catalog will be available for preorder, covering select paintings from 2021 – 2018 with an essay by Kenneth Baker.
"It is the unhurried quality of her work that impresses more than its implicitly expressive variations of speed or intensity in gestures or color incidents. Each painting, once begun, is a ticking timepiece, rhyming in ways known only to her with the hours of her days and the pulses of creative anxiety."

– Kenneth Baker (1946 – 2021)
Cornelia Schulz (b. 1936) lives and works in the San Francisco Bay Area. For close to 50 years, she has honed her skills in abstract paintings of complex shape and color. Her early education in the arts began at the Los Angeles County Art Institute in 1954 through 1957, the heyday of the California Ceramics Revolution. She studied sculpture in clay and wood with Renzo Fenci (1914 – 1999), and drawing from Herbert Jepson (1908 –1993). She received her BFA in painting (1959) and her MFA in welded steel sculpture (1961) from the San Francisco Art Institute (SFAI). Cornelia Schulz began her teaching career at the University of California Davis Art Department in 1973, retiring as Professor Emeritus in 2002. At UC Davis, Schulz became the first female Chair of the Department of Art from 1988 – 1992, serving again in 1995. Cornelia Schulz is included in the permanent collections of the San Francisco Museum of Modern Art; the Berkeley Art Museum and Pacific Film Archive; SFO Museum at San Francisco International Airport; and the Jan Shrem and Maria Manetti Shrem Museum of Art, Davis, California, as well as many national and international collections.
Inquire about available work at contact@patriciasweetowgallery.com.