November 30th
by Lisa Morales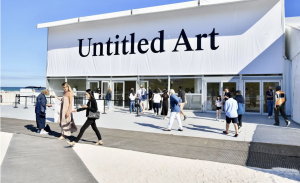 Miami Art Week is back and commenced with a VIP preview of Untitled Art Miami Beach. Gallerists were eager to greet a crowd of art lovers after a missed year of in-person art fairs due to COVID. South Beach too was abuzz with beachgoers and sidewalk cafes now filled with people from around the globe after travel opened on November 8th. However, today at Untitled Art, the love of art filled the warm, sea breeze air. As you navigate through the sun-filled tent situated on the sand, here are five galleries that will stop you in your tracks. The fair will be on view at Ocean Drive and 12th Street until December 4th, 2021.
L21 Gallery (Mallorca, Spain)
L21 Gallery's curated booth is titled, Beach House. Natural light from the skylights above, fills the expansive and colorful living room. The eye is drawn into a magical space adorned with large works by artists such as:  Cristina de Miguel, Mira Makai, Fabio Viscogliosi and Richard Woods. Since its beginnings in 2012, L21 has been committed to the representation of emerging national artists and the experimentation with new exhibition formats.
Patricia Sweetow Gallery (San Francisco)
Like a one-two punch, you'll be stunned by the boxing glove sculptures by Demetri Broxton at Patricia Sweetow Gallery's booth. America's Reflections of Me is a pair of Everlast boxing gloves pierced by nearly 20 pounds of steel nails. The act of pounding nails partially into a wooden sculpture has roots in the Nkisi Nkondi power figures of the Kongo peoples of Central West Africa. Other exhibiting artists are Sarah Amos and Ramekon O'Arwisters. There will be a debut performance by Jefferson Pinder on Wednesday, December 1st at 2:00 pm.
Bitforms Gallery
Daniel Rozin's CMY Shadows Mirror (2021) at Bitforms Gallery's booth is made up of 1,555 acrylic paddles, motors, 3D camera, control electronics, computer, and custom software. The camera located behind the sculpture detects the viewer's motion in real time. At that point, he/she becomes part of the art and is also entranced by the gentle sounds of moving paddles and their soothing colors.
Bertrand Productions (Philadelphia)
Artist Stacey Lee Webber's embroidered money series at Bertrand Productions' booth are fascinating. The Uncut Sheets series is a continued exploration of the narratives formed from her Insurrection Bill collection.  The hand stitched embroidery forms an imagined narrative which recontextualizes historic icons found on uncut sheets of American paper money. Joseph Leroux presents a new series of paintings which uses about 100 layers of urethane spray paint to depict large crowd scenes.
Over the Influence (Los Angeles and Hong Kong)
A definite showstopper at Over the Influence is Hermès Blouse 2020 by Andy Dixon made from acrylic and oil stick on canvas with glazed ceramic buttons on wood. Dixon explores themes of decadence, patronage, and the relationship between art and wealth.