By Humboldt State Now
Mar 20, 2014
Humboldt State University's First Street Gallery presents, The Spider and the Fly, a collection of prints and mixed media drawings by artist Gail Wight on display April 1 to May 18. Currently a Professor of Art at Stanford University, Wight's work has earned her national and international recognition in solo and group exhibitions.
Wight is inspired by the natural world and the way that it is perceived by humanity. She depicts human, animal, plant and other species in order to reveal the patterns and effects of biological convergence. Sculpture, video, interactive media and print are Wight's primary mediums, which she liberally uses to explore themes of evolution, art, biology, cognition and animal sentience. Recently her work has focused on the concept of time, unlocking the desire for a better understanding of the unknowable past.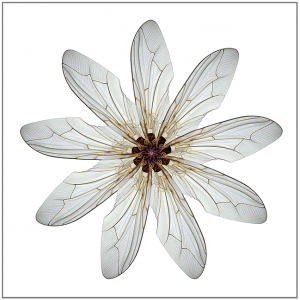 The combination of scientific and philosophical approaches in her mixed-media work connects ideas about so-called reality and the subconscious. Her art explores the dynamism between nature and human innovation, using new technology and unique methods that reinvent traditional approaches in making visual art.
Wight's work re-examines human perceptions, concepts of science and nature through the creation of a variety of experiments, physical objects, and performances. The current exhibition at HSU First Street Gallery includes, Solar Burn, a series inspired by scientific experiments done in the 1940s in which spiders were given a variety of drugs and then released to spin their drug-influenced webs. In an uncanny fashion, the spiders, through their spider web designs, expressed the unique effects of the drugs they were a given. Using a magnifying glass and light, Gail Wight burns the line of their intricately woven patterns (made under the influence of such drugs as caffeine, marijuana and LSD) into translucent paper. In some places along the line of the drawings, a small hole may randomly burn through the paper, which allows a refraction of light to pass through. When hung before a light source, the pieces achieve high visual interest as they spectrally divide the light passing through the drawings. The resulting pieces describe, in a mimetic fashion, the altered state that the respective drugs may induce. The drawings alternatively remind us of how science is often manipulated in service of ideology.
In the artist's most recent digital prints, which are presented in this exhibition, she creates intricate, floral-like images using composite scans of fly wings and insect parts, resulting in playful, intricate depictions of complex of organic phenomena.
Gail Wight will present a lecture and slide show about her work at Humboldt State University on Friday, April 4 at 5 p.m. The lecture will be held in Room 102 in the Art Department building on the Humboldt State Campus. This event is free to the public. A reception for the artist will be held at HSU First Street Gallery on Saturday, April 5 from 6:00 p.m. to 9:00 p.m. during Eureka's monthly Arts Alive program. The event is free and open to the public. The gallery is open Tuesday through Sunday from 12 to 5 p.m. and is located at 422 First Street in Eureka, California. Admission is free. Those planning group tours are encouraged to call ahead. For more information call 707-443-6363. For additional information, visit the gallery's website at humboldt/edu/first.