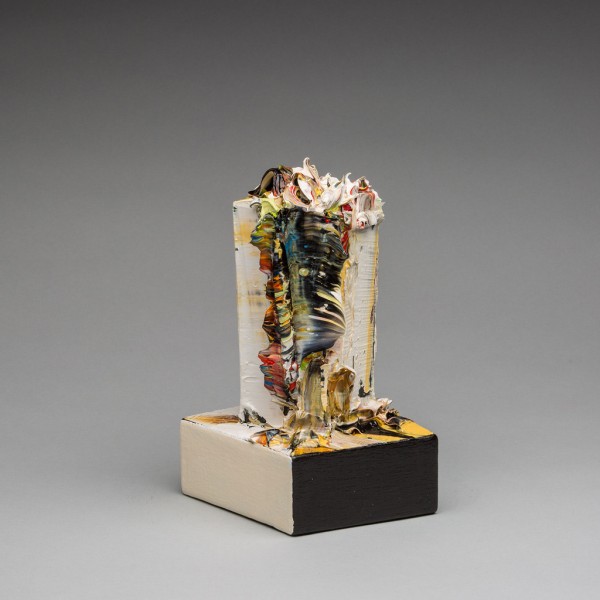 Kenneth Baker, Friday, March 27, 2015
Cornelia Schulz at Spun Smoke
A faint current of humor has rippled through the work of Bay Area painter Cornelia Schulz for years. As her paintings' profiles grew more eccentric and their aesthetics more confectionery, their humor began to look ever more risky. Might it not simply flood the work and buoy away its seriousness?
When Frank Stella, Kenneth Noland (1924-2010) and a few others in the 1960s began stretching canvases on non-rectangular strainer bars, plenty of younger admirers followed their lead in drawing fresh attention to paintings' exterior profiles. Schulz might be even counted, distantly, among them.
But who will follow her in her latest step — making small free-standing canvas-over-wood armatures on which to paint with her characteristic luxuriance?
Schulz courts ridicule, or defies it, by titling her new series "Piece a Cake."
Her paintings have never looked more like frosted edibles. Perhaps no serious artist's have, with possible exceptions among the works of Wayne Thiebaud and Southern Californian Richard Allen Morris and a big canvas made to simulate a wedding cake by Will Cotton that I happened to see in London.
More than 50 years ago, Thiebaud began using confections as subject matter, enabling him to toy with the equation of paint and depiction. But Schulz never gets near imagery in her new series. With a pun possibly intended, she seems to want to gauge the extent to which paint today can stand — physically, aesthetically, conceptually — on its own. More than comic shtick, this is a timely, if literal-minded, thing to try a century after modernism began to liberate paint through abstraction to stand for nothing beyond itself.
Yet paint does stand for something beyond itself in Schulz's new work, and in what preceded it: pleasure as a value needing no justification beyond enjoyment. Call it hedonistic indulgence or the ultimate in abstraction, Schulz's new work materializes the notion that at this point in history the painter's raw materials, rightly handled, have everything we might hope to see already sublimated in them.
The problem enveloping Schulz's new work, however, is not its possibly unstrung ambition but the situation in which visitors will encounter it. Exiled from downtown San Francisco last year by the recent commercial real estate rental boom, longtime gallery owner Patricia Sweetow opened a small shopfront space in Oakland that goes by the name Spun Smoke.
It resembles a craft outlet more than an art gallery, though everything in it occupies a high plane of accomplishment. The presentation of Schulz's new paintings here is a test of their gravitas which, happily, they pass.
Kenneth Baker is The San Francisco Chronicle's art critic. E-mail: kennethbaker@sfchronicle.com Twitter: @kennethbakersf