By Managing Editor, Maria Rosaria Roseo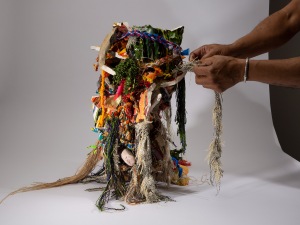 Ramekon O'Arwisters, an artist originally from Kernersville, North Carolina, holds a Master of Divinity from Duke University in Durham and currently lives and works in San Francisco, California.
His works are autobiographical narratives that speak of emotions, experiences of pain, frustration, acceptance, liberation and the courage to cultivate critical, independent thinking, detached from collective thinking indoctrination.
The artist's unconventional training, which led him to obtain a master's degree in theology, has been an opportunity and an instrument for deeper reflection on the nature and substance of things which, while keeping their phenomenal properties, can change in their content and meaning thanks, in this case, to the artist's action.
This is how broken, fragmented ceramics and discarded fabrics are relieved of their function and given a new meaning and role. In the first works, the fabric wraps hold together and repair what has been broken. The artworks grow, transform and acquire their own new identity, as the artist himself states: "the works have transformed from something broken, needing mending to fully determined and self-aware".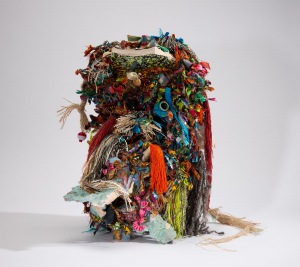 How did you approach art and what was the path that contributed to your formation?
When I was growing-up in the 1960s and 70s, drawing and painting was a way for me to hide my feelings and thoughts. It was a way for me to keep my parents from knowing about me being queer. I knew they did not approve of a queer child. To keep them from asking why I was not interested in dating girls, playing sports, or other perceived masculine activities, I knew they would allow me to paint, draw, and do my homework on the kitchen table without raising any suspension. In the Black America of that time, parents of little Black boys feared for them especially from the brutality of the police. So there I was painting and drawing at home in plain sight of my parents and they knew I was not messing around with girls, taking drugs, getting into fights, or possible fodder for the police. At that time, I was drawing pleasing geometric shapes and patterns. They were not at all explicit about my gay feelings. The drawings had no content; they were void, empty, dull, but pretty.
For the majority of my art career, I have been relinquishing my agency over and over again whenever I go to figures of power in the white art world—curators, gallery directors, museum directors—to present to them my work and ask for their approval. Is my work good? Is it worthy of your gallery? Am I good enough?
This system was no longer working for me. So I decided to stop presenting my work to anyone. I surmised that if nothing more has happened than has already occurred after decades, then it is not going to happen. The art-world system was not designed to help and support Black artists. Galleries and museums are there to confirm and maintain the status quo.
I needed time to reflect, to sit back and re-evaluate, to stop doing the same things expecting different results. I realized that everyone in my family used fabric and textiles to express their worldview. My mother and especially my grandmother made quilts, contrasting colors and improvisation made their creations like jazz, reflecting the necessity in Black life in the United Stated to use color to lift the spirits in a hostile environment and to use improvisation to solve problems and situations in a world where opportunities where limited, kept out of reach due to the evils of racism.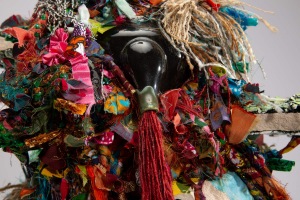 In your sculptures you associate ceramic fragments and textile elements, stripping these materials of their original function. Can you tell us about it? What kind of dialogue is established between such different materials?
Broken ceramics and strips of remnant fabric are marginalized materials; objects that are thrown away, detritus. We treat these objects in the same way that American culture treats marginalized people. They are ignored, abused, and disposable. I use these materials as stand-ins for the deplorable experience of humans who are disenfranchised within the myth of the American Dream.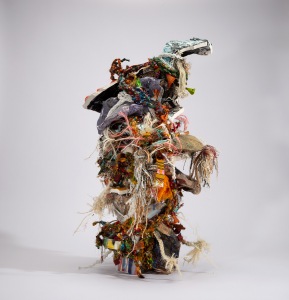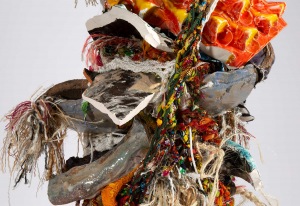 Your works are about identity, acceptance, inclusion, processing pain and fear. What do they tell about you?
Well, my work is my way of exploring issues of identity, acceptance, inclusion, pain, and fear. It is completely autobiographical. I express these issues as abstractly, as dreamlike, as metaphorically as possible, using the broken ceramics and strips of fabric. To do that I must be able to detach from them and understand how all of these issues are affecting me and others but they are not who I am nor do they totally define who I am. I learn from my experiences, creating ways to express them so they can have an opportunity to accept and learn from their pain, fear, and so on.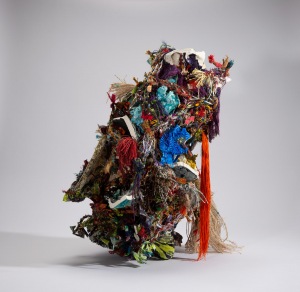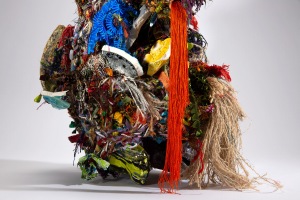 You are the founder of Crochet Jam, an art project that promotes creative community culture. Can you tell us about this initiative, from what idea does it originate and what does it consist of?
 Through my community-art practice, Crochet Jam, I engage the public to think differently about the role of art within community and the power of art within society. Through Crochet Jam, one explores how art-making in public in an embracing and inclusive environment liberates, unites, and empowers participants, because no attempt is made to dictate the creative process nor judge the finished project.
My goal is to bring Crochet Jam to a wider audience and engage communities that are not perceived as a part of our active mainstream culture. I would like to take Crochet Jam to communities within the industrial-prison system, including youth within our government's juvenile-detention centers; foster-care facilities, domestic-violence shelters, homeless shelters, hospitals, fire departments, police departments, universities, city halls, and hospice-care centers.
Crochet Jam is about liberation through incorporating the folk-art tradition of crocheting rag rugs into a community-based, free-form, and rule-free activity that is embracing, inclusive, and transcending.
Crochet Jam is autobiographical. It is all of my pain and frustrations translated into an event centered on liberation, social interaction, and creativity. I feel that I have been told what to do all my life. Through the process of indoctrinations, which incorporates religion, the public and private school systems, television, movies, films, print media, commercials and more, we inculcate the morality, ethics, and worldview of the dominant culture. None of it is designed to empower and liberate the individual. It is designed to manipulate how we think and manifest supreme conformity through indoctrination. Independent and critical thinking is criminalized, outlawed. Even if somehow one does have the ability to acquire these skills, that individual is marginalized and prevented from having a wider appeal.
Through my community-art event, Crochet Jam, I do not dictate the creativity process. Participants maintain their agency. There is no need to please me. I am not their authority. I am just the guy facilitating the event. I am just a man on the street, standing behind a folding table that's covered with stripes of torn and cut fabric. I teach single-stitch crochet and torn strips of fabric. The learning curve is about five minutes. Once you learn the technique, I have no more to teach. The fabric then becomes the teacher. The difficult part is liberating the fabric enough to allow it to become whatever it wants to become. There is no focus on a finished product. Therefore, the fabric can transform as it pleases, without any regard to the outcome. Whatever it becomes,
one accepts it as it is, without judgment.
Participants arrive at Crochet Jam events believing that I am going to teach them how to make a rag rug, scarf, or a potholder. I take them on a completely
different journey—a journey designed to challenge how they think about themselves and the role and purpose of art as a means toward liberation, freedom, and creativity. I take them on a journey through my childhood, in which, I do for them what my grandmother did for me decades ago. I allow
them to have an experience to safely make mistakes, observe, engage, explore in a way that is new for many people.
For me, Crochet Jam is an act of love, allowing people to create in a safe environment in which they could break the rules and not be judged, enlarging their sense of self, worldview, and confidence in positive ways. Crochet Jam is my family legacy, expanding the positive influences my family had on me in this regard to others, to strangers, to as many people as possible.
Crochet Jam is an act of subversion, performed in public with strangers. The event overthrows the notion of controlling and dictating the creative process. Conceptually, participants are encouraged to accept and acknowledge their creative powers in an environment in which they are not being told what to do and are not being judged by what they create. The fabric is only a conduit for the potential transformation of personal perspective and insight. In a society in which the citizens are under constant surveillance, maintaining one's agency is almost impossible. Individuals can't be who they are, when there is not a safe environment for honest self-expression. Given that one can't present an authentic self, then one can't or are less likely to express ideas or concepts that are counter to the status quo.
Are there artists or artistic movements that have influenced your training?
Yes. I am influenced by Pomo feather baskets, fashion, Black American quilts and Black American vernacular sculpture, particularly art by Lonnie Holley, Thornton Dial, and Bessie Harvey.
African ceramics and pottery fascinate me too.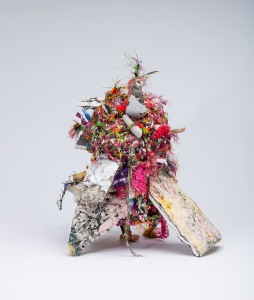 In the Mending series, the crocheted fabric wraps, covers and "contains" the ceramic fragments with an intent of repair, declared, on the other hand, by the same title of the works.
In Cheesecake instead, it seems that the fabrics have more the purpose of dressing, adorning the ceramic, giving life to vaguely anthropomorphic figures (Cheesecake #9, #13, #2). Between these two series of work, is there a shift in the use of fabric and its meaning? Why the title "Cheesecake"?
Growing up in Jim Crow South during the Civil Rights Movement, I had a safe haven, quilting with my grandmother where I was "embraced, important and special." These early memories prompted a series of unique crocheted and ceramic sculptures titled, Mending. Employing ordinary household or decorative pottery, broken and discarded, I combined traditional crafts into a dimensional woven tapestry, stripping both cloth and ceramic of their intended function.
In my next series of sculptures titled, Cheesecake, the works have transformed from something broken, needing mending to fully determined and self- aware. Being Black and Queer, the full complexity of the moniker Cheesecake, used to objectify an attractive, sexualized man or woman is not lost to me. Instead I embrace it, subverting the demeaning implication in describing my said, "objects". Combining lacy, embellished fabrics with ceramics contributed by students and faculty from California State University, Long Beach, my sculptural hybrids embody both danger and seduction, in my bold 'coming of age' works. Cheesecake, completed in 2019, are diminutive and glamorous.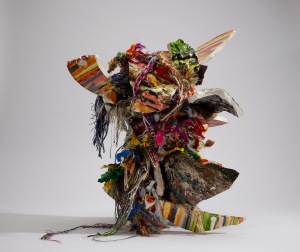 Flowered Thorns, is one of your most recent works born during the covid period. From what reflection was it born?
My new sculpture, Flowered Thorns, dives into the abyss with large, sharp ceramic shards strapped and knotted together, embellished with shredded fabric. They stand as cultural totems, embodying the couture of drag, along with the rich history of African American quilting. This series has been brewing in my studio the past two years as COVID, racial injustice, climate change, and political chicanery were normalized. While there are numerous parables about thorns and thistles, one learned very early is the origin story of Adam and Eve. The telling of this parable posits thorns didn't exist prior to Adam succumbing to an eroticized Eve, the original dangerous woman. That Eve changed the course of nature is astounding, but beyond Eve, there's the issue of thorns. Let's face it, thorns have a bad rap, they're stand-ins for sin, illegitimacy, threat, exclusion, danger, evil—wars wage over thorns.  Thus, we circle back to Flowered Thorns, as I adroitly turn prevailing orthodoxies on their ear with my compelling communion of opposing materials that cohabitate with elegance and grace. My sculpture amplifies an alternative message, the thorns that bite are not the threat, but the liberating difference that bestow purpose and meaning.
Which projects are you working on in this period?
Currently, I am completing commissioned artwork for the San Francisco Arts Commission and the Contemporary Jewish Museum.