Discover the emerging visual artists to put on your radar this year.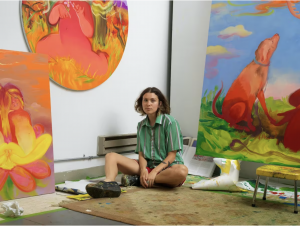 With the art-world reawakening from a 2019 and 2020 slumber, auction sales hit record highs of $6.5 billion, with a 201 percent increase for young contemporary artists. The fairs re-opened, with Art Basel, Frieze, and FIAC, while NFTs not only emerged as a reckonable force, but one that was dominant.
New York City recouped its losses, with nearly 50 percent of all market sales, while Hong Kong and the emerging Asian market netted $142 million at auction. Everyone, and their brother, was pining for wet paint figurative paintings—the bigger the better. In addition, a diverse roster of BIPOC artists took their long overdue place at the creative helm.
At L'OFFICIEL, we found nine artists you must see in 2022. With established or burgeoning careers, the roster takes you from textiles to porcelain, figurative to abstract, and everything in-between.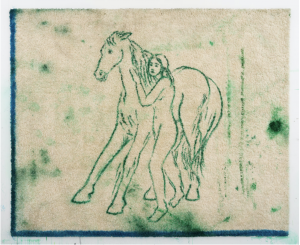 In 2021, Brook Hsu continued her illustrious career with three solo shows at Kraupa Tuskany Ziedler, Edouard Malingue Gallery at Frieze London, and Los Angeles' Manual Arts, and six group exhibitions across Millan, Hong Kong, Beijing, New York, and San Francisco. The 34-year-old Taiwanese-American artist explored a range of scale and mediums, including show-stopping carpet-work and layered shellac-ink to create eerie phosphorescent green motifs. Her highly anticipated solo exhibition at Edouard Malingue Gallery in Hong Kong is for those interested in reflective cerebral moments inspired by pre-Christian mythology.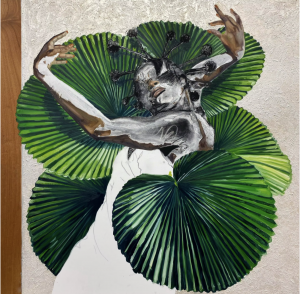 With two sold-out solo shows at both Ross-Sutton Gallery and Frevo, and a $70,000 winning auction bid at Christie's for his piece "Breathing is my occupation," Khari Turner had a wonderful 2021. In 2022, Turner is scheduled for his first museum solo exhibition, a two-city show in May at the Museum of Wisconsin Art, and his first European solo show at CFHILL in Stockholm in partnership with Ross-Sutton. In April 2022, his solo presentation at the Venice Biennale "Personal Structures" exhibition in the Palazzo Bembo will be his first foray into the international market. A master of material, Turner's signature figurative paintings mix oil and water, opposing chemical structures to create highly intricate work that highlights his connection with Black history. The water, sourced from oceans, rivers, and lakes that directly relate to his heritage, creates dynamic movement around facial features passed down throughout his family's ancestry—both constant and rejuvenated with each branch of the Turner legacy.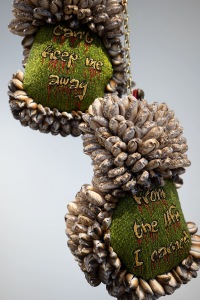 The Creole-Filipino artist stopped viewers in their tracks at Art Basel Miami Beach's Untitled. His beadwork boxing gloves that incorporate techniques from New Orleans Mardi Gras Indians and Nigeria's Yoruba people, surround text pulled from contemporary hip hop for a mixed-media masterpiece. Unsurprisingly, Broxton's work sold out quickly. With excellent demand for his work, his May 2022 solo show with Patricia Sweetow Gallery in San Francisco has had to be pushed back. Nevertheless, 2022 will be abuzz with Broxton's name.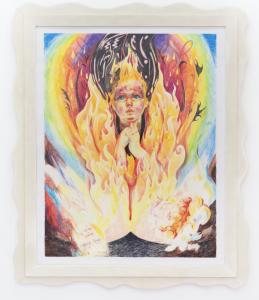 After earning a loyal following through group exhibitions at Jeffrey Deitch and Almine Rech and solo exhibitions with Jack Barrett in New York City, Haley Josephs' career is poised for exponential growth. In 2022, her third solo show with Jack Barrett is slated, while an Almine Rech solo exhibition is on the calendar after they announced her addition to its Europe, UK, and China artist roster. With her signature psychedelic twist on the female experience, Josephs' foray into large-scale oil paintings showcase almost lurid figurative work that bewitches you body and soul.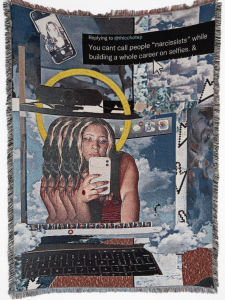 The former video-game designer has won over the art world with her Tumblr-turned-textile work, exploring a visual vocabulary that connects digital avatars and our "mortal" selves. With exhibitions at Art Basel Miami Beach 2021 in coordination with Kendra Jayne Patrick, Pippy Houldsworth Gallery in London, UK, and New York's Canada gallery, Wood's art has explored the ubiquity of Black femme icons within Internet culture, drawing upon queerness, feminity, and Blackness with wittiness and whimsicality. Her group show, Alter Egos/Projected Selves, at the Metropolitan Museum of Art is on view through May 2022, while her forthcoming show with powerhouse Hauser & Wirth ensures 2022 will be a blockbuster year for Ms. Wood.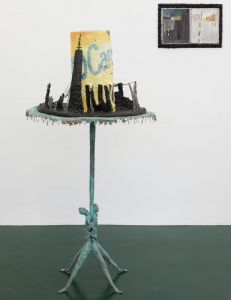 The 33-year-old, Massachusetts-born sculptor has earned recognition by utilizing everyday objects to create hidden eurekas. With a multitude of 2021 group exhibitions under her belt, her 2022 solo show at New York's Theta Gallery will showcase her ability to tease out meaning from our daily visual vocabulary that's oft overlooked.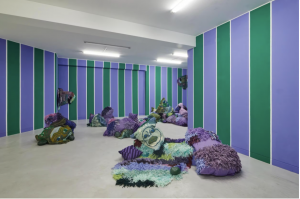 The Peruvian-Texan textile artist with a 2020 solo show at Mario Testino Museum in Barranco, Peru, and 2021 group exhibition at Bric Brooklyn, is poised for a banner year with a largescale installation, "A resilience of things not seen," opening spring 2022 at John Michael Kohler Arts Center in Wisconsin, followed by an installation at Expo Chicago with IN/SITU and solo show in fall 2022 at Deli Gallery. Zapata's work is also gracing Women's Work, written by Ferren Gipson, and Weaving Language I: Lexicon, by Francesca Capone. The loom-based textile work examines the duality of "a Texan living in Brooklyn, a lesbian raised as an evangelical Christian, a first generation American of Latin American descent, a contemporary artist inspired by ancient civilizations, [and] an artist challenging the history of craft as 'women's work' within the realm of art." Her dedication to color has cemented her space within contemporary art vacillating between darkness and joy, with recognition from press such as New York Times' T Magazine.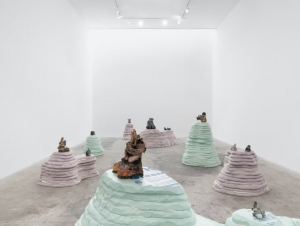 The Nigerian-Japanese artist's layered approach to sculpture caught the eyes of collectors during Art Basel Miami Beach Design week. The deeply emotional pieces, spontaneously painted throughout her residency at Versaille, have a "Sanrio" quality, which makes them seem both distant and friendly. With her Real Pain booth at ABMB, the young sculptor has earned her acclaimed entrée with nowhere to go but up.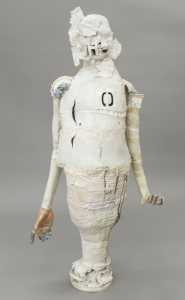 With positive critical spotlight at Future Fair during Art Week in New York City, Brooklyn-based ceramicist Derek Weisberg is hitting his stride. With over 90 art-shows under his belt, Weisberg is expanding his gaze with his work exhibited at Paris' Galerie Lefebvre et Fils and New York's emerging artist gallery, Trotter & Sholer. In 2022, Weisberg is scheduled for two solo exhibitions at Rena Bransten Gallery in San Francisco and Trotter & Sholer, respectively.
With his signature smash-and-rebuild technique, Weisberg's figurative sculptures are "can't miss" pieces for new and established collectors.