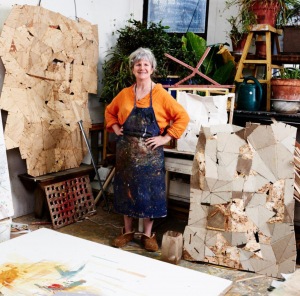 Artist Helen O'Leary with some of her work
Esther Hayden
April 28 2018 12:00 AM
A Kilrane woman has won a prestigious visual arts prize. Helen O'Leary, a native of Kilrane, has been named as a winner of the 2018-2019 Rome Prize in the visual arts category by the American Academy in Rome.
She is professor of art in the Penn State School of Visual Arts in America.
Helen is the daughter of the late Kathleen and Richard O'Leary who ran O'Leary's Farmhouse bed and breakfast in Kilrane, Rosslare Harbour for decades.
The Rome Prize has been awarded annually by the academy for over a century as a way to support innovative and cross-disciplinary work in the arts and humanities. The visual arts category is the most competitive of the eleven recognized and O'Leary's proposal was selected from over 500 applications.
As part of her award, O'Leary will receive a stipend, workspace and room and board for a period of almost one year at the academy's 11-acre campus in Rome.
A former pupil of the Presentation Secondary School Helen said: 'I've been building my own version of Rome for most of my painting life. My studio is an archaeological site, a dictionary of the savages of age, a compendium of erasures, renovations and restorations, each piece commenting on its predecessor.'
During her fellowship in Rome, O'Leary will create a series of three-dimensional, collapsible paintings, which she envisions as 'large constructions that can fold into themselves and out again.
'Much like a traveling merchant, I will construct a portable show that will pack easily, that can be reduced to the size of suitcases or expanded into the room. These works will draw from the history and aesthetics of reliquaries, and other ornate housing structures,' she said in her Rome Prize proposal.
'To live in Rome where time is tangible through architecture, objects, art and language – at this point in my life – is an epic dream come true,' she said. 'It is a dream beyond the practicality of words to be invited to live and work there.'
Helen studied art at the National College of Art and Design and was awarded a scholarship to the Art Institute of Chicago where she obtained an Masters in Fine Art. She also attended the Skowhegan School of Painting and Sculpture in Maine.
She has received numerous awards and has exhibited her paintings in galleries and shows all over the world including New York, Denver, Seattle, Melbourne, Sydney, Amsterdam, Mexico, New Delhi, London, Belgium and Ireland.
She joined the faculty of the Penn State School of Visual Arts in 1991. During her career, she has been honoured with the Pollock-Krasner Award in 1989 and 1996; the Joan Mitchell Award for painting and sculpture in 2000; and the John Simon Guggenheim, the Culturel Irlandais, MacDowell and Yaddo Fellowships