Crossover: East and West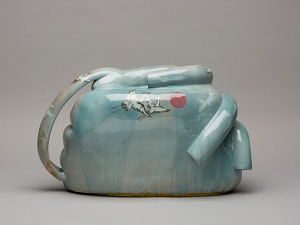 Victoria Jang, Intercontinental Migration Cranes and Planes, ceramic,14 x 23 x 12′, 2014
The four participants in the Korean Cultural Center's "Crossover: East and West" include Korean- and American-born artists, but all share an interest in cross-cultural heritage.
Victoria Jang and Jang Soon Im are ceramists, each subverting the craft differently. With their light-green gloss and metallic gold accents, Jang's pieces appear traditional in technique. Their forms, however, are polyglot and fluid. Some look as though they were halted partway through a process of liquefying, fixed in a state that's — aptly — neither here nor there.
Im's pottery is much simpler. Each piece is white, streamlined and matched to a gray-and-black geometric painting behind it. The effect would be to link ancient Asian austerity with modern Western minimalism — except that amid the simple vases and bowls are ceramic versions of a cartoon mouse, a sneaker, a terra cotta warrior and such. Even stripped to the starkest forms, the dialogue between East and West is complicated.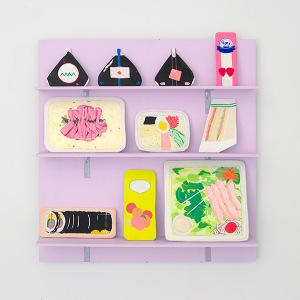 Christina Ko, 
Convenience Store, 
Acrylic on MDF, brackets, 
24 x 24 x 4",
2016

The pop items in Im's display complement Christina Ko's candy-colored ode to the "cute culture" of East Asian girls and women. Ko's childlike paintings, exhibited with toys, food and beauty products, evoke the shops and classrooms where cartoon femininity is bought and sold.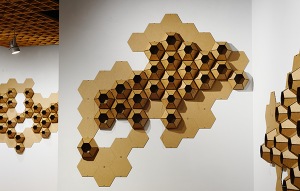 Crossover: East and West Through Feb. 28 at the Korean Cultural Center, 2370 Massachusetts Ave. NW. 202-939-5688. koreaculturedc.org.