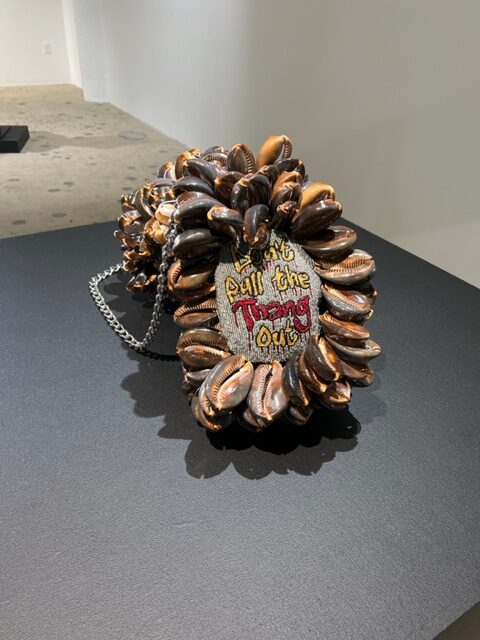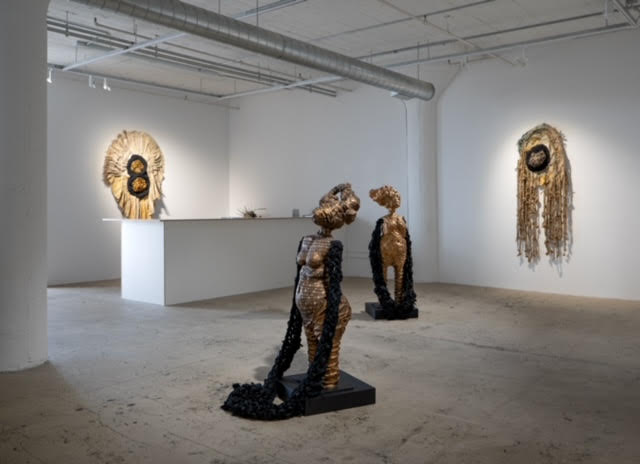 Two powerful artists create immersive works that are rich in meaning, texture, and materials at Patricia Sweetow Gallery, now through June 24th.
Amalia Galdona Broche and Demetri Broxton's individual artworks are both unique, as important as they are beautiful. Combined in one exhibition, their series glow together, visceral and full of life, intimate and universal. They're meant to be matched: both feature a color palette rich in golds, bronzes, and browns; Broxton's infused with elements of exciting color. Both create art that resonates spiritually and emotionally.
Broche, in her first exhibition with the gallery, offers two different types of work within her Vestments of Time series. There are five free-standing sculptural works and nine wall works that utilize both resin and textile. The sculptural figures resemble bronzes but are created of resin, textiles, paper, and plaster. While not specifically gendered, they appear to be gestational female forms. Each work features painted circles or dashes on their surfaces, a kind of rhythmic tattoo or non-verbal, coded communication.  While ageless, some of the sculptures have creased faces, depicting the effects of time, others are smoother skinned, straighter of carriage. Some facial expressions are hopeful, as if looking toward an invisible bright horizon in "Vestments of Time #3", while others, such as "Vestments of Time #5" appear to have more creases and folds on body and face.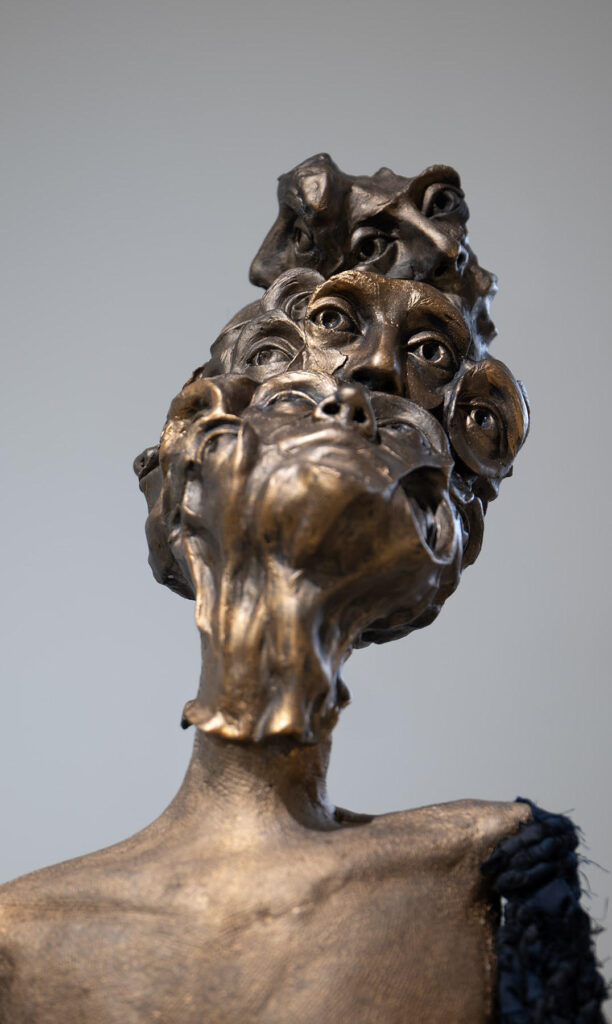 A towering headdress is a part of each figure and appears to contain hair, adornment, and a second or in some cases a third, set of eyes. Like the varied folds on body and face, the hairstyles of these figures also differ – some are more formal, towering, others have copious arches and hoops. Some figures exude the exuberance of youth and some the cares and maturity of age. The multiple eyes convey a sense of looking out, looking in, of past, future, psychic prowess, and possibility. Layered, lush, and gorgeous, one waits for these sculptures to come alive and move their long, trailing arms to embrace the viewer.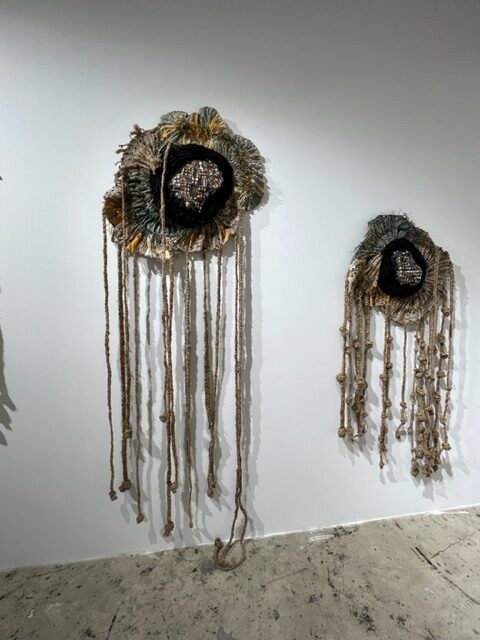 The wall works, also part of Broche's numbered Vestments of Time series, resemble flowers or suns, a kind of celestial flora to the free-standing human fauna of the sculptural works. The wall works also resemble the embryonic stage of the sculptural figures. There are clearly faces embedded "Vestments of Time #11." A single profile may be discerned in "Vestments of Time #9." In #10, however, with long rope-like braids hanging from the center, there are no such human elements.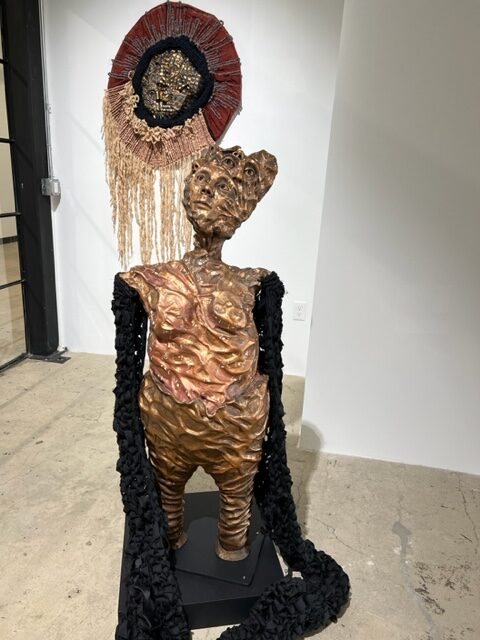 Living in both Cuba and the U.S., Broche describes these pieces as depicting the "fluid nature of identity, faith, memory of identity, transculturation and immigration" referencing both her upbringing during the Cuban Revolution Special Period and both Spanish and West African imagery. There is strength, sadness, and boldness in her work, made more potent by the realization of the hardships and grace they embody.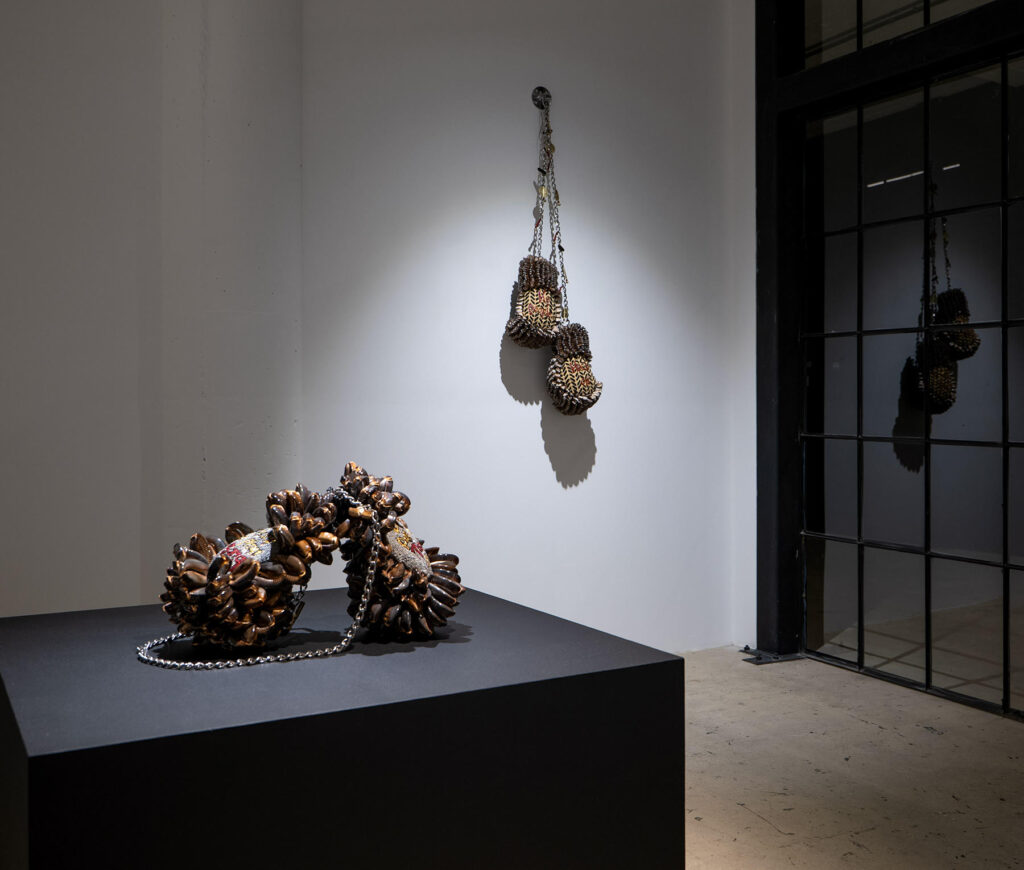 Broxton's work is his second for the gallery, and it dazzles. From a ceremonial boxing robe studded with powerful and protective amulets to beaded song lyrics depicted on boxing gloves, the Oakland-based artist creates alchemic art that feels equal parts mystic and mythic, yet thoroughly grounded. The gem work and bead sculptural flight of lyrical words is beautifully contained in the reality of the boxing ring. The gloves have special meaning for Broxton's art and for Black Americans. The early fame of Black boxer Jack Johnson was the beginning of a path to the ring, where during the WWII era, Broxton's own grandfather boxed in mixed-race fights. As gallery notes relate, this was the only environment in which such a fight could take place without risk to the life of a Black fighter.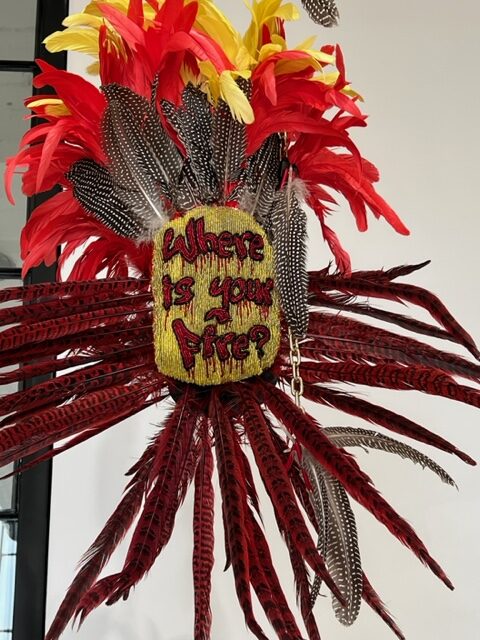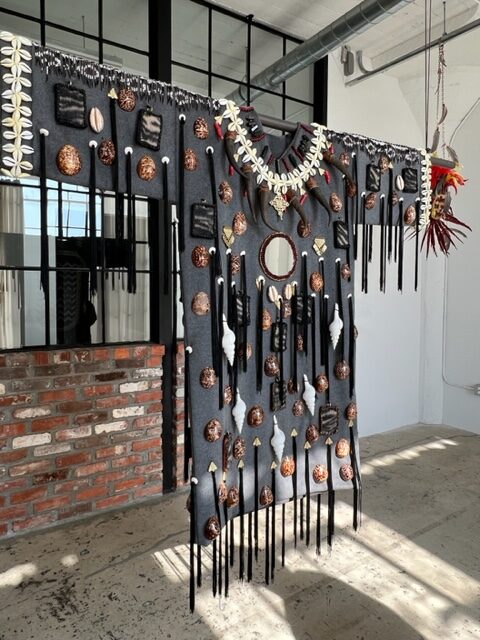 While the ceremonial boxing robe, with amulets and objects relating to both the Nigerian Yoruba people and the artist's Louisiana Creole heritage, and the headress accompanying it are certainly a focal point, the beaded gloves that shape the majority of the exhibition serve as passionate punctuation throughout the gallery space. From cultural diaspora to the preservation of tradition and the creation of new traditions that hold deep connection, Broxton's art serves to shape its own safe space, a sacred ring of sorts, a place of expression filled with emotional gut punches as deeply felt as physical contact in the boxing ring.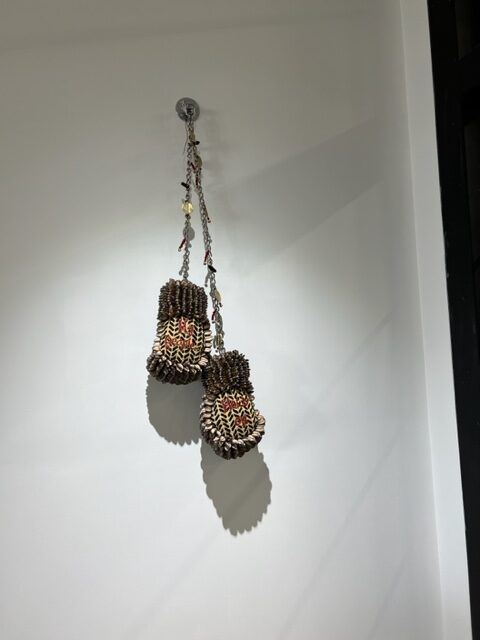 For "So Ambitious (I'm on a Mission)" the artist uses amazingly intricate hand cut Cypraea mauritiana cowrie shells, glass beads, red coral, tourmaline, and cotton on boxing gloves connected by steel chains. The title and words on the gloves refer to a chorus by Pharrell on a Jay-Z track. They serve, as the artist says, as a "battle cry" to push on despite adversity, fighting for success, while acknowledging "centuries of trauma and struggle." Equally elaborate and stunning, is "Bombs Over Baghdad," which references lyrics by OutKast.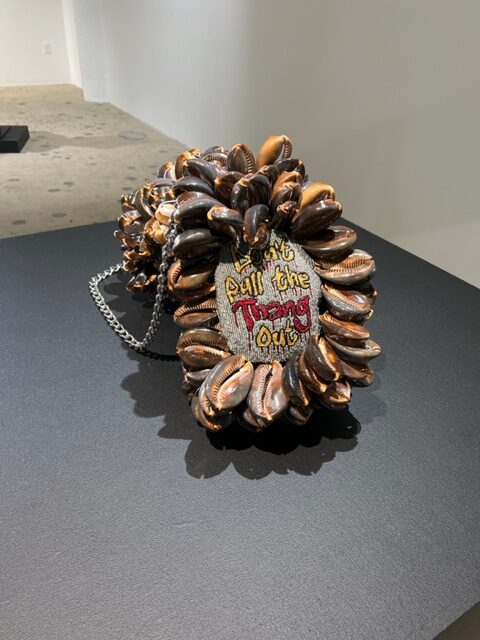 The careful, perfect precision of beading, labradorite, and red coral are not the only materials used for this piece – it also includes inert rifle bullets. "Don't pull the thang out…unless you plan to go bang," the gloves read.  "Count Me Out," based on a Kendrick Lamar lyric, uses green quartz and cowrie shells among its materials, and as with each of these pieces, the combination of perfectly rendered text into visual art and the artist's use of exciting mediums is exhilarating.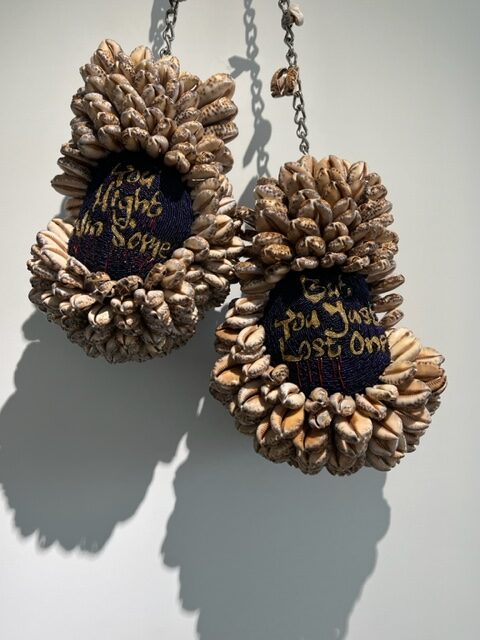 The impressive detail, the mixed use of natural gemstone materials, shells, and glass beading, is exceptional. The gloves serve as a perfectly encompassing frame, embracing words used to "fight back" and defend
Patricia Sweetow Gallery is located at 1700 S. Santa Fe Ave., Suite 351; hours are 11-6 Tuesday – Saturday through June 24th. There will be a conversation between Demetri Broxton and gallerist Patricia Sweetow June 17th at 1 p.m. The gallery relocated from San Francisco last fall. If it's not on your viewing radar yet, it certainly should be.