Effortless perfection in black, white
By Kenneth Baker
Joachim Bandau and Irmel Kamp, German artists in their 70s who happen to be married, share space at Sweetow to form a show worthy of a museum venue.
Bandau turns in new watercolors of a sort he has shown here before; translucent rectangles of thinned black wash composed and layered so that they look like sheets of smoked glass, fanned like playing cards or stacked until they turn opaque.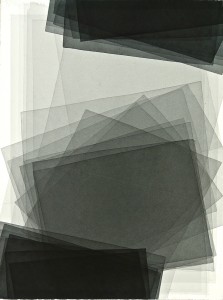 "Juli 13, 2012," titled for the date of its completion, offers a fine example. This sheet describes nothing other than the process of its own making, yet it has the optical energy of narrative.
No one unfamiliar with watercolor should underestimate the feats of control that pieces such as this record. Just the right decisions regarding tools, materials and timing have to be sustained to achieve the look of effortless perfection Bandau gets.
In their continually reasserted flatness, Bandau's watercolors find a zero degree of illusionism. We can clearly see how little material they contain, yet we cannot help but read depths into them.
Bandau's watercolors transmit echoes of the post-minimalist sensibility that put so much stock in evidence of process as content. But nearly every piece evokes one of the most generative objects in modern art, and one of the cornerstones of abstraction: Kazimir Malevich's 1914 "Black Square."
Two floor-bound steel sculptures – note their structures' connection with the watercolors' – and a constellation of small wall pieces in lead antimony flesh out Bandau's part of the show.
Come of the cuboid shapes protruding from the wall appear solid at first but all are hollow with openings that implicitly pattern a viewer's movement around them.
The small wall pieces serve as a hinge between Bandau's work and Kamp's.
She made her name in Europe by documents International Style architecture, largely in disrepair, there and in the Middle East.
Her subject matter, worthy of documentation in its own right, represents a moment of progressive design and hope for the future, ideals also ground down by history.
Practicing a style that appears influenced by Bernd and Hilla Becher – the present selection is entirely black and white – Kamp neither issues a call to save endangered landmarks nor tries to stir nostalgia. A faintly elegiac tone prevails, but whether it emanates from fact, manner or creative concern is not easy to tell.