May 26, 2001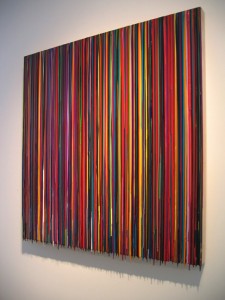 Drips of color at Sweetow
By Kenneth Baker
Linnenbrink and Lazzari
At a glance the work of German painter Markus Linnenbrink at Sweetow recalls the '60s "stripe paintings" of Morris Louis and Gene Davis. But Linnenbrink's canvases express none of the American painters' faith that some color sequences have more meaning or primacy than others. The closer one looks, the more arbitrary his compositions appear.
Like Gerhard Richter's reprises of abstract expressionism, Linnenbrink's stripe pictures propose that only painting as a process links our historical moment with defining passages of late modernism such as color field and op art.
Like Richter, Linnenbrink implies that no ground exists now for the intentions and beliefs that shored up '60s abstraction – and people's experience of it – in its day. Hardened drips of color, hanging like icicles from his pictures' bottom edges, hint at Linnenbrink's rote procedure and his resignation to its apparently decorative outcome.
The drips indicate that he made the paintings on hanging stretched canvases by pouring fluid color from their top edges and letting it drain off the bottom. The bright, dense colors that compose these paintings are pigments suspended in epoxy resin. This unconventional medium dries fast and hard, limiting Linnenbrink's control over it.
A strange object on the gallery floor underlines the accumulative aspect of Linnenbrink's work. It is a sculptural byproduct of the paintings: a long, narrow Plexiglas box in which he caught all the excess resin that dripped from the canvases on view.
A very different sense of chance informs the striking watercolors of Los Angles artist Margaret Lazzari in the adjacent room. Working on hot-pressed paper without underdrawing, Lazzari applies traditional watercolor technique to a smartly chosen subject: fountains. At their most relaxed and abstract, as in "Sketch After the Skidmore Fountain, Portland" (2001), Lazzari's pictures find marvelous rhymes of water, shadow and light in medium and subject matter.