Posted on 29 November 2017.
by Julia Couzens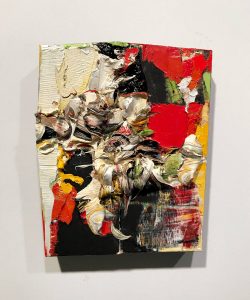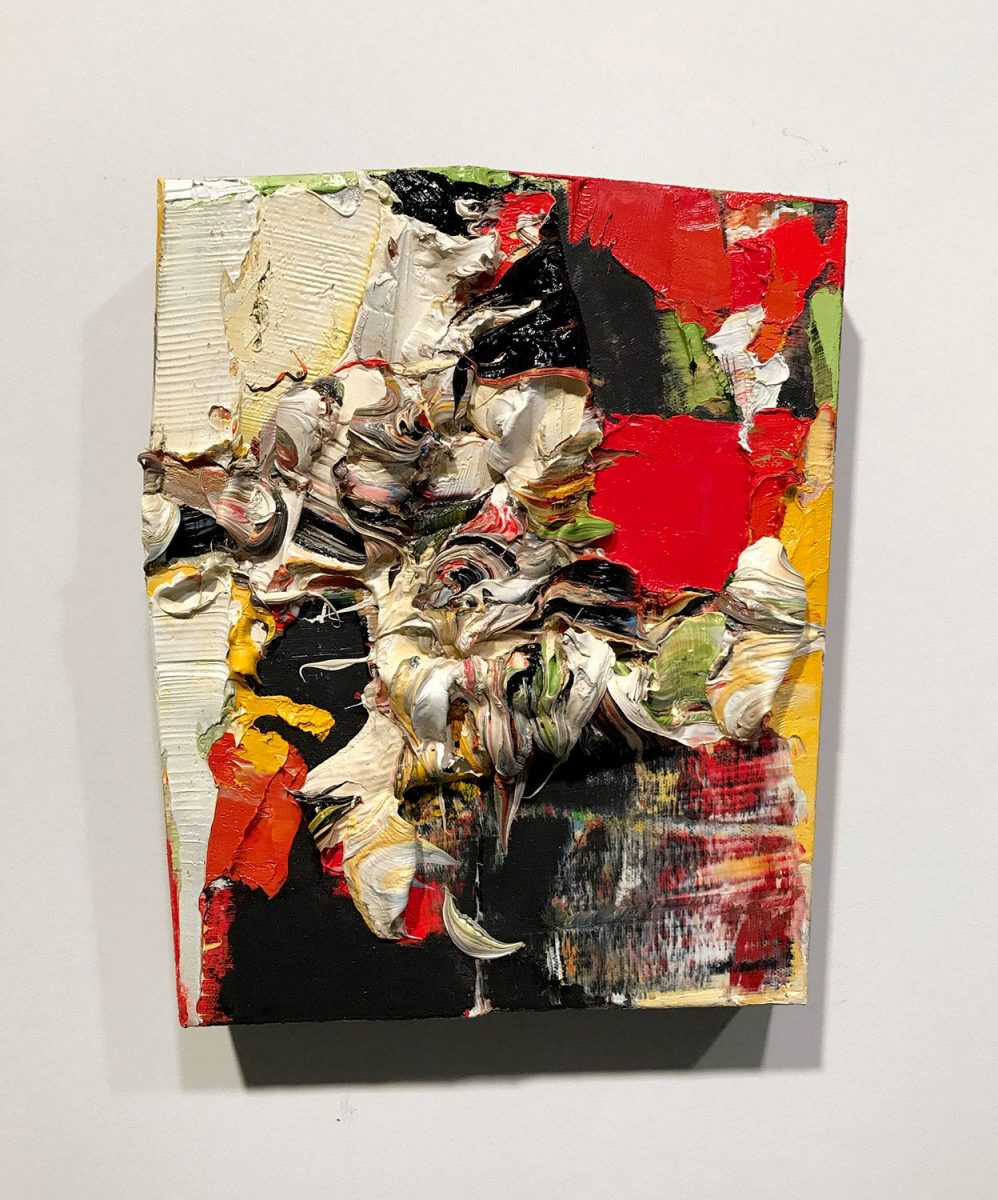 If anyone understands the hugely plastic and seductive physicality of paint, it is Cornelia Schulz.  Troweled slags of cadmium yellow, puckered splots of minty green, and regressive planks of flat black collide, slip, slide, splat, and skid into the chunky-luscious concoctions that constitute Schulz's new paintings – on view through December 16 at Patricia Sweetow's new Potrero Street gallery in San Francisco.  These small-scale, athletic works push out to their edges, the pigment flexing, stretching, and sagging to accommodate the quirky, off-kilter constructed grounds.  Where Ellsworth Kelly opens up his shaped canvases like vast unfolding fans, Schulz cobbles together tiny odd-sized canvases into cranky grids where reasoned geometry pushes against seduction's looping pull.
Schulz, 80, has been playing the long game, maintaining an active studio practice for more than 50 years.  Many artists age into the secure and settled confines of the signature work for which they became known.  Schulz, however, has been moving her work forward with the urgency of an artist at the beginning of her career. She is unshrinking and courageous. This is her eighth solo exhibition at Patricia Sweetow, and the work has never been fresher or more focused.  While she continues to take painting's measure as an object, with the dense physicality of her pigments carving space like sculpture, she has stripped away the appendages of earlier work. Having simplified her arena, we can see more deeply into the work's real presence and paint's palpable inner life.
D15 deploys a broad scrape of yellow down the upper third of the painting, defining the space in a single stroke.  The loaded palette knife lets fly with a salacious flick of yellow pigment at the end of the stroke, deftly anchoring the lower quarter of the painting. Schulz is singularly alert to every splat and drop of paint.  She is the quintessential watcher, the enlightened witness, letting an accidental gesture expand her space.
D1 brackets a froth of cerulean blue, white, black, raw sienna, cadmium red and green between two wide slashes of yellow and white.  A wedge of flat black at the upper right corner creeps out behind the yellow, mutely hinting at a deep, inert and unknowable space.
D11 scrapes down and in from the corners, distributing a roiling clot of green, cream, black, white, and grays in the center.  It is formally and physically balanced, yet the central cluster implicates fragility and a tender gesture of mutability.
Carrie Lederer's intricate and delicately handled paintings and sculptural objects evoke the Victorian naturalia of glass globes, cameos and portraits in which flowers were ethereally suspended, and nature was viewed as a manifestation of cosmic powers.  Tangle in the Garden is an 8" wooden disc over which Lederer paints a glistening entanglement of invented floral botanicals.  Its feeling of embalmed nature gives it a strange and somewhat gothic beauty.  Above and Below is a vintage wooden cigar box that she painted with botanical imagery, almost hallucinogenic in its obsessively layered detail.  It, too, is reminiscent of the sort of collectible Victorians would display in conservatories and salons.  Wondrous Strange is a tour de force of patterning and invention.  Meticulously painted curled forms and snowflake flora give it a psychedelic vibe, bringing to mind the realist, visionary paintings of San Francisco painter Bill Martin (1943-2008).
#  #  #
Cornelia Schulz: "paintings" and Carrie Lederer: "Musing on the Force of Nature: Vistas and Tableaux – paintings, sculpture" @ Patricia Sweetow Gallery through December 16, 2017.
About the Author:
Julia Couzens is a Sacramento-based artist and writer whose work has been widely shown, most recently at the di Rosa Preserve.  Her drawings and hybrid objects are in museum and public collections throughout the U.S.  These include the Achenbach Foundation for Graphic Arts; Berkeley Art Museum; Oakland Museum; Weatherspoon Art Museum, University of North Carolina; and Yale University.  She lives and works on Merritt Island in the Sacramento River delta.