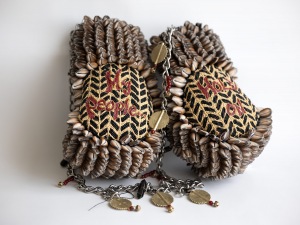 Instagram post by Julia Couzens
June 1, 2023
Baudelaire dismissed sculpture as "brutal and positive like nature." But Demetri Broxton's wholly original sculpture up now @patriciasweetowgallery is exactly that. And more.
Shell-encrusted boxing gloves punch hard at the viscera, simultaneously eliciting speculations on the bloody bone of Black American, African, and Louisiana Creole cultural histories.
The works give the air of having grown from a larger entity, a deeper force beyond comprehension. The bulbous forms gain articulation over time, acquiring speech in exquisitely beaded passages of rap lyrics and bespoke exhortations of belief.
Amalia Galdona Broche weaves, knots, and braids mandala-like wheel motifs that speak to generative energies. Matter is subject to the action of her considerable will. Making rituals circulate reveries on Spanish and West African belief systems, immigration, and cultural accommodation.
Exhibition closes June 24th DO NOT MISS!