Assembled @ Patricia Sweetow
Posted on 02 November 2018.
by David M. Roth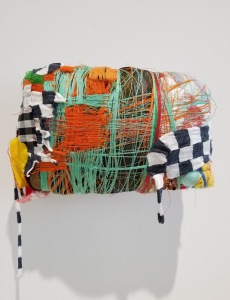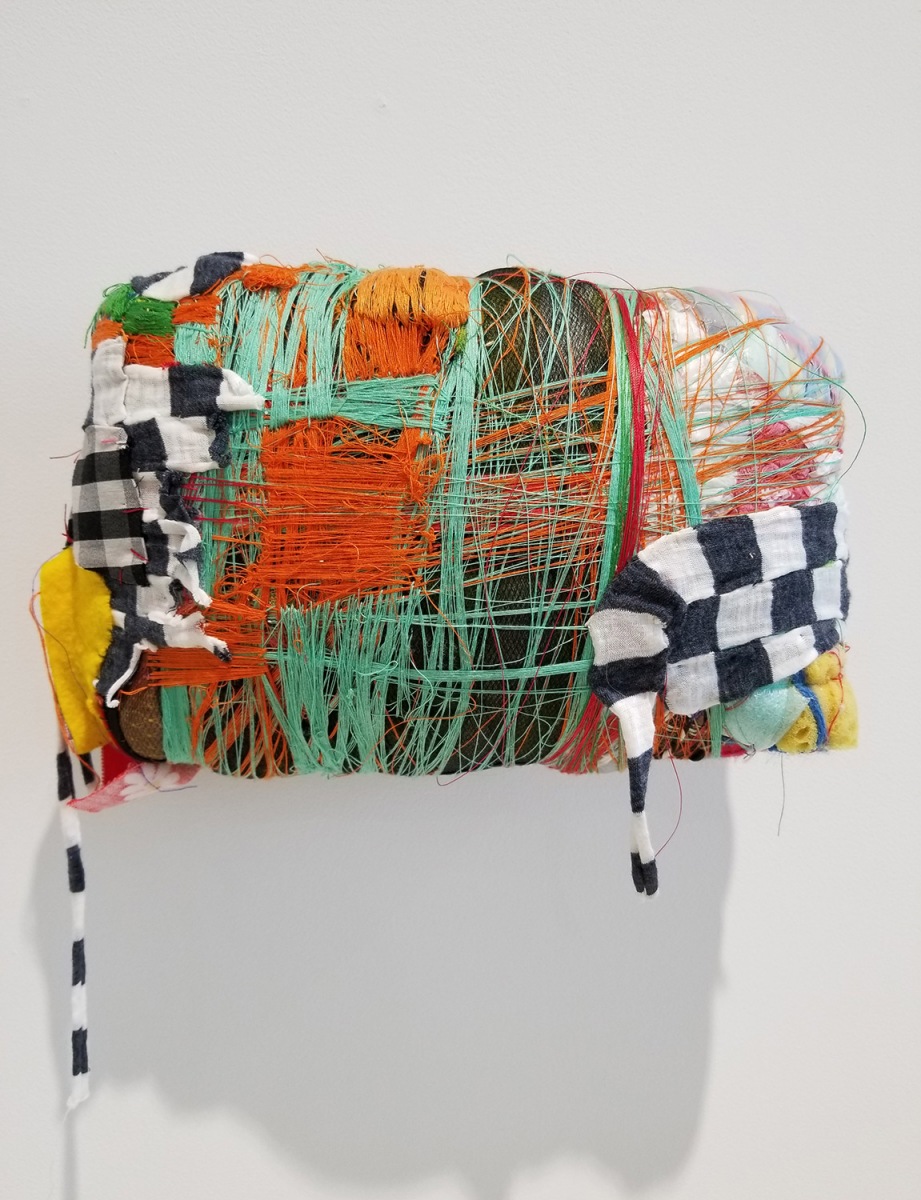 Julia Couzens, LSB 18-04, 2018, mixed materials, 7 x 10 x 4.25 inches
Assembled may look like a group show, but it's really three intertwined solo exhibitions. Displayed in close proximity, the works probe the ever-shifting boundaries between painting and sculpture. Never mind that the artists are unalike. What they share is an unswerving commitment to material invention and process discovery. It's one of the best shows of the fall season.
Two of the artists, Cornelia Schulz and Julia Couzens are well known to Bay Area audiences: Schulz, in recent years, for pigment-heavy abstract paintings; Couzens for tightly wrapped sculptures made of disparate textiles that she calls "bundles." A third artist, Helen O'Leary, is a relative newcomer, having exhibited in San Francisco only once in a group show of Irish artists (Amid a Space in Between) at Fort Mason. That, I suspect, will soon change for reasons I'll explain.
But first, let's consider Cornelia Schulz. With a career stretching back to the early 1970s, when she taught at UC Davis alongside Wayne Thiebaud and other luminaries, she is the group's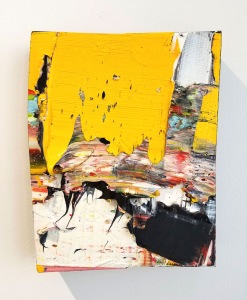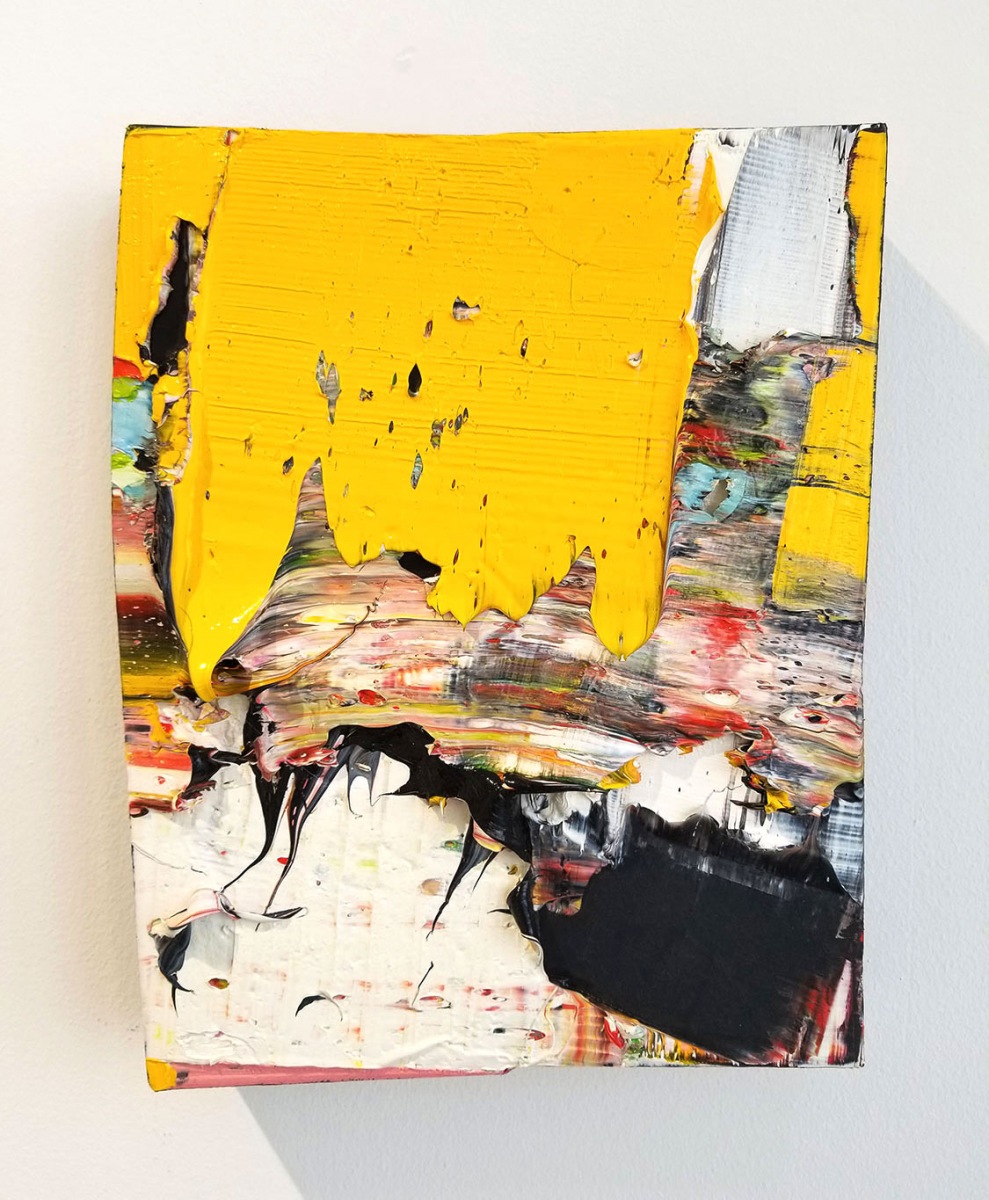 Cornelia Schulz, K 12, 2018, oil on canvas on wood, 12.5 x 9.5 inches
senior stateswoman. In 2015, when Patricia Sweetow asked if she could provide paintings for a small storefront space she was then operating in Oakland, Schulz responded with multi-part canvases covered in oil paint teased to a high froth. Set upright on pedestals, these tall skinny, rectangular canvases, displayed under the title Piece of Cake, resembled office towers struck by bombs made of saltwater taffy.
Coming from an artist whose earlier paintings emphasized flatness, the work was (and still is) is a bold experiment in plasticity, one in which the artist explores the myriad ways paint can be pushed, prodded, curled, coaxed, squeezed, and wrist-flicked into dimensional forms that recall natural processes. The feel is as much sculptural as it is painterly.
All eight works on view in Assembled, none of which exceed 18 inches in the longest dimension, contain thrilling passages, joyrides through pictorial space. Two that stand in memory appear in Slip 9 and Slip 10, where scraped-out sections reveal "windows" through which can be seen layers of smeared color laid down in parallel tracks that collide with frothy peaks. There are also audacious slabs of pure pigment, as in K 12 where a lateral smear of white, red, black and turquoise is abruptly occluded from the top by an expanse of screaming yellow. There are precedents for this kind of activity. We see it in the works of the Gutai artists and in the work of contemporary artists like Gerhard Richter and Louise Fishman. Unlike previous eras, where painting either had to be "about" something or about nothing at all, this body of work, now in its third iteration, owes little to those traditions. It is about the physicality of paint.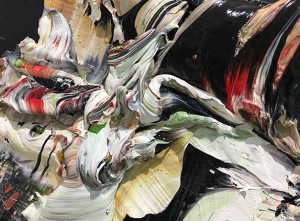 Cornelia Schulz, detail, Slip 10, 2018, oil on canvas mounted on wood, 15.5 x 9.5 inches
Julia Couzens' art is also relentlessly physical, but it points more to psychological issues than to matters of phenomenology. For the past decade or so, the artist has wrapped crushed wire cages and other objects and yarn, tulle, wire, thread, bungee cords, textiles and clothing to form ungainly blobs. They range in size from a crackerjack box (as is the case here) to a life raft constructed on a giant wood pallet. Whether set on floors, mounted on pedestals, hung from walls or suspended from the ceiling like mobiles, these objects serve as registers of subconscious urges – psychomotor impulses given shape by busy hands. The contorted armatures give her works a distinctly gawky shape, but for the most part there is no organizing principle at work when it comes to wrapping them. What we see is evidence of a well-trained eye responding to the emotional and cultural valences of specific materials, selected at arranged according to an intuitive trust born of instinct and experience – a sensibility Couzens shares with Jessica Stockholder and the outsider artist Judith Scott.
With a single exception, the works in this show are vastly smaller than any she's exhibited to date. Yet no power is lost. If anything it's the reverse. A trio of tightly wrapped bundles aligned across a wall call to mind those that cartoon hobos carry on bindle sticks. The main difference,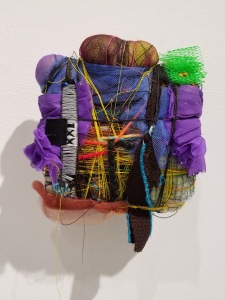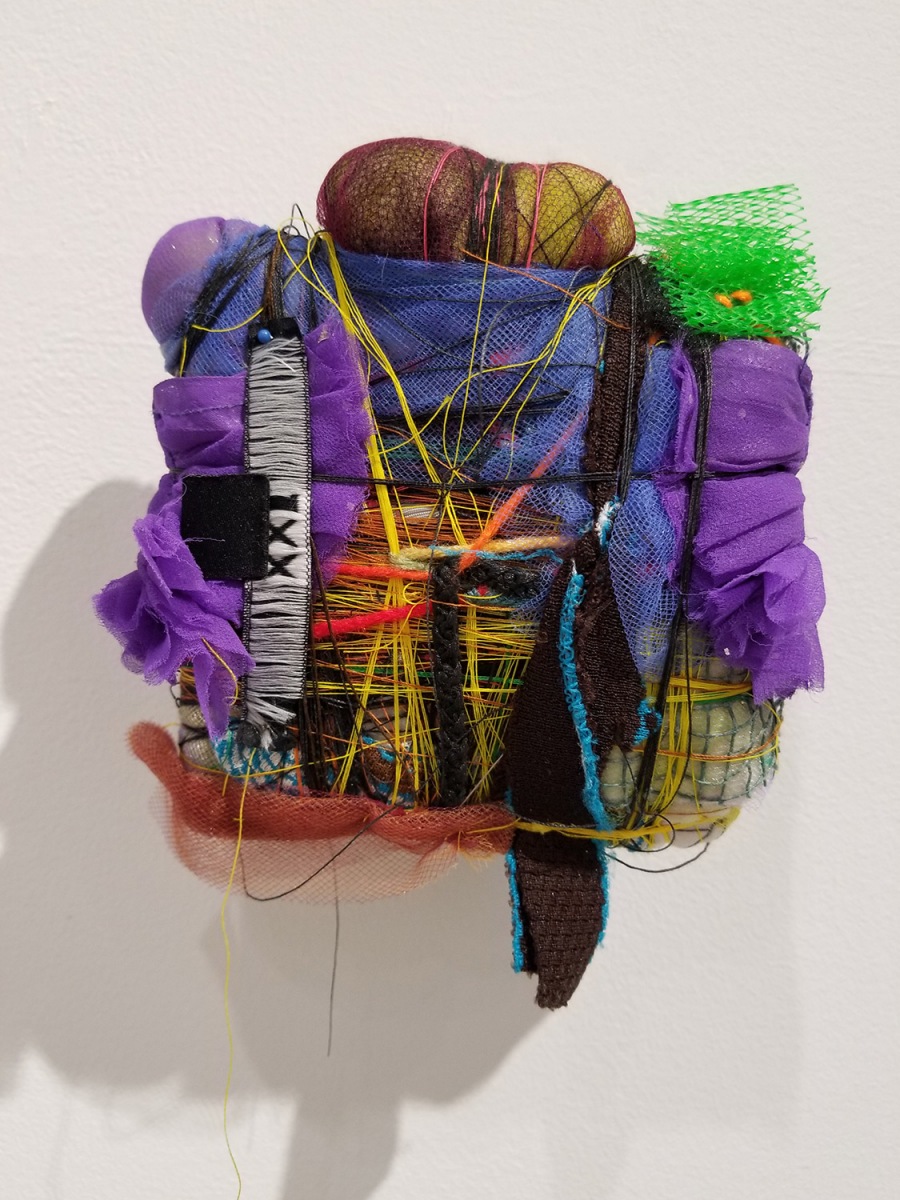 Julia Couzens, LSB 16-23, 2016, mixed fiber, wood, 6 x 5.25 x 3 inches
besides Day-Glo colors, polka dots and tulle, is that these, with their loose threads and bulging seams look like they could fly apart if you snipped a single strand. LSB-1801, displayed in the gallery's front room, is made of staggered, zipper-like rectangles of stitched fabric backed by an iridescent swatch of stained mesh. It produces a hall-of-mirrors effect that pulls you in, a departure from the prickly dimensionality seen elsewhere. The largest piece, and the only steel-cage object on view, is the provocatively titled Try Me. It hangs by a wire from the ceiling. With its bungee cords and lengths of brightly colored yarn pulled taut across bent metal rungs, it, too, feels like it could burst. In this, as in most everything Couzens makes, festive colors fight hard against built-in structural tension; but it's tension that wins out. The overall feel is of elaborate fetish objects.
Helen O'Leary's current works consist of paintings and stretchers that have been cut apart and reassembled to form sculptural objects that give off strong hints of Arte Povera, a sensibility that held sway in post-WWII Italy, when the country lay in ruins. O'Leary's Irish childhood wasn't war-torn, but it was definitely impoverished. ("Pre-modern" is how she describes it.) Her father, a boat builder, constructed windmills to generate electricity and fashioned lobster pots out of saplings. He died young. Her mother fell ill and left O'Leary and her sisters to run the family farm. "If you can't make it," she recalls her mother saying, "you can't have it."
Today the artist divides her time between Ireland, New Jersey and artist residencies abroad. Rootlessness, she once told an interviewer, "has been a survival strategy." Yet as an artist she remains rooted to the DIY ethos that sustained her forebears. Her sculptural paintings, composed of wood scraps held together by glue and dovetail joints, are freestanding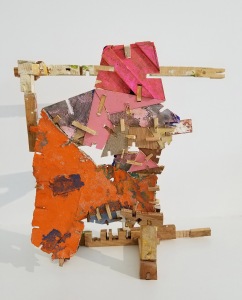 Helen O'Leary, Safe House #6, 2018, egg, oil emulsion on constructed wood, linen, wood, 17 x 18 x 6 inches
patchworks of gaping holes and irregular, wavy surfaces held upright by scaffolding-like supports. Some of the component pieces are remnants of unused picture frames. Other fragments carry bits of painted canvas salvaged from earlier works, their faded and sometimes bold hues coalescing in shot-through color fields, readable from either the front or the back.
O'Leary sees her work as painting. But it's also quite clearly sculpture and architecture — something the artist clearly has in mind: All 10 works on display are numbered sequentially and prefixed with the words "Safe House," a reference to both her status as a former immigrant and to the wholly invented "crisis" unfolding at America's southern border. This form of self-appropriation demonstrates how methods devised for one purpose can be easily repurposed for another, and how cultural traditions, removed from their original contexts, can be used as emotional anchors in others, particularly in turbulent times like these.
# # #
"Assembled: Julia Couzens, Helen O'Leary and Cornelia Schulz" @ Patricia Sweetow Gallery through December 1, 2018.
About the author:
David M. Roth is the editor and publisher of Squarecylinder.