By Charles Desmarais
Updated 3:08 pm, Wednesday, January 10, 2018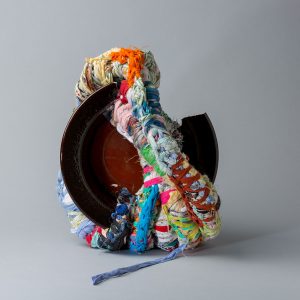 In the galleries
Many art galleries in San Francisco will open exhibitions this week and over the weekend. Here is a selection of exhibitions I have seen and recommend highly, followed by a list of shows I intend to see before they close. Admission is free to all, and all are in San Francisco. Check the gallery website for public hours.
Recommended and open now
Fraenkel Gallery, 49 Geary St. https://fraenkelgallery.com. "Art and Vinyl: Artists and the Record Album From Picasso to the Present," through March 3. A Josef Albers record jacket that looks like the percussion on the LP inside must sound: That's just one of the terrific, mostly rare objects in this lighthearted review of designs by Jean-Michel Basquiat, Sophie Calle, Jean Dubuffet, Marlene Dumas, Yves Klein, Barbara Kruger, Sol LeWitt, Chris Ofili, Ed Ruscha, Cindy Sherman, Andy Warhol and many others.
Brian Gross Fine Art, 248 Utah St. www.briangrossfineart.com. "Leo Valledor: A New Slant," through Feb. 24. Valledor (1936-89) brought geometric abstraction to a high pinnacle over his long career, and this exhibition is an excellent overview. His "Ezistance" (1986) is a confounding visual puzzle requiring great force of will to accept that it is hung flat against the wall. Be sure to ask to see the painting in the office, another stunner.
Patricia Sweetow Gallery, 315 Potrero Ave. www.patriciasweetowgallery.com. "Ramekon O'Arwisters: Mending," through Feb. 10. O'Arwisters has brought the venerable craft of crochet into the realm of high art. In this new work, he builds his soft sculpture around broken bits of pottery, mourning their damage and attempting, futilely, to heal them at the same time.
Nancy Toomey Fine Art Gallery, 1275 Minnesota St. http://nancytoomeyfineart.com. "Miya Ando — Oborozuki (Moon Obscured by Clouds)," through Feb. 22. Gossamer, dreamlike images of clouds that seem lightly breathed onto their supports are, surprisingly, photographs, albeit printed by unconventional processes.
Rena Bransten Gallery, 1275 Minnesota St. http://renabranstengallery.com. "Rupert Garcia: Rolling Thunder," through Feb. 24. A survey of five decades of paintings and prints on the theme of war by one of the Bay Area's most accomplished artists, by which I mean that the work combines commitment to technique and to conscience in equal measure.