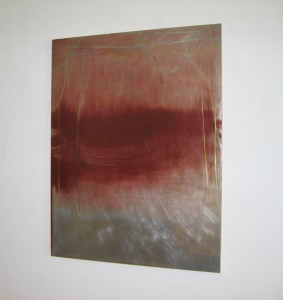 Anno at Sweetow: Just four pieces at Patricia Sweetow by Bay Area painter Kim Anno make a substantial exhibition.
Anno paints in oil on aluminum, a completely nonabsorbent surface that forces her to modulate color by thinning, wiping and scoring it. These operations in themselves give rise to a kind of abstract pictorial drama.
In "Aquilo" (2005) and "Archaeol" (2005), sinuous striations waver between ornamentation and the suggestion of rising or descending drapery.
Even as they call to mind stylizations seen in Japanese prints and screens, Anno's gestural marks also skirt the borders of nonsense.
She apparently perceives in abstract painting a tacit materialism that mirrors the pervasive unacknowledged materialism of the common culture. On that basis, she lets us glimpse sense emerging silently from nonsense as perhaps only painters can now.