EXHIBITION
The University Museum of Contemporary Art (UMCA), Amherst, MA, United States
10 Sep 2013 – 08 Dec 2013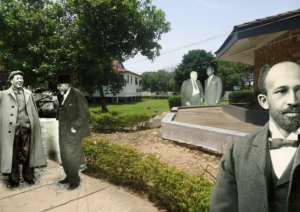 The legacy of the late civil rights leader, writer, and sociologist W.E.B. Du Bois is featured in a major exhibition that opens September 10, 2013, at the University Museum of Contemporary Art at the University of Massachusetts Amherst.
Du Bois in Our Time focuses on the intersection of art and the major issues of our time, centered on the legacy of Du Bois and the causes he championed. The University Museum of Contemporary Art (UMCA) has commissioned ten internationally acclaimed American, Canadian, and West African artists, whose work is socially engaged and research-based, to offer an aesthetic contribution to a modern rethinking of Du Bois.
Participating artists are: Radcliffe Bailey ; Mary Evans; Brendan Fernandes; LaToya Ruby Frazier; Julie Mehretu; Ann Messner; Jefferson Pinder; Tim Rollins & KOS; Mickalene Thomas; and Carrie Mae Weems . These artists, who work in a variety of mediums and are at different stages in their careers, will investigate Du Bois' influence today, using the vast W.E.B. Du Bois Archives at UMass Amherst for their research, along with the collaboration of five Du Bois scholars: James T. Campbell , Stanford University; David Glassberg , UMass Amherst; Saidiya V. Hartman , Columbia University; Reiland Rabaka , University of Colorado; and William Strickland , UMass Amherst. These renowned scholars will collaborate with the artists to support the artistic process through the generation of ideas, themes, and directions. The specially commissioned works of art for the exhibitions will have been created via a process where committed research, access to the online UMass Amherst Du Bois Archive, along with collaboration and correspondence with Du Bois scholars inform an innovative approach to artistic expression.
A comprehensive schedule of educational events throughout fall 2013 will be open to the public free of charge, including an international Symposium on September 28th; a screening of the film which documents the project, produced by The American History Workshop Brooklyn; along with lectures, panel discussions, and gallery talks with scholars and artists.
The Nubuke Foundation and the Du Bois Centre, both in Accra, Ghana, will offer a distinct but related exhibition, Du Bois in Our Time/Accra, premiering in March 2014. The exhibition represents an unprecedented transatlantic project focusing on Du Bois in Our Time from the perspective of artists on both continents.