Work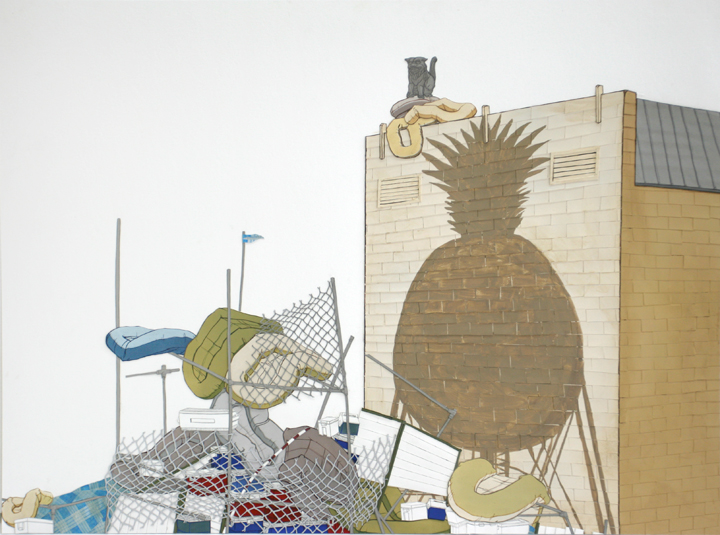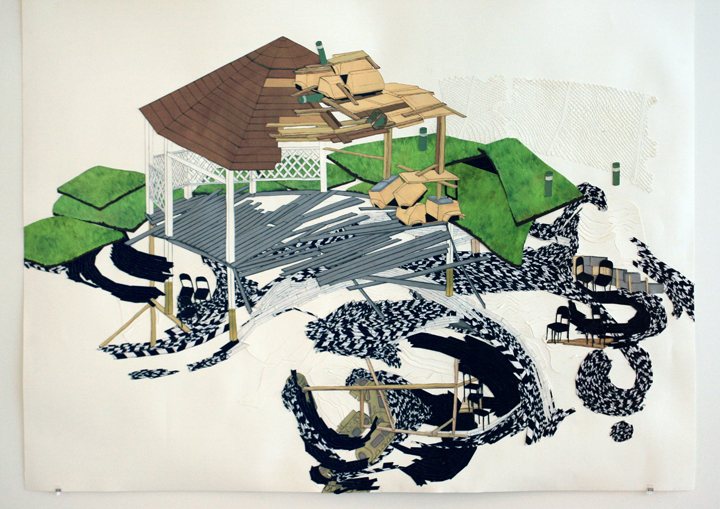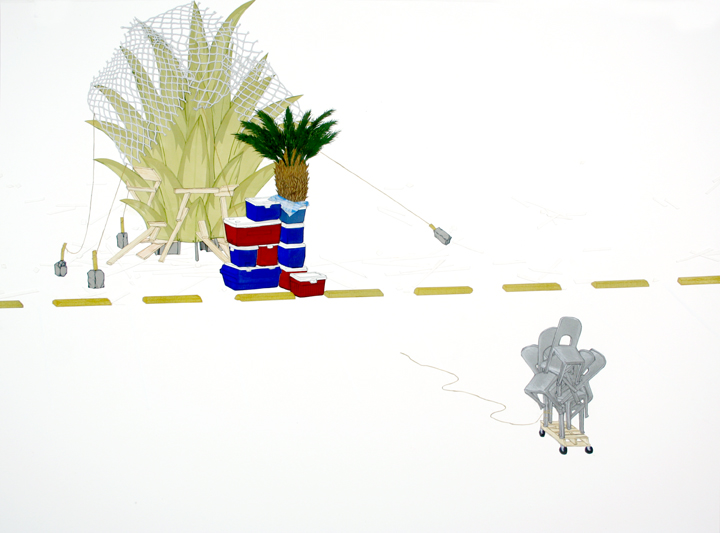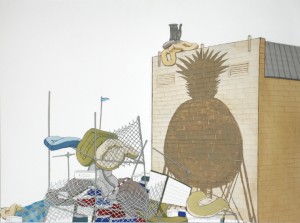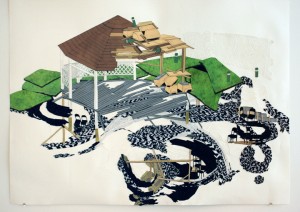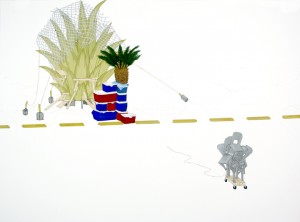 Press Release
PATRICIA SWEETOW GALLERY is pleased to present Weston Teruya, The Pull of Two Signs Rising Over the Land, drawings; Jina Valentine, Lot's Wife, drawings, installation; and a project by Arnold J. Kemp, (Them) Trees… (Them) Changes 2. Exhibition dates are May 2 through June 13, 2009. The artists' reception is Saturday, May 2, from 11:00am – 1pm.
On Wednesday, May 6, beginning at 6:30pm, PSG will present Speculative Fiction – Contradictory Narratives, a panel discussion with artists Weston Teruya and Jina Valentine, and invited panelists: Jerome Reyes – City Arts Faculty, San Francisco Art Institute; Gail Wight – Assoc. Prof., Director of Graduate Studies, Art Practice, Stanford University; Arnold J. Kemp – Artist, Writer, Curator; and James Merle Thomas – Department of Art History, Stanford University. All are welcome.
Weston Teruya's second one-person exhibition at PSG, The Pull of Two Signs Rising Over the Land, references two historic markers – one a men's golf club sign in Los Angeles, and the other a Dole cannery sign in Honolulu. The men's golf course sign conjures up a mixed history of restriction and privilege – the privilege available only to those who conformed to socio- economic, racial and religious proscription. To further confound its history, the golf course, though no longer restricted, still speaks symbolically of privilege, since it sits immediately adjacent to a juvenile detention facility. The Dole cannery sign is emblematic of ethnic and worker repression and exploitation. It currently sits as a ghost in an empty lot, truly the psychological space of restriction.
Teruya remarks, "…the golf course is now an open, co-gender public course and the plantation and mega-agricultural eras of Hawai'i have passed. But they continue to shape the social spaces of these locales as they are relics against which social progress continues to be mapped."
Teruya's works on paper are sourced from his own drawings, cut and collaged in a new composition. The refiguring of symbols such as wood barriers, golf carts, pineapples, marker flags, and fences recombine to form unexpected new meanings. Teruya's drawings tamper with social/political realities, speculating on issues of power, control, visibility, protection and, by contrast, privilege. He further states, "I am interested in collecting and collapsing the signals and objects of exclusion, separation and leisure. These images typically define and reinforce spaces of privilege through the creation of sites of control. The work is a speculative exercise of sorts. I am particularly interested in suggesting new fictive configurations which imagine new social possibilities or frustrate present political realities."
Weston Teruya received his MFA and MA in Visual Criticism from California College of the Arts in 2006 and 2007, respectively. Recent exhibitions include Intersection for the Arts, Kearny Street Projects, and the diRosa Foundation. Honors include the Murphy and Cadogan Fellowship in the Fine Arts, the San Francisco Foundation; Yesland Prize Finalist, Magic Theatre/Trillium Press; and APAture 2008 Featured Artist. His work was recently reviewed in Artforum's "Critic's Picks," the San Francisco Bay Guardian, Artweek, and SF Weekly.