Work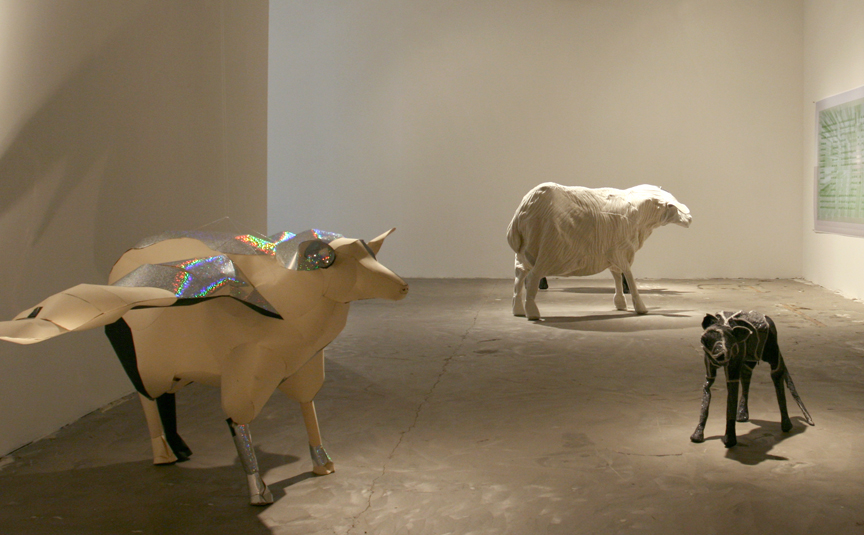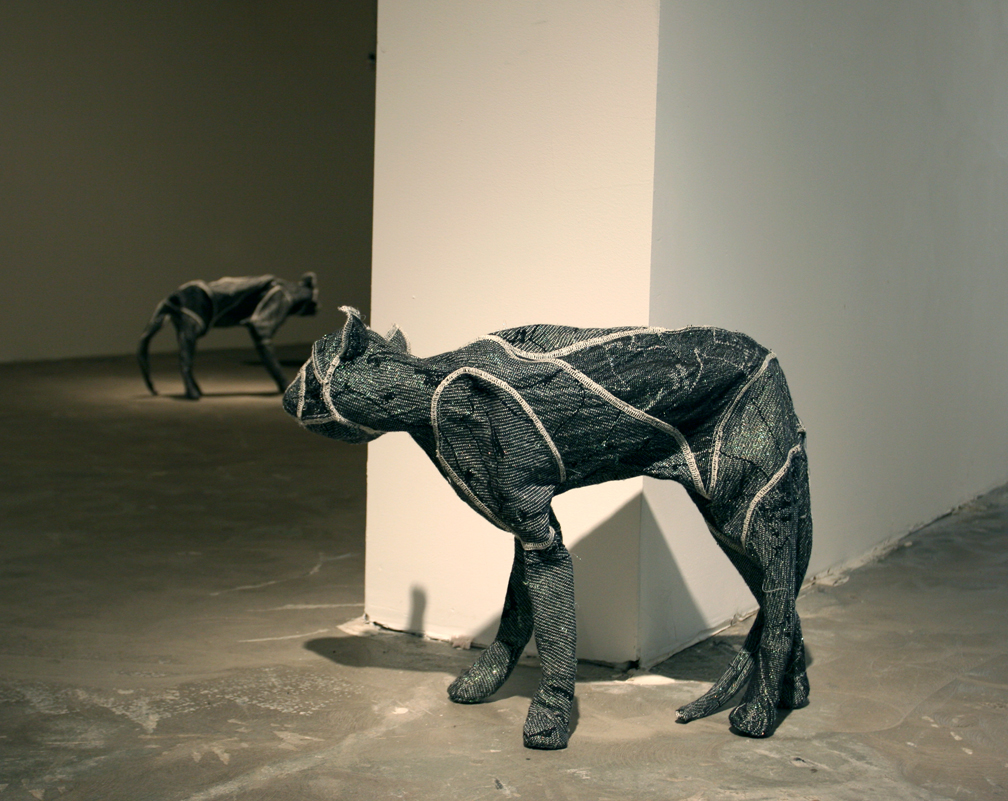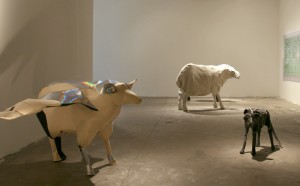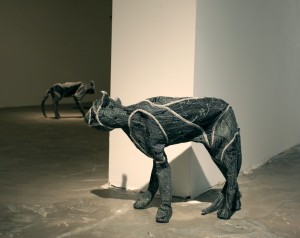 Press Release
Patricia Sweetow Gallery is pleased to welcome Sarah Wagner in her second exhibition, Future Positive, along with her collaborators, Jon Brumit and Christy Matson. The exhibition opens Thursday, March 3rd, going through April 2, 2011. Reception for the artists is Thursday, March 3rd, 5:30 – 7:30pm.
Sarah Wagner, along with her collaborators Jon Brumit and Christy Matson, have teamed to create the large-scale, multi-part, interactive installation titled "Future Positive." The installation consists of 3 tableau wherein conductive fabric woven by Matson has been patterned and sewn by Wagner, with custom built electronics & lighting added by Brumit.
Synthesizing and dismantling the technology of early video games such as LOOM, the theatrics of natural history museum displays and the cult of 'The Dude' from the Big Lebowski, "Future Positive" is the third iteration of the trio's trans-disciplinary collaborative efforts. As seen through the lens of interactive dioramas and experimental research and development laboratories, "Future Positive" conflates internet healing industry and acoustic weaponry development under the guise of reconstructing a modular kit of neo-spiritualist tools.
One of the pieces on display, "Twin Flowers + Magnetize Money Spell Kit", is a floor-to-ceiling walk-through environment with electro-acoustic solar-powered flora hanging over a ball-point-pen- plotted rendering of Jeff the 'Dude' Lebowski's famous 'soiled' carpet. A second piece titled "6 Minutes to Diamond Consciousness" has two sculptural sheep that conduct six volts of electric power as they engage in psychic warfare with a large-scale two-dimensional rendering. The third piece "Star Doves Smoky Mountain Light" Is comprised primarily of an animal form immersed in flashes of projected and reflected light of questionable intent.
Sarah Wagner is a sculptor and installation artist whose work renders the frailties and strengths wrought by the dynamism of biological development within an increasingly unnatural world. Her investigations and renderings of the 'endocrine disruption theory', radiation and her love of ecology has inspired her to explore exhibition venues as unnatural environments within which to create models for parallel worlds.
Shortly after receiving her MFA in 2005 from California College of the Arts, Sarah Wagner became an instructor at the School of the Art Institute of Chicago, she currently teaches at Eastern Michigan University. Exhibitions include Projekt 0047 (Berlin), Homie (Berlin), Museum of Craft and Folk Art, San Francisco, Yerba Buena Center for the Arts, San Francisco, Southern Exposure, New Langton Arts (San Francisco). School of the Art Institute of Chicago, Oakland University Art Gallery, Michigan, George Ayers Cress Gallery at the University of Tennessee at Chattanooga.
Christy Matson, a recent California transplant to Chicago, weaves cloth on both hand operated Jacquard looms and industrial Jacquard looms. She received her B.F.A in Studio Art from the University of Washington in 2001 and her M.F.A. in Textiles from CCA in 2005. Recent solo and group exhibitions include the Museum of Contemporary Arts Houston, The Knoxville Museum of Art, the Federal Reserve Bank of Boston, The San Francisco Museum of Craft+Design, and The San Francisco Museum of Craft and Folk Art. In 2006, Matson was an artist in residence at the Experimental Sound Studio in Chicago, and Harvestworks Digital Media Arts in New York City. She will be an artist in residence in 2011 at the Museum of Contemporary Craft in Portland, OR. She is currently an Assistant Professor in the Fiber and Material Studies Department at the School of the Art Institute of Chicago.
Jon Brumit has presented solo and collaborative works in the US and internationally, including the 2008 Whitney Biennial (as Neighborhood Public Radio), MOCAD (Detroit), SFMOMA, the DeYoung Museum (SF), Chelsea Art Museum (NYC), YBCA (SF), Novi Sad Contemporary Museum (Serbia), Cranbrook Museum of Art (Bloomfield Hills, MI), the Krannert Museum (Urbana Champlain), Borderline Academy / Fadaiat (Tarifa, Spain), Artists Television Access (SF), Homie (Berlin), 0047 (Berlin), IN-F (Tokyo), Fringe Exhibitions (LA), Oakland Art Gallery (Oakland, CA), FSK Radio (Hamburg), Southern Exposure (SF), KUDA.org (Novi Sad, Serbia), and New Langton Arts (SF).
Jon is currently teaching at the University of Michigan, Ann Arbor. Grants include San Jose Public Arts Commission, Princeton University 2008, Creative Work Fund 2006-2007, Oakland Arts Council 2007, Museum of Contemporary Art Detroit 2007, ISEA / Zero One Festival Community Domain Commission 2006, with many other grants, residencies and awards.
Artist Page