Work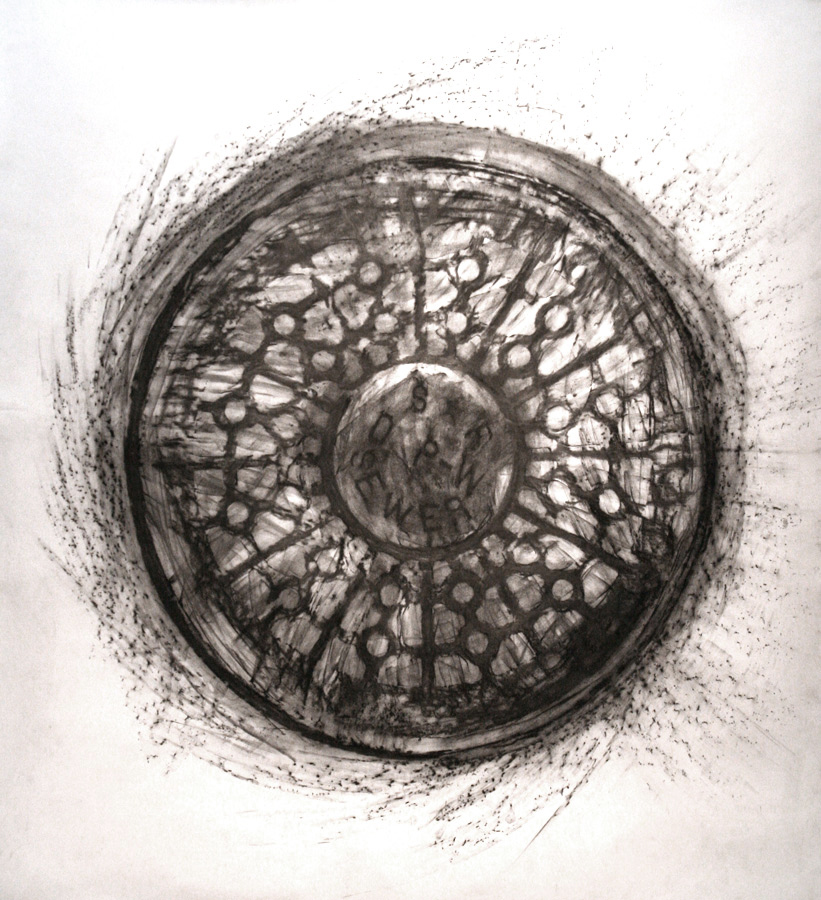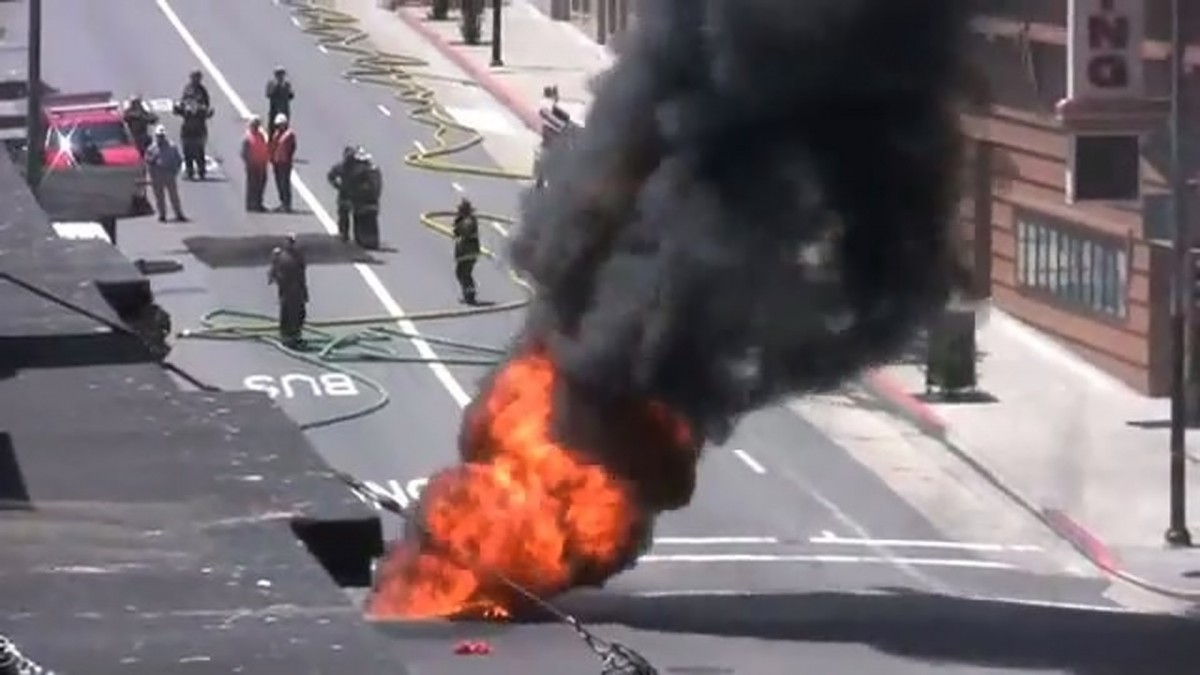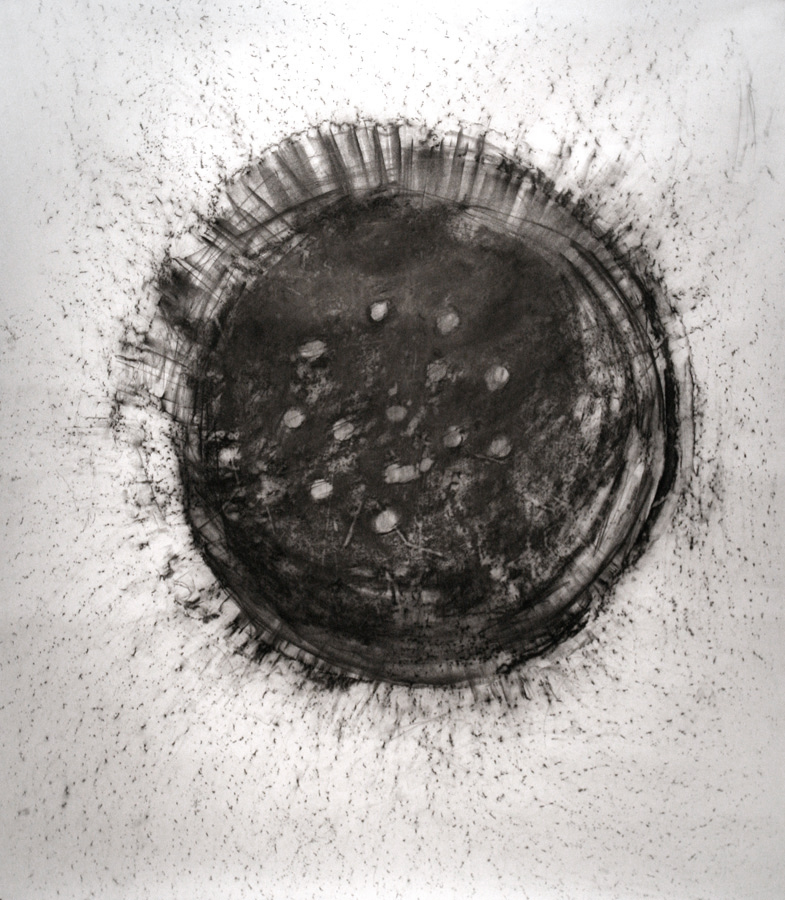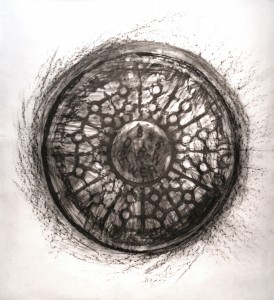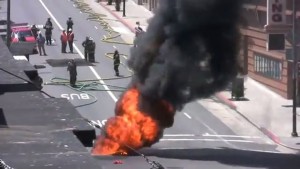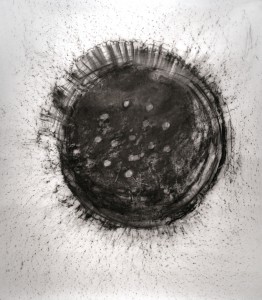 Press Release
Patricia Sweetow Gallery is pleased to welcome Jeanne C. Finley + John Muse, in their exhibition, Manhole 452. On view will be charcoal and graphite drawings, with a 12 minute film. The exhibition opens Thursday, April 7th, going through May 14, 2011. Reception for the artists is Thursday, April 7th, 5:30 – 7:30pm.
In their 5th exhibition at Patricia Sweetow Gallery, Finley + Muse will show a selection of charcoal and graphite drawings of Geary Street manhole covers, along with a film that explores the hidden threat beneath those manhole covers. The drawings and video direct our attention to the shapes, sizes, and patterns of manhole covers on Geary Street, and then plunge deep below, into the manholes themselves.
Despite assurances from local municipalities, manholes occasionally blow sky-high, more than most people realize. The fictionalized film is a first person narrative that follows the reflections of a middle-aged man whose car was hit by an exploding manhole; he now rides the Geary Limited bus the length of Geary Street to his job fitting prosthetic limbs. The narrative explores his obsession with calculating odds and the possibility of miracles amid random violent occurrences – all in 12 minutes!
Jeanne C. Finley is a media artist who works in experimental and documentary film. Finley is a Professor of Media Studies at the California College of the Arts. Her work has been exhibited in many museums including the Guggenheim Museum, SF and NY Museum of Modern Art, Whitney Museum and the Georges Pompidou Center. She has been the recipient of several grants including a Rockefeller Media Arts Fellowship, Guggenheim Fellowship, Creative Capital Foundation Grant, Cal Arts/Alpert Award, National Endowment for the Arts Fellowships, Arts-Link Fellowship and the Phelan Award in Video.
Since 1989 she has worked in collaboration with John Muse on many installation and video projects. During 1990 Finley received a Fulbright Fellowship to Yugoslavia where she directed programs for Radio/TV Belgrade. In 1994 she was an Artist-in-Residence in Istanbul, Turkey through a grant from the Lila Wallace Readers Digest Foundation. In 2001 she received an Arts-Link fellowship to Sarajevo to create a film and web site with Bosnian media artists.
John Muse is currently Visiting Assistant Professor of Comparative Literature at Haverford College, Haverford PA and serves as the Exhibitions Program's Faculty Liaison. From 2007 to 2009 he was the Mellon Post-Doctoral Fellow at the College's John B. Hurford '60 Humanities Center. In 2006 he received a Ph.D. in Rhetoric from U.C. Berkeley. In 1988 he received his Master of Fine Arts in photography from the San Francisco Art Institute. Muse and frequent collaborator Jeanne C. Finley have received a Rockefeller Foundation Media Arts Fellowship, and a Creative Capital Foundation Award. His work has been exhibited nationally and internationally.
Finley's film and video credits include: Loss Prevention, 2000; O Night Without Objects, a Trilogy, 1998; A.R.M. Around Moscow, 1993; Involuntary Conversion, 1991; and Nomads at the 25 Door, 1991. These tapes have won awards at international festivals such as the San Francisco, Atlanta, Berlin Video Festival, Toronto, and World Wide Video Festival.
Artist Page