Work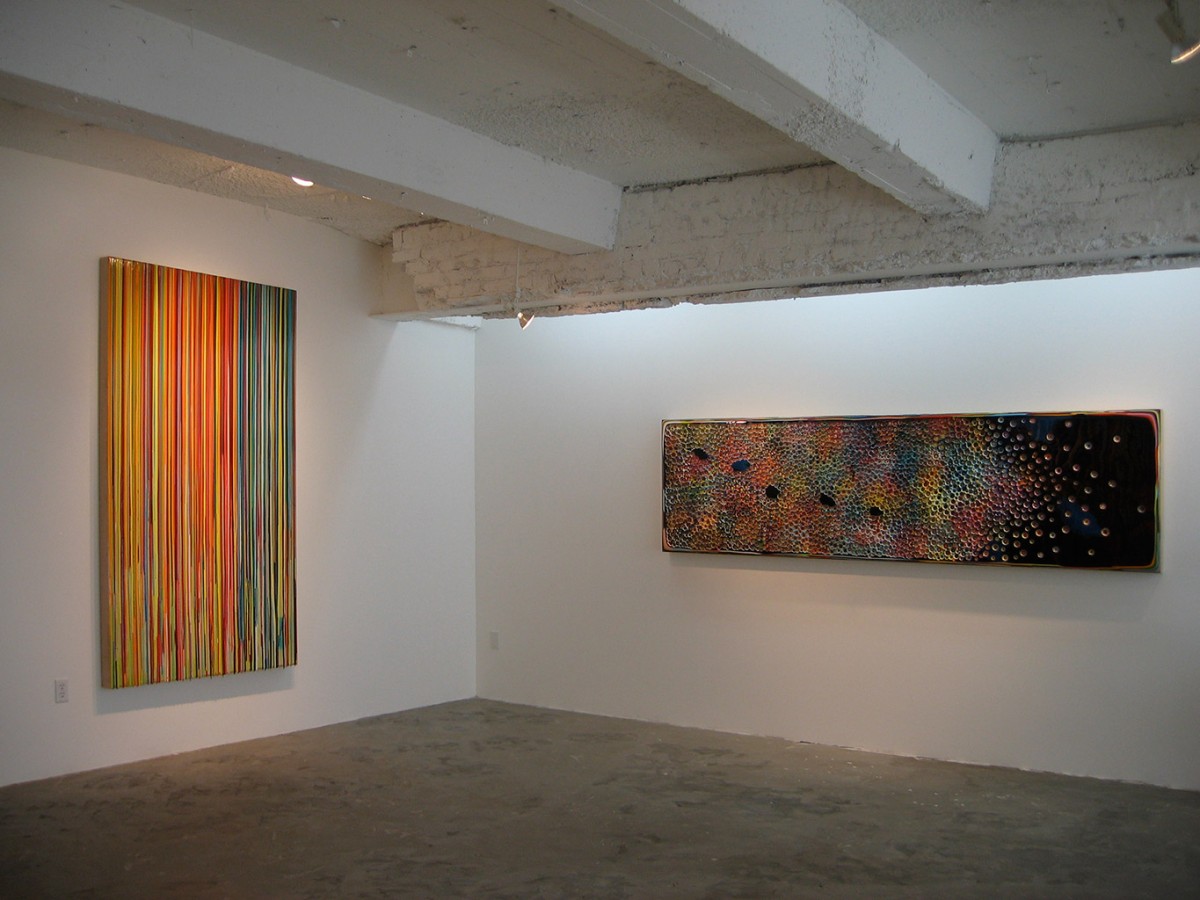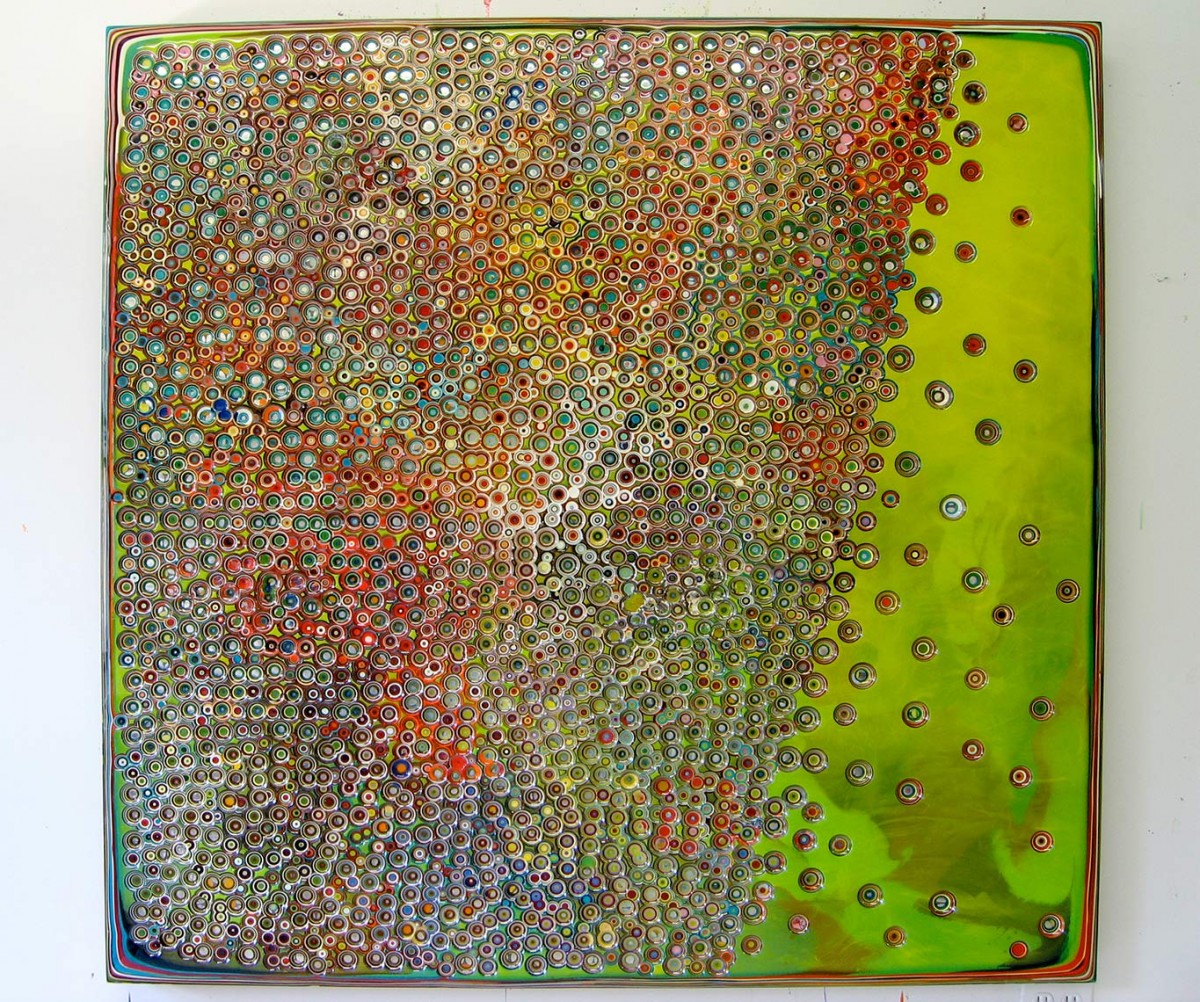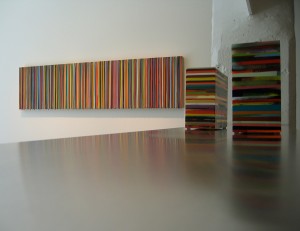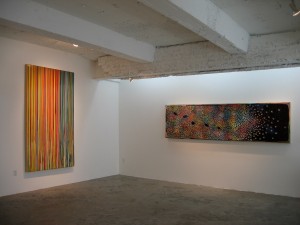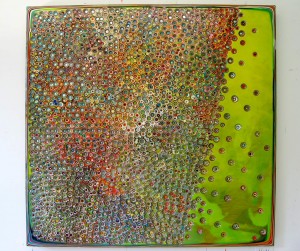 Press Release
PATRICIA SWEETOW GALLERY is pleased to announce our third solo exhibition, FIFTEEN MINUTES WITH YOU, with German artist Markus Linnenbrink. In conjunction with the exhibition will be signed editions of Markus Linnenbrink Alles Ekstase, a recently published 163-page monograph. Linnenbrink's exhibition includes a site-specific wall painting, epoxy resin paintings, and sculpture. In our project room will be paintings by Heike Kati Barath, sculpture by Julia Venske & Gregor Spänle, and drawings by Ann Marie Stoehr. Exhibition dates are September 6 through October 20, 2007. Reception is Thursday, September 6, 5:00 – 8:00 p.m.
German artist Markus Linnenbrink extends his exploration of material, line, and color in his exhibition FIFTEEN MINUTES WITH YOU. Linnenbrink will commit palette to wall in a site-specific installation, along with drilled and poured epoxy resin paintings, and sculpture. Linnenbrink expanded the dialogue of Gene Davis in his resin paintings of vertical stripes, discarding the formalist theory of Greenbergian post-painterly abstraction for a purely hedonistic, intuitive indulgence of color and process. His paintings are layered, with vertical pouring of metallic and fluorescent pigments suspended in a pristine epoxy resin; or drilled, revealing a dense environment of material and eye- popping color. His intuitive application of material infused with pigment forms dynamic paths that invigorate the formal constructs of the work.
Linnenbrink's new paintings begin with muted washes of watercolor, which he builds upon with layers of translucent resin, mirroring the palette and subtlety of his watercolor ground. Linnenbrink modulates the density and flow of epoxy, forcing a dialogue between material, texture, and color. His sculpture also bears this translucency of color, allowing us to view a different kind of interior: he deposits all the accoutrements of the artist – brushes, rags, etc. – into the sculpture as so much waste recycled.
Linnenbrink garnered attention in the U.S. and Europe with wall paintings at the UCLA Hammer Museum, the Aldrich Museum of Contemporary Art, the Kunstmuseum in Bonn, and Haus Esters, Krefeld. Collections include the San Francisco Museum of Modern Art; UCLA Hammer Museum; The Hague Ministry of Culture, the Netherlands; Museum Neue Galerie, Kassel; Museum Katharinenhof, Kranenburg; Kunsthalle Recklinghausen; Herzliya Museum of Art, Israel; Block Museum of Art, Evanston, Illinois; and Clemens-Sels-Museum, Neuss. Recent exhibitions include a one-person exhibition in Basel at the booth of Fiedler Gallery of Germany, along with solo and group exhibitions in Germany, Japan, Korea, and the US.