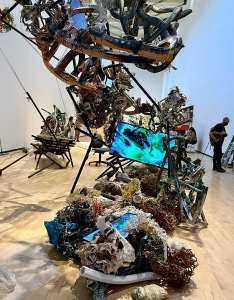 Ceramics in the Expanded Field features work by Nicole Cherubini, Armando Guadalupe Cortés, Francesca DiMattio, Jessica Jackson Hutchins, Kahlil Robert Irving, Anina Major, Rose B. Simpson, and Linda Sormin.
Join us for the opening celebration of Ceramics in the Expanded Field on Saturday, October 16, at 5:30pm.
Ceramics in the Expanded Field brings together a group of eight artists who are changing the way we think of clay. Their ambitious works integrate ceramics—a medium long siloed and marginalized—with disciplines ranging from photography and video to painting and performance. While they push ceramics beyond its traditional functional forms, these artists simultaneously connect their work to the complex material and social histories of pottery as well as to other crafts and modes of making that lie outside usual fine art definitions, including basket weaving, furniture design, the building trades, and lowrider culture.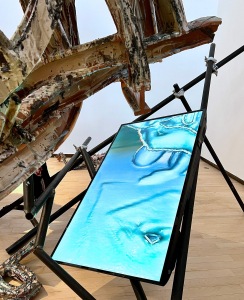 "I often work with local communities to create structures that hold objects that tell other people's stories. In this current installation "Stream", I make space for my own fragments, memories and non-linear consciousness through celestial, terrestrial and underwater/underworld experiences. Intricately carved and painted, elevated Batak Indonesian houses are based on an understanding of the upper, middle and lower worlds. I'm reaching toward this spatial tradition, striving for a haptic understanding of the communal lives and anti-colonial struggles of my ancestors."

– Linda Sormin
Generous support for Ceramics in the Expanded Field is provided in part by the Artist's Resource Trust (A.R.T.) Fund, a fund of Berkshire Taconic Community Foundation, and the Ford Family Foundation. Additional support is provided by Patricia Sweetow Gallery. We acknowledge the support of the Canada Council for the Arts.
Programming at MASS MoCA is made possible in part by the Barr Foundation, Horace W. Goldsmith Foundation, and Mass Cultural Council.