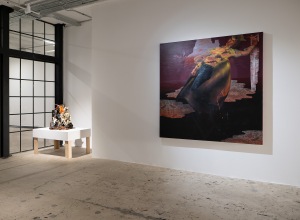 Linda Sormin and Lien Truong are singular voices in contemporary sculpture and
painting. They speak in registers wholly new and counter to the dominant
Western canon. Using slippage, lean dissonance, materiality, and feminist
philosophical multiplicity, Sormin and Truong wade in knee deep to address
formal process and complex cultural histories. With "incorrect" beauty, their
open-handed work makes visible plural realities of scope and wonder.
Linda Sormin rolls, pinches, stuffs, and stabs clay into roiling spectacles of gravity-
defying gesture and linear cacophony. The work is stop motion catastrophe writ
large. Sormin constructs her sculptures using elements from previous work, from
shards and broken things found in the studio. Productively stockpiling, even
exploiting catastrophe, chaos and unease become sources of her perception.
Though born in Thailand, Sormin was trained in a colonized academic setting
steeped in Eurocentric values. She is learned in such modernist Bauhaus
traditions as form following function and "healthy volumes full of breath." But
given her Southeast Asian ancestry, her history of immigration, and the
recognition that language is fluid, unstable, and fugitive in meaning, Sormin is
existentially drawn to the fragmentary and ephemeral. She moves her work
forward through gestures of not knowing, getting to higher ground by unraveling
logic and the linear.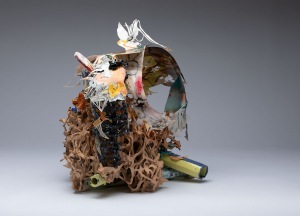 Mandraguna, 2022, is an audacious chunk of formal urgency. Rolled tubes of
clay, like scabrous plumbing pipe, are stacked and coiled into a sort of armature
over which Sormin drizzles lacy thickets or conduits of pinched clay. Black glazed
configurations dangle precariously. These are fabricated pictograms referring to
the Indonesian Batak datu ritual recipes found in the Pustaha divination books
germane to Sormin's ancestral traditions – her grandfather was a shaman. She
speaks of "breadcrumbs of language" leading her to her work. The black
pictograms are threads, energy-level notations Sormin pulls from history,
intuitively stitching the past to the present. Larding mangled snatches of
discarded plastic, 3D misprints, into the work, Sormin's alert eye is grab'n'go,
fueled by need's momentum and untethered from the proprieties of taste.
Further questioning ceramic's hierarchies, a swath of cut, painted, and glazed
paper rests atop the work, as if the world of social history, text, and language has
floated down, attaching itself in groping phrases to the deeper, shape-shifting
silences of the earthen world.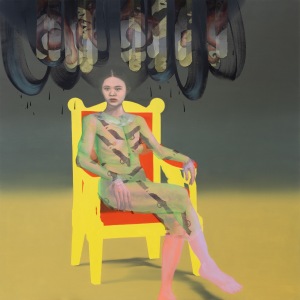 Lien Truong's resplendent paintings conjure tales of feminist quest and inquiry.
Truong mixes narratives of the Vietnamese diaspora, colonial mythologies, and
historical textile designs with an arresting formal inventiveness. Combining a
repertoire of techniques and images, she pushes meaning around with the skilled
dexterity of a couturier, pinning remnants of ancestral memory to poetic
constellations of pictorial space.
Three paintings, The Maiden, The Mother, and The Crone, speak against the
brooding trauma and dislocation of Asian females in global misogyny. These
works center her mother, her grandmother, and herself. They draw from her
ruminations on her familial matriarchs and her lived experience growing up in a
war refugee family. Pointing back to both the body and the body-politic, the
works interrogate the validation of self against the barriers of conventional
expectation and the oppressive canon of beauty. Lush paint handling, tonically
dissonant color, and overlaying luminous veils of cut and painted silk layer and
collage modes of working that reform the language and claim status outside
patriarchal histories of painting. The relevance and richness of Truong works is
owed, in part, by her knowledge and assimilation of art history, geopolitics, film,
Orientalist ideologies, and textile culture. To the extent crusty conceits of "old-
masterdom" give way to knowledge we can feel, Truong's history is born of fierce
transformation and is deeply immersed in the future.