by Julia Couzens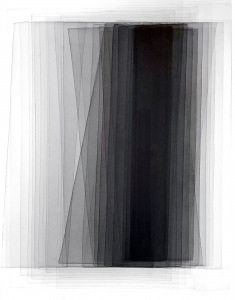 Conceivably, the preeminent sense of Joachim Bandau's deeply affecting watercolor paintings is blunt force silence.  Their grave and resonant quiet embraces stillness.  Water, paper, a single pigment and Japanese brush are the components Bandau uses to construct his work.  Without texture, visible brushwork, or compositional fillips and inventions, his paintings are nevertheless dimensional excavations of space.  They are resolute.  They are lushly extreme.
Bandau builds his paintings by layering watery rectangular veils of pigment onto large sheets of paper.  Watercolor is a notoriously mercurial and unforgiving medium, and Bandau's control is astonishing, for the layers appear to materialize whole.  Unlabored, undrawn, unmade, whole.  Starting with the faintest haze of gray, he stacks his rectangles in ever deepening shades until achieving a full-throated, redolent black.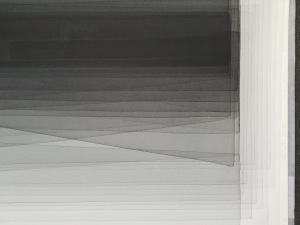 The work evokes stacked or slipping sheets of tinted glass, reverberating computer screens, or drafting plans for coffins.  But despite evocations of imagery the work eludes to a deeper experience of life and to things outside the realm of taste and form.  The more limitations Bandau places on the work, the   more he opens it up.  Using the most exacting methods, the works are portraits of light and merging and the breaking down of space.  The rectilinear frame of his process is the armature for a richer spatial experience of pure contemplation, which offers everything or nothing.
_________
About the author — Julia Couzens is an artist who writes about contemporary art. She is a contributing writer to squarecylinder.com and The Sacramento Bee. Her essays have appeared in Ceramics: Art and Perception, and for various West Coast institutions including the Crocker Art Museum, Riverside Art Museum, University of LaVerne, and UNLV/Marjorie Barrick Museum.