Press Release
Cornelia Schulz

Eliza D'Arrigo
Exhibition Dates: March 05 – April 23, 2022
Reception: Saturday, March 5, 2022
Zoom Conversations: TBA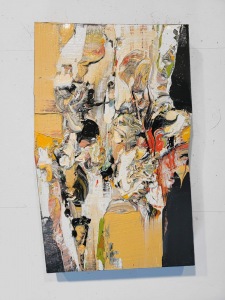 .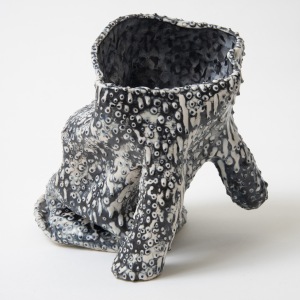 Left: Cornelia Schulz | oil on canvas on wood | 18 x 13 x 2 inches
Right: Elisa D'Arrigo | Googler 1 | glazed ceramic | 8 x 8 x7.5 inches
Talk about razor sharp artistic capital!! What an extraordinary opportunity to view the depth and maturity of San Francisco based Cornelia Schulz and New York based Elisa D'Arrigo in this upcoming exhibition.
The oil paintings of Cornelia Schulz bring to mind the eddies created at the moment a flood & ebb tide collide, oil paint in acrobatic turbulence tumbling over a flat glassy pool, both states finding equanimity on a small format, shaped canvas.
Kenneth Baker, SF Chronicle, "Schulz treats the outer contours of a painting as a troubled boundary between what she could control and the uncontrollable, between domains of intended meaning and of misreading and chance."
PSG is pleased to introduce the ceramic sculpture of Elisa D'Arrigo in her first San Francisco exhibition. Reconnecting with clay after almost 30 years D'Arrigo's intimate sculptures are on view at the Metropolitan Museum of Art in the exhibition, Shapes From Out Of Nowhere: Ceramics From The Collection Of Robert A. Ellison Jr."
John Yau wrote a review of D'Arrigo's earlier exhibition at Elizabeth Harris Gallery for  Hyperallergic, "By twisting, folding and pinching the hollow tubes, D'Arrigo knowingly occupies a territory first opened up by George E. Ohr, "The Mad Potter of Biloxi," who has also been an inspiration for Ken Price and Kathy Butterly. What all of these artists share is a sense of humor, but, in D'Arrigo's case, this is a relatively new development and a welcome one. Still, it is clear that she can hold her own with these artists, and that is no small thing."
Artist Page